// Portal //

Portal: a guide to the best websites in dance, performance, hybrid arts and advocacy
GO TO: Partners * Call Boards and Listservs * Resources
Partners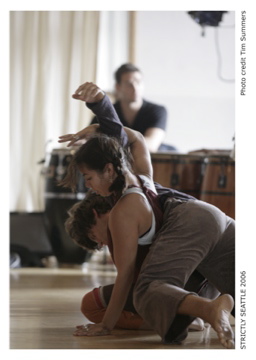 Key City Public Theatre

Northwest Film Forum
Callboards + Listservs
Resources
Artist Trust – Financial grants, career training and professional resources for Washington State artists of all disciplines.
ArtsJournal – A digest of some of the best arts and cultural journalism in the English-speaking world.
Books on the Move – Berlin-based mobile bookstore offering literature for dancers, movers and thinkers. Features hard to find books.
Catalogue raisonne Jerome Bel – The Laboratoires d'Aubervilliers publishing project devoted to all of Jérôme Bel's work. Motivated by their wish to amplify and deepen this theoretical work, motivated by the necessity to produce a reflexive discourse in the field of dance which seems patchy when compared with that concerned with the visual arts, for example.
Choreograph.net – An online journal growing a community of knowledge about how we recognise, cultivate and negotiate a state of dance in human and other systems.
Choreographic Objects – Choreographic Objects: traces and artifacts of physical intelligence

Contemporary Performance Network – A social media / community organizing network providing artists, presenters, scholars and festivals a platform to meet, share work, and collaborate.
Counter Critic – An alternative resource for arts criticism and a forum for response to mainstream critics.
Critical Correspondence – Critical Correspondence is an artist-driven project of Movement Research that aims to activate, develop and increase the visibility of critical discourse on dance and movement-based performance work.
Culture Push – Culture Push is an arts organization that works with hands-on learning, group problem solving, serious play, and creating connections.
DanceBeat – Deborah Jowitt on bodies in motion
Dance Tech – Dance Tech projects explore the potential of new internet technologies for knowledge production and distribution on body based artistic practices and it's intersections with other disciplines such as new media, architecture, philosophy, anthropology and more.
DanceNYC – Dance/NYC is a branch of the national dance service organization Dance/USA. Dance/NYC's mission is to bolster the support structure for dance in New York City—serving as a voice and guide all local dance artists and managers.

Everybodys Toolbox – A data base and a library, a toolbox and a game creator, a publication house, a score container, a site for distribution and for long term investigatory discussions.
Inside Movement Knowledge – A documentation website functioning as a resource for researchers interested in the documentation, transmission and preservation of contemporary dance.
Itch Journal – An evolving art project qua artist forum cum journal/zine published two times a year.
ImpulsTanz – Auditions, residencies and more.
Infinite Body – Arts, culture and the creative mind by Eva Yaa Asantewaa.
Jacob's Pillow Dance Interactive– An online exhibit view brief performance excerpts spanning from 1930s dance pioneers to today's most exciting artists.

New York Life Arts blog – The Live Arts Blog has the latest information on New York Live Arts events, artists, and issues affecting the body based performing arts field.

MANCC – The only national center for choreography in the world located in a major research institution.
Move The Frame – The official blog of Pentacle's Movement Media, a project serving to help dance and media artists make dances for screen and use media to market their dance work more effectively.

PICA'S BLOG – A community of writers, visual artists, musicians, filmmakers, and other great humans.
Quodlibet – Matthew Gough's, dance scholar and artist, who generalises in dance and performance technologies, 20th & 21st century dance theory and contact improvisation.
R-Research/Random Dance – Random Dance's Artistic Director Wayne McGregor collection of sustained research into the nature of dance-making and the 21st Century body, particularly its cognitive and biological/ technological aspects.

Sarma – Sarma is an artistic and discursive laboratory for criticism, dramaturgy, research and creation in the field of dance and beyond. Sarma collects and organizes discursive practices.

STANCE – Velocity Dance Center's online journal of choreographic culture.
Synchronous Objects – Visualizing choreographic structure from dance to data to objects.

The Winger – A collaborative website where professionals, students, and pioneers in the dance world share their experiences and insights.

1,862 total views, 3 views today