// ACCESS VELOCITY //
ACCESS VELOCITY is Velocity's initiative to support independently produced performances by Seattle artists in our flexible Founders Theater. We offer affordable and flexible rental packages that respond to artists' different performance needs and offer theater rental support systems that reflect the highest national standards. Artists + organizations who have utilized Access Velocity for their independently produced performances include David Schmader/Intiman Theatre, Pat Graney, Mo' Wave Festival, Kate Wallich, Full Tilt, Louis Gervais, Men in Dance, The 3 Yells, Ten Tiny Dances, ilvs strauss + more!
UPCOMING ACCESS VELOCITY EVENTS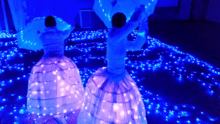 JERBOA DANCE presents LUMINOUS // After a four year hiatus, Jerboa Dance is back! Come in out of the darkness and join a fun evening of dance, sexiness, and a DJ'd after-party. Be entertained by sultry cabaret, witty dialog, spinning lights, acrobatics, drag, burlesque, and modern, athletic partnering.
FEB 12-14 / 8PM // TICKETS

SEATTLE ASIAN AMERICAN FILM FESTIVAL OPENING NIGHT PARTY // Presented by Macy's and Western Union, following the screening of TOP SPIN at Northwest Film Forum. Your ticket price includes admission to the party, where there will be food, cash bar, a photo booth, and live performances.
FRI FEB 19 / 9PM // TICKETS
COLLECTIVE SIGH presents ONE // Collective Sigh Dance's first full-length show featuring premiere works by Ciara McCormack, Heather Smith, Rochelle Rapaszky, Scotty Flores, and Zoë Galle.
FEB 26 + 27 / 8PM + MARCH 4 / 8PM // TICKETS
THE UNIVERSAL LANGUAGE PROJECT presents SCRAPE // The innovative music ensemble Scrape will perform music by Jim Knapp and Brian Chin.
MARCH 11 + 12 / 8PM // TICKETS COMING SOON!
access velocity events ARCHIVE
To see all Access Velocity Events since August 2015, CLICK HERE.
254 total views, 10 views today