// THE BRIDGE PROJECT: WINTER 2018 //
JAN 25–28, 2018 / 7:30PM
Velocity 1621 12th Ave
$20 ($25 at the door) / $17 MVP Member / $15 under 25 (w/ ID) / $50 Patron
Post-show conversations:
THU JAN 25 + SAT JAN 27
Four of Seattle's most promising choreographers create new works in the pressure cooker of just four weeks at Velocity's Winter Bridge Project.
"The Bridge Project is one of Velocity's great gifts to the city."—The Stranger  
The performances feature cutting-edge new work by emerging Seattle artists Hope Goldman, Leslie Kraus, Michael "Majinn" O'Neal, and Jordan MacIntosh-Hougham. The Bridge Project is Velocity's four-week program for movement-based artists who have been making work in Seattle for three years or less.
ABOUT THE CHOREOGRAPHERS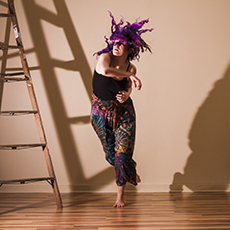 Recently transplanted to Seattle from Chicago, Hope Goldman has shown work at venues including the Storefront Theater, The Dance Center, and Links Hall. In 2015, her solo, Pussy Willow, was named Chicago NewCity's Best New Dance Performance, as well as, one of the Top 5 Emerging Dancer Performances. She has worked with Bodycartography Project, Cie. Willie Dorner, Joanna Furnans, and Erin Kilmurray. Hope holds a BFA in dance from the University of South Florida and an MFA in dance from the University of Illinois at Urbana Champaign. / Photo by Matthew Gregory Hollis
Website: hopegoldman.com
Leslie Kraus holds a MFA in Dance from the University of Washington and a BFA in Dance and Choreography from Virginia Commonwealth University. She performed as principle dancer in the Kate Weare Company for eight years dancing in over a dozen premieres. She starred as Lady Macbeth in Punchdrunk's hit show Sleep No More and the lead role of Woyzeck in their London show The Drowned Man. Leslie has shown her own work across the country and is thrilled to be premiering her latest work Lusca at Velocity Dance Center. / Photo by Christopher Duggan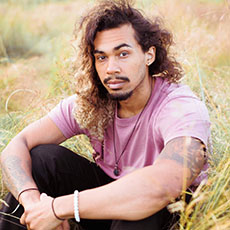 Michael O'Neal Jr. (Majinn) is an African American professional dance artist and teacher who utilizes his training in both street and classical dance styles to find and express his whole self. Through his art Majinn hopes to inspire those he can, to follow their dreams and continue to grow in everyday life. One of Majinn's biggest goals in dance is to try and bridge the gap between the classical and street dance worlds and build a stronger dance community in his own city and a far. / Photo by Alisha Nakamura
Youtube: youtube.com/Choreomike
Instagram: @Majinn_mike
Jordan Macintosh-Hougham graduated from Bennington College in 2016 after studying dance accessibility and audience engagement with a focus on dance and video. They have completed artist residencies at EMPAC and Studio Current, and worked for artists such as Kota Yamazaki, Dana Reitz, Elena Demyanenko, Liv Fauver, and Wade Madsen. Interested in dance/video hybridization and sourcing internal states to instill radical empathy between the performers and audience, they are currently making work for Velocity's Bridge Project as well as Converge Dance Festival. / Photo by Abby Mahler 
Press
"Promising Work, New Perspectives at Velocity's Latest 'Bridge Project'"—Kaitlin McCarthy, City Arts; January 31, 2018
"With Seattle increasingly becoming a destination for top-tier dance artists, the quality of both the dances and the dancers at Bridge Project is as strong as it's ever been, promising a future of exciting local performance."
---
Thank you to our Bridge Project 2018 partner: University of Washington Dance Department.

Thank you to Jeremy Steward + Eric Hartman for the Bridge Project Dance Grant, which supports local dancers who demonstrate financial need.