// CALENDAR //
FEATURED EVENTS
GUEST ARTIST SERIES: SEAN DORSEY
THE MISSING GENERATION
MAY 3–6 / 7:30PM
Velocity 1621 12th Ave
$20 ($25 at the door) / $17 Velocity + TDBC Members / $15 under 25 (w/ ID) / $50 Patron
BUY TICKETS >>
In partnership with Three Dollar Bill Cinema's Translations: Seattle Transgender Film Festival, Velocity presents Sean Dorsey Dance's THE MISSING GENERATION, a dance-theater work giving voice to longtime survivors of the early AIDS epidemic. It is "a love letter to a forgotten generation of survivors—those who witnessed and experienced the loss of part of an entire generation of gay and transgender people to AIDS in the 1980s and 1990s."
UPCOMING EVENTS
WORKSHOP: TAMALPA LIFE/ART PROCESS: THE FOREST AND THE TREES
DANCE-BASED EXPRESSIVE ARTS with Lucie Baker

SATS APR 7–28 / 2–5PM
Velocity 1621 12th Ave
1st class drop-in: $30 / $85 full series
REGISTER >> 
This creative practice workshop series, based on the Tamalpa Life/Art Process®, fosters the development of connection, communication, and personal awareness. Inspired by the imagery of trees, we will improvise dances, create drawings, and develop creative writings that help identify ourselves within our greater ecosystems. All abilities and backgrounds welcome. No experience necessary.
---
WORKSHOP: RUBBERBAND METHOD
FRI APR 20 / 3PM
SAT APR 21 / 5PM
Velocity 1621 12th Ave
$40 for both days / $25 single day drop-in
REGISTER >>
Led by dance artist, educator, and performer Lavinia Vago, this workshop outlines the methods developed by Victor Quijada. Basic principles to be addressed include: the distribution of weight outside of the plum-line axis of the upright skeletal structure; the agility in hand, elbow, and shoulder inversions; and the use of the body and all its surfaces as three-dimensional and multi-directional carving tools. Participants are introduced to a movement hybrid that is influenced by urban and contemporary dance vocabulary, while emphasizing interpretation, decision-making, use of rhythmic variations, and partnering.
---
SPEAKEASY: IMPROVISATION IN DANCE, MUSIC, AND THEATRE
with Kris Wheeler, Christian Swenson, and Jim Knapp
SAT APR 21 / 6PM
Velocity 1621 12th Ave
FREE + open to all
Kris Wheeler facilitates a discussion with guests Christian Swenson (HumanJazz, movement + theatre) and Jim Knapp (renowned musician, composer) in this rare opportunity to catch a glimpse of Seattle's rich history of dance, music, and theater improvisation. Considerations include: How does a good improvisation differ from a good composition? What are the qualities of a good improviser? + more
---
ACCESS VELOCITY: NOT A SIMULATION—A CELEBRATION OF IMPROVISATIONAL INQUIRY
SAT APR 21 / 8PM
Velocity 1621 12th Ave
Suggested Donation: $25
This events launches the fundraising efforts for Kris Wheeler's project: HERE // HEAR (to be performed June 22–24 at Burien Actors Theatre). Enjoy performances by Sheri Cohen, Ivory Smith (singer), Calie Swedberg, Katherine Cook and guest, Christian Swenson (Human Jazz), Vanessa DeWolf, Kris Wheeler Dance & Co (with preview of HERE //HEAR) + more
---
APR 27–28 / 7PM + 9PM
Velocity 1621 12th Ave
$18 advance ($25 door) / $18 students/seniors / $15 working artists
Join Evoke Productions for their twelfth annual production of Full Tilt, an evening of new independent dance works. Evoke Productions produces five new works from local choreographers; Marlo Ariz (Martin), Jeremy Cline, Tyra Kopf, Melissa Sanderson, and Hayley Shannon with dancers selected from an open casting audition.
---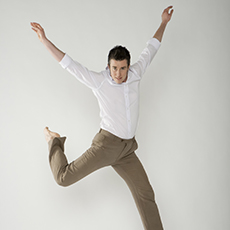 DANCE YOUR STORY: MOVEMENT + SELF-EXPRESSION WORKSHOP
with transgender choreographer Sean Dorsey
WED MAY 2 / 4PM–6PM
Velocity 1621 12th Ave
FREE
Always wanted to dance but didn't feel comfortable because you are trans / transgender / nonbinary / gender fabulous / queer? This free, all-levels dance and self-expression workshop for trans/nonbinary/LGBTQ people and friends will be led by award-winning transgender dancer/choreographer Sean Dorsey. They will lead us through mindful breathing, meditation, a gentle warmup, and movement exercises, culminating with creative self-expression through movement. This workshop is especially welcoming to beginners, but open to creators of all skill levels. / Photo by Lydia Daniller
---
TRANS + ALLY DANCE CLASS…TERRIFIED BEGINNERS WELCOME!
with transgender choreographer Sean Dorsey and dancers from their company
SAT MAY 5 / 2PM–3:30PM
Velocity 1621 12th Ave
Drop-in $15 ($12 Velocity MVP Member)
This welcoming, super-friendly dance class—led by award-winning transgender dancer/choreographer Sean Dorsey and dancers from their company—will include breathing and relaxation, simple stretches, beginner movement exercises, and space for conversation. Everyone, especially terrified beginners, is welcome. Please arrive early to register, change clothes, etc. / Photo by Kegan Marling
---
DANIEL ROBERTS: TEMPORARY LANDSCAPES
MAY 18–20 / 7:30PM
Velocity 1621 12th Ave
$20 ($25 at the door) / $17 MVP Member / $15 under 25 (w/ ID) / $50 Patron
BUY TICKETS >>
A former member of the Merce Cunningham Dance Company, Daniel Roberts and dancers bring a program to Velocity of three works that consider landscape; the dancers exemplify Roberts' unique vocabulary, branching musicality, virtuosity, and complex spatial pathways. The program features the premiere of Night Cloud, a collaboration with mixed media artist SangjunYoo. / Photo by Liz White
---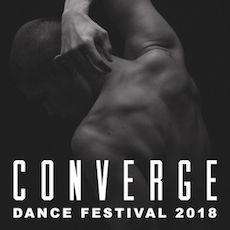 ACCESS VELOCITY: CONVERGE DANCE FESTIVAL 2018
Produced by Sapience Dance Collective, an organization fiscally sponsored by Shunpike / Artistic Director and Producer: Angelica DeLashmette
MAY 25–26 / 8PM (FRI MAY 25) / 5PM + 8PM (SAT MAY 26)
Velocity 1621 12th Ave
$20 general ($15 working artist)
BUY TICKETS >>
This annual festival serves as a resource for emerging to mid-career artists and features choreographers Abigail Zimmerman, Angelica DeLashmette, Emily Curtiss, Hope Goldman, Jordan Macintosh-Houghman, Jordan Rohrs, Stephanie Golden Crawford, and Warren Woo.
---
STRICTLY SEATTLE 2018
INTENSIVE: JUL 8–28
Velocity 1621 12th Ave
Early Bird Pricing: register by April 21
Regular Pricing: register by July 9, 12:01am
REGISTER >>
PERFORMANCES: JUL 27–28
FRI JUL 27 / 8PM
SAT JUL 28 / 2PM + 8PM
Broadway Performance Hall 1625 Broadway, Seattle
$20 ($25 at door) / $17 MVP Member / $15 under 25 (w/ ID) / $50 Patron
BUY TICKETS >>

One of our flagship summer festivals, Strictly Seattle is complete immersion into the Seattle dance scene. Five adult programs inspire beginning-through-professional level dancers with rigorous physical and compositional training in a challenging, invigorating environment. Strictly Seattle is a supportive community of open experimentation and camaraderie where dancers form alliances for future collaborations. Participants also work with a Seattle choreographer to create a new work, culminating in a professionally produced performance. / Photo by Kelly O
---
SEATTLE FESTIVAL OF DANCE IMPROVISATION (SFDI) 2018
25TH ANNIVERSARY
JUL 29–AUG 5
Velocity 1621 12th Ave
Early Bird Pricing: register by April 21
Regular Pricing: register by July 30, 12:01am
REGISTER >>
DANCE INNOVATORS PERFORMANCE
$20 full day ($15 drop-in)
BUY TICKETS >>
"The leading convening of practitioners in dance improvisation in the United States," SFDI is a week of master classes, discussions, performances, and other activities with international dance innovators. SFDI curators, a multiracial group gathered annually by Velocity's director Tonya Lockyer, cultivate a diverse curriculum honoring many styles of dance improvisation with influences from pop culture, political activism, indigenous ritual, mixed abilities, gender exploration, hip-hop, butoh, and more.
---
1st + 3rd Mondays / 10PM
Velocity 1621 12th Ave
FREE + open to all
MORE INFO >>
SH*T GOLD is Velocity's open mic performance night for artists experimenting in any genre, for those unafraid to fail. Low stress. High focus. Arrive at 9:30PM to sign up (or email gold@velocitydancecenter.org on the day of event). You'll have five minutes or less to take a risk. The bar will be open; the floor will be yours!
---
Velocity's programs are made possible thanks to the support of our sponsors and partners: The Glenn H. Kawasaki Foundation, Case van Rij, Jeremy Steward and Eric Hartmann, Barbara Lewis + Joe Cable, Carlo Scandiuzzi, The Seattle Office of Arts & Culture, 4 Culture, NEA Artworks, ArtsWA, ArtsFund, Seattle Theatre Group, and the generosity of season supporters and individual donors.