// CALENDAR //
UPCOMING EVENTS
THE BRIDGE PROJECT: SUMMER 2018
AUG 23-26 / 7:30PM
Velocity 1621 12th Ave
$20 ($25 at door) / $17 MVP Member / $15 under 25 (w/ ID) / $50 Patron
BUY TICKETS>>
Three of Seattle's most promising choreographers create new works in the pressure cooker of just three weeks at Velocity's Summer Bridge Project. The performances feature cutting-edge new work by emerging Seattle artists Angel "Moonyeka" Alviar, Timothy Johnson, and Allison Burke. The Bridge Project is Velocity's three-week program for movement-based artists who have been making work in Seattle for three years or less.
---
MOVIE NIGHT
AUG 27 / 10PM
Velocity 1621 12th Ave
Free for Velocity MVPs (soon to be Friends Program), or $5-10 suggested donation.
Join us for our dance film night! Watch and discuss films while munching on popcorn and sipping on cocktails and tallboys. Then help choose the theme for next month!
Films TBD.
---
SPEAKEASY: SEATTLE DESIGN FAIR
SEP 16 / 4-6PM
Velocity 1621 12th Ave
FREE + Open to all
Interdisciplinary Activities to Build Trust
What are our tools for building trust across difference? We will experience collaborative activities from dance and design that help build trust among teams by activating curiosity, opening communication and fostering empathy.  Facilitated by George Zatloka. Design consultant, DesignArt and Technology Studio and Velocity's Tonya Lockyer.
---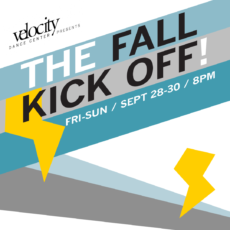 THE FALL KICK OFF!
SEP 28-30 / 8PM
Velocity 1621 12th Ave
Re-live the best moments of 2018 and preview what's to come in 2019. Celebrate with ACCLAIMED DANCE WORKS, MICRO-PERFORMANCES and micro-brews at the official kick-off to the Seattle Dance Season!
---
1st + 3rd Mondays / 10PM
Velocity 1621 12th Ave
FREE + open to all
MORE INFO >>
SH*T GOLD is Velocity's open mic performance night for artists experimenting in any genre, for those unafraid to fail. Low stress. High focus. Arrive at 9:30PM to sign up (or email gold@velocitydancecenter.org on the day of event). You'll have five minutes or less to take a risk. The bar will be open; the floor will be yours!
---
Velocity's programs are made possible thanks to the support of our sponsors and partners: The Glenn H. Kawasaki Foundation, Case van Rij, Jeremy Steward and Eric Hartmann, Barbara Lewis + Joe Cable, Carlo Scandiuzzi, The Seattle Office of Arts & Culture, 4 Culture, NEA Artworks, ArtsWA, ArtsFund, Seattle Theatre Group, and the generosity of season supporters and individual donors.