// Guest Artist Series //
Velocity's Guest Artist Series provides the Seattle community with residency activities from national/international dance artists including technique classes, workshops, and performances.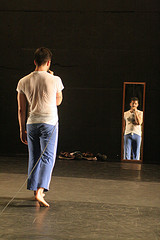 Velocity strives to give Seattle's dance community opportunities to train with outstanding local and national artists through its Guest Artist Series. The Guest Artist Series presents internationally renowned artists in contemporary dance and related studies, offering classes, lectures, performances and/or workshops with these artists. This program helps to insure that Seattle's relative geographic isolation does not result in a lack of exposure, and helps Seattle to stay abreast of current technical and artistic standards.
Velocity has hosted classes and/or workshops with such nationally and internationally recognized artists as Tere O'Connor, Pat Graney, John Jasperse, Keith Hennessy, Danielle Agami/Ate9, Daniel Linehan, Miguel Gutierrez, Amy O'Neal, Mark Haim, Jesse Zaritt, Anouk van Dijk, Reggie Watts, Faye Driscoll, zoe/juniper, Dayna Hanson, Deborah Hay, KT Niehoff, Bebe Miller, David Dorfman and many more.
Learn more about 2015 Guest Artists
The Dance Cartel + Monica Bill Barnes & Co.
381 total views, 8 views today