// Guest Artist Series //
Velocity's Guest Artist Series provides the Seattle community with residency activities from national/international dance artists including technique classes, workshops, and performances.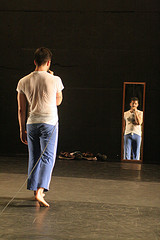 Velocity strives to give Seattle's dance community opportunities to train with outstanding local and national artists through its Guest Artist Series. The Guest Artist Series presents internationally renowned artists in contemporary dance and related studies, offering classes, lectures, performances and/or workshops with these artists. This program helps to insure that Seattle's relative geographic isolation does not result in a lack of exposure, and helps Seattle to stay abreast of current technical and artistic standards. Velocity has hosted classes and/or workshops with such nationally and internationally recognized artists as Miguel Gutierrez, Jen Nugent + Paul Matteson, Bebe Miller, Katie Duck, David Dorfman, Nina Martin, Dan Froot, Lynn Simonson, Will Swanson, Lisa Nelson, Irene Dowd, and others.
Learn more about 2014 Guest Artists Tahni Holt and Tere O'Connor.
133 total views, 1 views today