// Made in Seattle //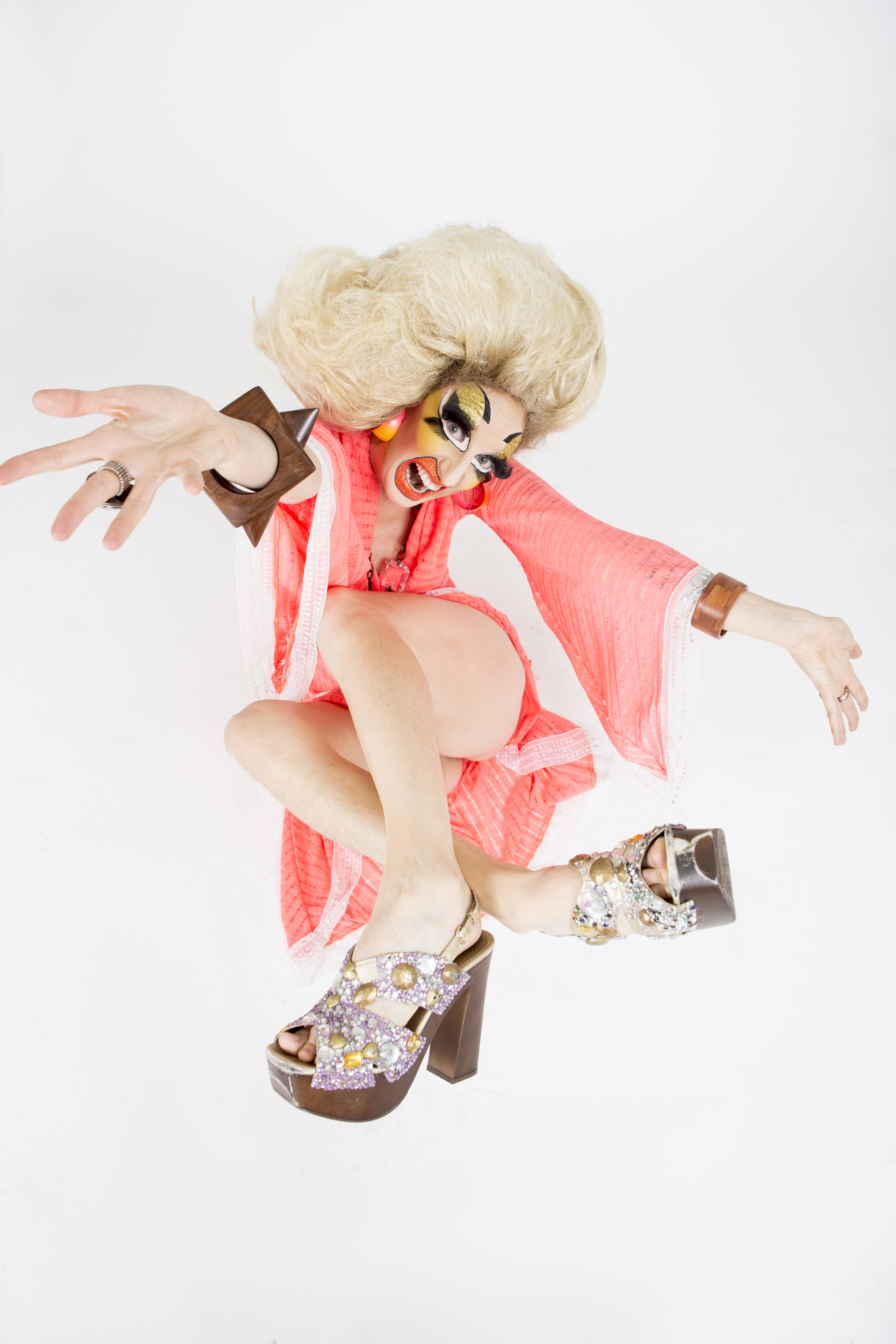 MADE IN SEATTLE: OCTOBER 2014
JODY KUEHNER AKA CHERDONNA SHINATRA
 THE CHERDONNA SHOW: WORTH MY SALT
OCT 17-19 + OCT 24-26, 2014 / 8PM
TICKETS $20 / $25 at the door / $15 student + senior / $17 MVP
Jody Kuehner, aka "huge-haired, worship-worthy" Cherdonna Shinatra, creates her first evening length Cherdonna Show, Worth My Salt — a one-of-a-kind dance spectacular commissioned, produced and presented by Velocity's Made In Seattle dance development program. Worth My Salt premieres at Velocity OCT 17-19 + OCT 24-26, 2014.
As a member of legendary Seattle companies Pat Graney, D9 Dance Collective and Mark Haim Dance + Theater Kuehner is recognized as a leading PNW contemporary dancer. As part of the groundbreaking dance duo The Cherdonna and Lou Show, from 2008-2013 Kuehner and Ricky Mason created 5 evening-works developing thousands of adoring, intergenerational fans.
Drawing on Carl Sagan's series Cosmos and female icons Kate Bush, Diane Keaton, and Marie Antoinette – Worth My Salt looks at the timely theme of gender inequity through the lens of an existential crisis. How do we prove our worth? How do we feel worthy? Cherdonna's unique vision brings together dance and drag with clowning's ability to tug on heartstrings, cabaret's warm intimacy, and performances' ability shatter taboos to make sharp social commentary.
Featuring costumes by celebrated designer Mark Mitchell, recently receiving acclaim for his exhibition Burial at The Frye Art Museum, visual design by award-winning performance and film-maker Corrie Befort of Salt Horse and choreographic mentorship by Guggenheim awardee Dayna Hanson.
SPEAKEASY SERIES: THE ART OF POLITICS AND THE POLITICS OF QUEER PART II
OCT 5 / 6PM
Velocity Dance Center / 1621 12th Ave
FREE and open to all
Kuehner and designer Mark Mitchell share their work, discussing the queer politics of art-making. The audience is invited into the conversation over a delicious family-style meal.
MASTER CLASS: JODY KUEHNER
OCT 15 / 9:30-11:15AM
Velocity Founders Studio 1621 12th Ave
WORTH MY SALT POST SHOW CONVERSATION + COCKTAILS
SAT OCT 18 + 25 / settle in for drinks + conversation after the 8pm performance
Velocity Founders Theater 1621 12th Ave
FREE and open to all
Cherdonna sits down post show with a surprise Seattle celeb OCT 18 + Seattle theater celeb David Schmader OCT 25 in an open exchange with the audience.
JODY KUEHNER, 2010 Spotlight Award Winner, is part dance artist and part bio drag queen Cherdonna Shinatra. Jody's choreography has been presented at On The Boards, Velocity Dance Center, Northwest Film Forum, Bumbershoot and the Joyce SoHo NYC. Cherdonna Shinatra performs regularly with DeLouRue Productions and periodically with paulanow productions and NARK Magazine. She and Lou Henry Hoover made work as "The Cherdonna and Lou Show" for five years, teaching, producing, performing. In her seventh year dancing for the Pat Graney Company and in her fifth year dancing with Mark Haim, Jody has also been Assistant to the Director for Dayna Hanson's feature length film "Improvement Club" and Hanson's Assistant Director for the most recent work "The Clay Duke". She has performed with d9 Dance Collective, Wade Madsen, KT Niehoff, Laura Curry, and Amy O'Neal among others. She is Velocity's Artist in Residence for 2014 and has been supported by the Seattle Mayor's Office of Arts and Cultural Affairs and 4Culture.
Learn more at cherdonna.com.
READ Loose Lips: Cherdonna's big break — The Stranger
ABOUT MADE IN SEATTLE
Made in Seattle is Velocity's new dance development program dedicated to growing the Northwest's creative community by commissioning, producing and presenting evening-length dance works by some of the most talented and experimental artists from our region; as well as collaborative projects between Seattle artists and inter/national leaders in the field. It is tremendously challenging for local dance artists to find the support necessary to create new work. With Made in Seattle, Velocity is helping to fill this gap.
Artists receive pivotal resources: financial support, a commissioning fee, free rehearsal space, a production residency, a fully produced performance; as well as professional development through artistic, administrative, dramaturgical and philanthropic support.
Begun in 2012, and curated by Velocity's Artistic Director, Made in Seattle has produced the world premieres of AmyO/tinyrage (2012), Danielle Agami/Ate9 (2012), Ezra Dickinson (2013), and Kate Wallich + The YC with Andrew Bartee (2014).
The goal of this program is to increase the artistic quality of new contemporary dance pieces created at Velocity by increasing our direct support to artists during the critical Development Phase of a new work. Made in Seattle is particularly interested in helping mid-career artists. This program also fosters excellence in the Seattle dance scene by supporting extended collaborative projects that bring together local artists and international leaders in the field of dance.