// SPEAKEASY SERIES //
// ON THIS PAGE //
ABOUT / SCHEDULE OF EVENTS / VELOCITY OPEN FORUMS / PROPOSE A PROJECT
// SEE ALSO //
SPEAKEASY ON STANCE / ARCHIVE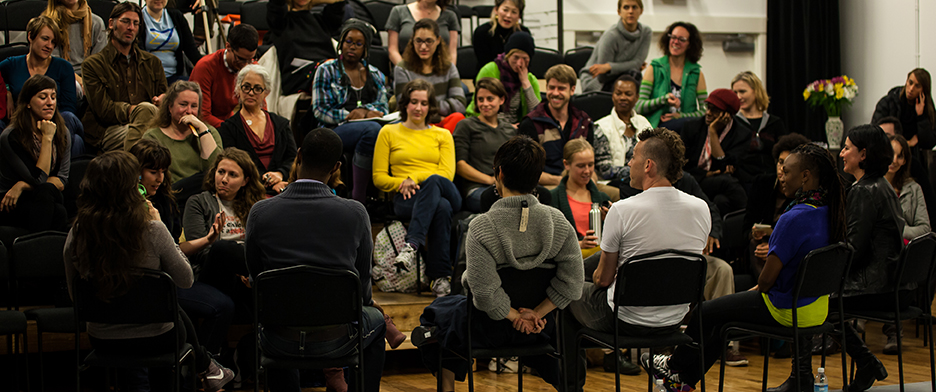 The Speakeasy Series is an artist and Velocity-curated series of panel discussions, audience labs, show + tells, performance lectures, informal community conversations and/or other formats that focus on provocative or timely issues of aesthetics, philosophy or the intersection of dance and social justice confronting, or of interest to, the dance and performance community.  The purpose of the Speakeasy Series is to encourage cross-disciplinary dialogue, promote civic engagement, create meaningful links between artists and the community, and support initiatives at the cutting edge of change.
". . . it's rare that the rest of us get a direct invitation to these kinds of conversations—the kinds of conversations that make dance seem less tricky and intimidating, and can help us all to look a little more closely."
— Melody Datz, The Stranger Slog
 All Speakeasy events are free or by suggested donation, and open to the public unless noted otherwise.
upcoming SPEAKEASY EVENTS

SPEAKEASY SERIES: ART IN PRISONS
SUN SEPT 13 / 5-7PM
Velocity Founders Theater 1621 12th Ave
FREE + open to all
The arts have a transformative impact on people who are incarcerated in America, and the artists who work with them. This Speakeasy focuses on cultural workers creating and collaborating inside of America's prisons and juvenile detention centers.
In America's criminal justice system, prisoners are separated by physical, racial, socio-economic, and geographic boundaries. Artists on the outside and inside are collaborating and creating fascinating work in many disciplines across these boundaries. Please join us for this important conversation.
Hosted by Leigh Sugar with Pat Graney, Lillian Hewko, Eli Hastings, Aaron Counts, + Daemond Arrindell.
LEIGH SUGAR began working with incarcerated individuals through the Prison Creative Arts Project (PCAP), where she facilitated creative writing workshops with men incarcerated in Michigan state prisons. She also edited PCAP's annual Michigan Review of Prisoner Creative Writing for three years. Now based in Seattle, she teaches yoga to incarcerated youth through Yoga Behind Bars, and is currently curating and editing an anthology of writing by non-incarcerated artists who teach creative workshops in prisons.

PAT GRANEY is a Seattle-based artist working in dance/installation. The Pat Graney Company has toured to most major American cities as well as abroad.  Ms. Graney is the recipient of Fellowships for her work including a Guggenheim and the NEA. She is a US Artist Award recipient and an Alpert Awardee. Ms. Graney received the Arts Innovator Award from Artist Trust/Dale Chihuly Foundation in 2011, and in 2013 was awarded a Doris Duke Performing Artist Award. 2014 is the 20th Anniversary of Keeping the Faith/The Prison Project (KTF), which began in 1992 and led to a fully developed program in 1995. KTF is an arts-based educational program for incarcerated women and girls, and has been conducted in over 20 prisons across America as well as abroad. Ms. Graney is currently creating a new work entitled 'Girl Gods,' set to premiere at On the Boards October 1-4, 2015.

LILLIAN HEWKO, Incarcerated Parents Project attorney at the Washington Defender Association, assists defense attorneys representing incarcerated parents and develops legislative policy and advocacy strategies to help reduce the chances of family separation and parental incarceration. Lillian co-founded the Incarcerated Mothers Advocacy Project (IMAP), which uses the reproductive justice framework to center incarcerated and formerly incarcerated individuals as leaders in advocating for systemic change. As an Equal Justice Works Fellow at Legal Voice in 2013, she helped lead the passage of the Children of Incarcerated Parents Bill. A 2011 graduate of the University of Washington School of Law and a Gates Public Service Scholar, she identifies as a queer, mixed-Latina from a working-class background. Reproductive justice and prison abolition ideals are integral to her work and led to her desire to use law as a tool to create social change.

ELI HASTINGS is a therapist, author and teaching artist.  He started out with a desire to do human rights work internationally, but the siren song of creative writing got him. Through teaching and writing nonfiction narratives, and ultimately through working for years with Pongo Teen Writing in Juvenile Detention, he's relieved to find that he is indeed doing human rights work through Pongo as well as his private practice, Changing Stories Counseling."

AARON COUNTS has seen firsthand the transformative power of art. He has written and read with professors, prisoners, dropouts, and scholars. He is a long-time teaching artist with the Writers-in-the-Schools program, and is the lead engagement artist for Creative Justice, 4Culture's arts-based alternative to incarceration for King County youth. Aaron holds an MFA from the University of British Columbia, and is the co-author of the curriculum, Reclaiming Black Manhood. His writing has recently appeared in Specter Magazine, Bestiary, Aldebaran Review, The Furnace radio series, and Rufous City Review.

DAEMOND ARRINDELL is a poet, performer, and teaching artist. Faculty member of Freehold Theatre and co-facilitator of poetry and theater residencies at Monroe Correctional Complex for men; Writer-In-Residence through Seattle Arts & Lectures' Writers in the Schools Program; and mentor artist for Creative Justice – using art as an alternative to incarceration for youth in the court system. He has performed in venues across the country and has been repeatedly commissioned by both Seattle and Bellevue Arts Museums. In 2013, he was selected for the Jack Straw Writers program, published in Specter magazine and chosen for "13 for '13," a joint project between the Seattle Times and KUOW, profiling thirteen influential people in Seattle's art scene. In 2014, he was a VONA Voices Writers' Workshop fellow. More recently Daemond performed alongside Sherman Alexie and has joined the faculty of TAT Lab, the Washington state Teaching Artist Training Lab.

SPEAKEASY SERIES: DANCER'S SURVIVAL FAIR
SUN SEPT 20 / 5:30-8PM
Velocity Founders Theater 1621 12th Ave
FREE + open to all
Professional development sessions designed specifically for dancers covering a variety of topics including budgeting, marketing, goal-setting + touring, followed by a networking happy hour.
SPEAKEASY SERIES: IDENTITY RIOT #2
FRI OCT 2 / 7-9PM
Velocity Founders Theater 1621 12th Ave
FREE + open to all
Building on the incredible response to Identity Riot, our speakeasy during NextFest NW 2014, Identity Riot 2 will be a proactive focus group on gender + racial equity at Velocity, activating community participation to identify and address challenges, resources and next steps.
The 2015 Speakeasy Series is sponsored in part by the generous support of Robert Stumberger.

VELOCITY OPEN FORUMS
Velocity Open Forums invite one and all into an open, freewheeling discourse on issues in contemporary art and society. Open Forums focus multiple Velocity Speakeasy Events around specific Velocity performances. Curated by Velocity Artistic Director Tonya Lockyer. All events are free unless otherwise noted.

Past Velocity Open Forums:
VELOCITY OPEN FORUM: IRRECONCILABILITY / NOV 16-23, 2014
VELOCITY OPEN FORUM: THE GOOD LIFE / SEPT 5-14, 2013
VELOCITY OPEN FORUM: REAL/TIME / DEC 2-10, 2012
VELOCITY OPEN FORUM: RACE + REALNESS / SEPT 24 – OCT 21, 2012
VELOCITY OPEN FORUM: FAILURE: CONVERSATIONS AROUND ART + THE ECONOMY / SEPT 17-23, 2012
Propose a Project
Proposals for Speakeasy events are accepted and reviewed on an ongoing basis. Please include a description of the format (panel discussion, film screening, post-show talk, informal round-table etc.), the issues to be investigated and a list of potential artists or participants involved. Send your proposals, in any stage of development to Cait Wyler, Programming Coordinator: Cait@velocitydancecenter.org. The Speakeasy Series is curated by the artist and Velocity Artistic Director Tonya Lockyer.
SPEAKEASY ON STANCe
Read responses to Velocity Speakeasy Series events on STANCE: journal of Choreographic Culture.
Have a response to a Speakeasy event? Email stance@velocitydancecenter.org.
To see all Velocity Speakeasy Series Events since the program began in 2011 click here.
3,380 total views, 15 views today