// SPEAKEASY SERIES //
On this page // ABOUT * SCHEDULE OF EVENTS * VELOCITY OPEN FORUMS * PROPOSE A PROJECT
See also // SPEAKEASY ON STANCE * ARCHIVE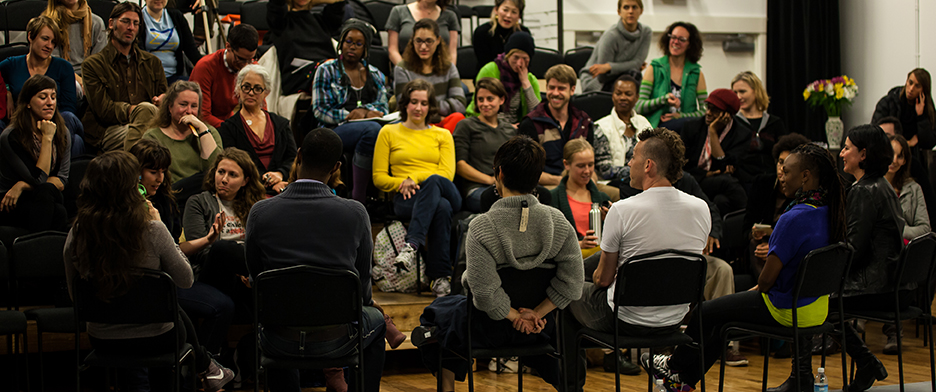 The Speakeasy Series is an artist and Velocity-curated series of panel discussions, audience labs, show + tells, performance lectures, informal community conversations and/or other formats that focus on provocative or timely issues of aesthetics, philosophy or the intersection of dance and social justice confronting, or of interest to, the dance and performance community.  The purpose of the Speakeasy Series is to encourage cross-disciplinary dialogue, promote civic engagement, create meaningful links between artists and the community, and support initiatives at the cutting edge of change.
". . . it's rare that the rest of us get a direct invitation to these kinds of conversations—the kinds of conversations that make dance seem less tricky and intimidating, and can help us all to look a little more closely."
— Melody Datz, The Stranger Slog
 All Speakeasy events are free or by suggested donation and open to the public unless noted otherwise.
upcoming SPEAKEASY EVENTS
ARTISTS AS ACTIVISTS: SCUBA SPEAKEASY LIGHTING TALKS

THURS APR 24 / 7PM
Velocity Founders Theater 1621 12th Ave
FREE
SCUBA artists present what is fuelling their current work and creative process in a series of lightning talks followed by an open community conversation.
In 2012, NAKA Dance Theater's Debby Kajiyama and Jose Navarrete travelled to North Japan as volunteers for the clean up efforts in Tohoku, which was extremely damaged by the 3.11 earthquake, tsunami and nuclear meltdown in Northern Japan. In this special presentation with photos and videos, the artists will talk about the environmental disaster in Japan and how artists are responding to this event. Then, see their response BAILOUT! or Can you picture this prophecy? The temperatures are too hot for me in the SCUBA performance April 25-27.
In a part academic lecture, part embodied practice, part novice theater game, SuperGroup offers a glimpse into their collaborative process and their search for the intelligent multitasking performer. Nichole Canuso shows a video of her most recent project The Garden, sharing some of the questions and discoveries from this process that invites the audience to become a part of the work through new technologies. Elia Mrak + Erica Badgeley discuss "Dramaturgy of the Body" — What is 'dramaturgy', and how does the body source it?.
The 2014 Speakeasy Series is sponsored in part by the generous support of Robert Stumberger.
VELOCITY OPEN FORUMS
Velocity Open Forums invite one and all into an open, freewheeling discourse on issues in contemporary art and society. Open Forums focus multiple Velocity Speakeasy Events around specific Velocity performances. Curated by Velocity Executive/Artistic Director Tonya Lockyer. All events are free unless otherwise noted.
Past Velocity Open Forums:
VELOCITY OPEN FORUM: THE GOOD LIFE / SEPT 5-14, 2013
VELOCITY OPEN FORUM: REAL/TIME / DEC 2-10, 2012
VELOCITY OPEN FORUM: RACE + REALNESS / SEPT 24 – OCT 21, 2012
VELOCITY OPEN FORUM: FAILURE: CONVERSATIONS AROUND ART + THE ECONOMY / SEPT 17-23, 2012
Propose a Project
Proposals for Speakeasy events are accepted and reviewed on an ongoing basis. Please include a description of the format (panel discussion, film screening, post-show talk, informal round-table etc.), the issues to be investigated and a list of potential artists or participants involved. Send your proposals, in any stage of development to Kim Lusk, Programs Coordinator here. The Speakeasy Series is curated by the artist and Velocity Executive/Artistic Director Tonya Lockyer.
SPEAKEASY ON STANCe
Read responses to Velocity Speakeasy Series events on STANCE: journal of Choreographic Culture.
Have a response to a Speakeasy event? Email stance@velocitydancecenter.org.
To see all Velocity Speakeasy Series Events since the program began in 2011 click here.