// SPEAKEASY SERIES //
// ON THIS PAGE //
ABOUT / SCHEDULE OF EVENTS / VELOCITY OPEN FORUMS / PROPOSE A PROJECT
// SEE ALSO //
SPEAKEASY ON STANCE / ARCHIVE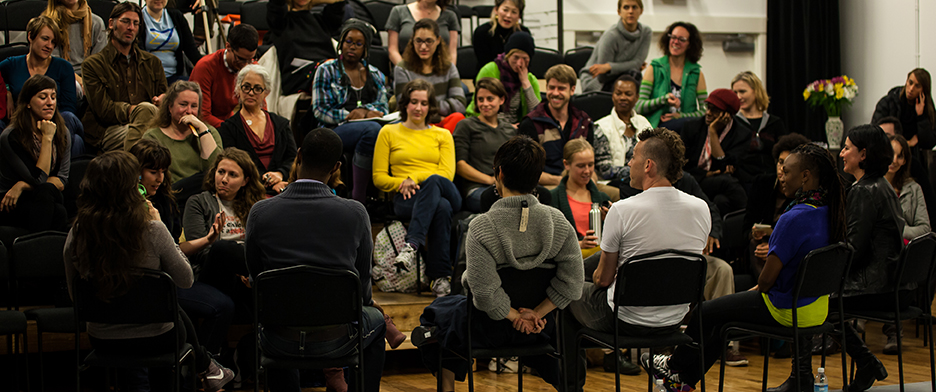 The Speakeasy Series is an artist and Velocity-curated series of panel discussions, audience labs, show + tells, performance lectures, informal community conversations and/or other formats that focus on provocative or timely issues of aesthetics, philosophy or the intersection of dance and social justice confronting, or of interest to, the dance and performance community.  The purpose of the Speakeasy Series is to encourage cross-disciplinary dialogue, promote civic engagement, create meaningful links between artists and the community, and support initiatives at the cutting edge of change.
". . . it's rare that the rest of us get a direct invitation to these kinds of conversations—the kinds of conversations that make dance seem less tricky and intimidating, and can help us all to look a little more closely."
— Melody Datz, The Stranger Slog
 All Speakeasy events are free or by suggested donation, and open to the public unless noted otherwise.
upcoming SPEAKEASY EVENTS
AUDIENCE LAB with Alice Gosti
May 3 / 5-7PM
Velocity Founders Theater 1621 12th Ave
FREE and open to all
Audience labs demystify Velocity performances with equal emphasis on presentation, participation, and social connection. Alice Gosti will share video clips of artists who inspired her immersive performance practice, including Britain's DV8 Physical Theater and Flemish legend Jan Fabre; take participants through an experience of the ideas driving her new work, How to become a partisan; followed by a group dialogue, facilitated by a guest artist, reflecting on the work's April 25th premiere.
SPEAKEASY SERIES: ARTISTS RAISING KIDS
SUN MAY 10 / 6:30-8:30PM
Velocity Founders Theater 1621 12th Ave
FREE + open to all
Hosted by Maya Soto, Karin Stevens, Laura Rodriguez. Join us on Mother's Day to celebrate artists raising kids. Meet other working artist parents, share challenges and inspiration.  All families and kids welcome.
SPEAKEASY SERIES: LIGHTNING TALK
WEDS JULY 29 / 6-8:30PM
FREE + open to all
In this popular evening of performance, presentations, and community dialogue, SFDI intensive faculty share what's currently driving their research and practice.
SPEAKEASY SERIES: HISTORY OF CONTACT IMPROVISATION THROUGH THE BODY
THURS JULY 30 / 2PM
FREE + open to all
A lecture demonstration and conversation facilitated by Karen Nelson with Andrew de la Harwood, Ronja Ver, and Katherine Cook.
SPEAKEASY SERIES: ART IN PRISONS
SUN SEPT 13 / 5-7PM
Velocity Founders Theater 1621 12th Ave
FREE + open to all
This Speakeasy, hosted by Leigh Sugar, focuses on cultural workers creating and collaborating inside of America's prison system, who will share the transformative impact of the arts on inmates and the artists who work with them.  In America's prison system, prisoners are separated by physical, racial, socio-economic and geographic boundaries. Artists on the outside and inside are collaborating and creating fascinating work in many disciplines across these boundaries.  Please join us for this important conversation.
The 2015 Speakeasy Series is sponsored in part by the generous support of Robert Stumberger.

VELOCITY OPEN FORUMS
Velocity Open Forums invite one and all into an open, freewheeling discourse on issues in contemporary art and society. Open Forums focus multiple Velocity Speakeasy Events around specific Velocity performances. Curated by Velocity Artistic Director Tonya Lockyer. All events are free unless otherwise noted.

DAY-LONG SFDI OPEN FORUM + LAB
MON AUG 3 / 9AM – 5:30PM
More info coming soon!
Past Velocity Open Forums:
VELOCITY OPEN FORUM: IRRECONCILABILITY / NOV 16-23, 2014
VELOCITY OPEN FORUM: THE GOOD LIFE / SEPT 5-14, 2013
VELOCITY OPEN FORUM: REAL/TIME / DEC 2-10, 2012
VELOCITY OPEN FORUM: RACE + REALNESS / SEPT 24 – OCT 21, 2012
VELOCITY OPEN FORUM: FAILURE: CONVERSATIONS AROUND ART + THE ECONOMY / SEPT 17-23, 2012
Propose a Project
Proposals for Speakeasy events are accepted and reviewed on an ongoing basis. Please include a description of the format (panel discussion, film screening, post-show talk, informal round-table etc.), the issues to be investigated and a list of potential artists or participants involved. Send your proposals, in any stage of development to Cait Wyler, Programming Coordinator: Cait@velocitydancecenter.org. The Speakeasy Series is curated by the artist and Velocity Artistic Director Tonya Lockyer.
SPEAKEASY ON STANCe
Read responses to Velocity Speakeasy Series events on STANCE: journal of Choreographic Culture.
Have a response to a Speakeasy event? Email stance@velocitydancecenter.org.
To see all Velocity Speakeasy Series Events since the program began in 2011 click here.
1,922 total views, 15 views today