// Master ClassEs + Workshops //
Velocity's MASTER CLASS SERIES + WORKSHOPS provide the perfect opportunity to learn from and share experiences with leading dance artists from around the globe. Master classes + workshops — ranging from technique, improvisation, creative process and somatics — take place year-round, and bring internationally renowned artists to Velocity through partnerships with UW Meany Hall, Seattle Theatre Group, On the Boards and Cornish College for the Arts.
Past Master Classes + workshops have included: Mark Haim + Jesse Zaritt, Heidi Henderson, Tere O'Connor (NYC), Kyle Abraham (NYC), Ariel Freedman + Danielle Agami (Gaga USA), Andrew de Lotbinière Harwood (Canada), the Merce Cunningham Dance Company (NYC), Kidd Pivot (Canada/Germany), Mark Morris Dance Group (NYC), Chunky Move (AUS), Miguel Gutierrez (NYC), Keith Hennessy (SF), Kathleen Hermesdorf (SF), K.J. Holmes (NYC), Liz Santoro (NYC), Joy Davis (Countertechnique), Gregory Maqoma (South Africa), and many others.
Upcoming MASTER CLASSES + WORKSHOPS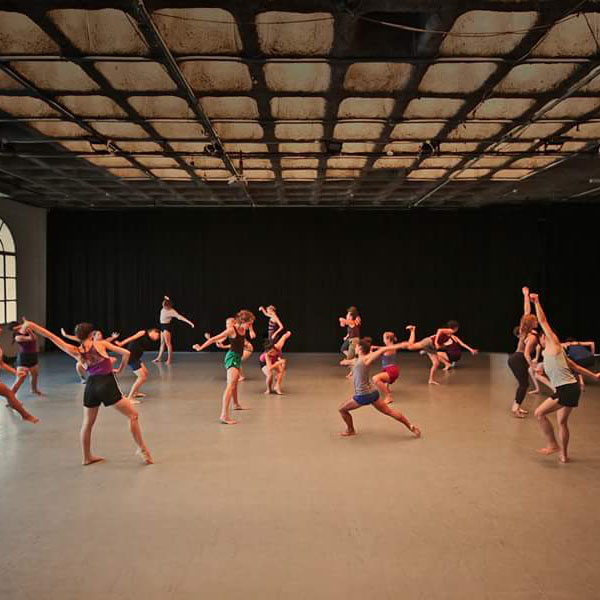 MASTER CLASS SERIES: GAGA with AMY MORROW
TUE AUG 14 / 9:30–11:30AM
Velocity Kawasaki Studio 1621 12th Ave
Drop-in $15/$12 MVP
9:30-10:30am | Gaga Session
10:30-11:30am | Toolbox Session
Led by Amy Diane Morrow, who graduated from the inaugural teacher training program directed by Ohad Naharin.
Open to people ages 16+, regardless of their background in dance or movement. No previous dance experience is needed. All you need is curiosity!
Gaga – Ohad Naharin's Movement language גאגא -שפת התנועה של אוהד נהרין. is a new way of gaining knowledge and self-awareness through your body. Gaga provides a framework for discovering and strengthening your body and adding flexibility, stamina, and agility while lightening the senses and imagination. Gaga raises awareness of physical weaknesses, awakens numb areas, exposes physical fixations, and offers ways for their elimination. The work improves instinctive movement and connects conscious and unconscious movement, and it allows for an experience of freedom and pleasure in a simple way, in a pleasant space, in comfortable clothes, accompanied by music, each person with himself and others.
Toolbox is a special session to experiment with endless possibilities using tools not rules. The Theorists share keys for unlocking our movement practice inside multi-disciplinary collaborations. We experiment with impossible tasks with optimism. We deconstruct our capacity for complexities to re-choreograph ourselves. We continuously push our limits, listen to the body, and ask "How is our dance relevant as artist citizens?"
Wear comfortable clothes. Be ready to dance barefoot or in socks. Bring a bottle of water and a towel.
---
MASTER CLASS SERIES: ZACK TANG
TUE + THU AUG 21 + 23 / 9:30–11:30AM
Velocity 1621 12th Ave
Drop-in $15/$12 MVP
The class will focus on tools to help you with your contemporary floor work. Emphasizing the carriage of your upper body to the floor. Discovering the surface area of your skin against the ground and finding rotating points in your arms, torso, hips, and legs.
Originally from Houston, Texas, ZACK TANG holds a diploma from The High School for Performing and Visual Arts (07). Upon receiving his BFA from The Juilliard School, under the direction of Lawrence Rhodes, Zack won the Hector Zaraspe Prize for choreography. He has worked with choreographers Victor Quijada, Peter Chu, Alexander Ekman, Stijn Celis, Larry Kegwin, Mark Morris, and Darrell Grand Moltrie, Andrew Skeels, and has performed works by José Limón, Anthony Tudor, Martha Graham, Paul Taylor, and Bronislava Nijinska. In 2012, Zack was listed in Dance Magazine's "Top 25 to Watch". Before joining RUBBERBANDance Group, he spent two years with Alonzo King's LINES Ballet. During his time in Montreal, Zack has been cast as a guest artist for events and advertisements for Cirque du Soleil, Cirque Eloize, Street Parade, Aldo, Running Leap Pictures, and Andrew Skeels. This is Zack's sixth season with RUBBERBANDance Group.
CI FUNDAMENTALS
WORKSHOP SERIES: CI FUNDAMENTALS

SUNS 1:30PM–2:50PM
Velocity 1621 12th Ave
Drop-in $15/$12 MVP
Buy a full class series for just $60 for 6 weeks ($10/class)
Come dance Contact Improvisation! Whether brand new and curious about the form, or an old hand looking to deepen or broaden your practice, this series is for you! Take multiple sessions to get a diverse and complementary set of perspectives. Or, come to the one that works with your schedule: each session can stand on its own. You'll leave with material to explore in the movement jam that follows and richer sense of the principles and possibilities in Contact Improvisation.

FALL SCHEDULE COMING SOON!
CREATIVE / PROCESS
CREATIVE / PROCESS classes and workshops are taught by leading movement practitioners and reflect current developments in the field of contemporary dance. Each series takes a multi-faceted investigative approach that may include research in somatics, performance, performance-making, writing for dance, design for performance, voice and movement, improvisation, movement generation and theory. Each class is unique based on the research of each artist, see lab descriptions.
WEDS 6PM–7:30PM
Velocity 1621 12th Ave
Drop-in $12 MVP Member ($15 regular)
Buy a full class series for just $60 for 6 weeks or $40 for 4 weeks ($10/class)
FALL SCHEDULE COMING SOON!
---
ARCHIVE: CREATIVE / PROCESS SERIES
View All Creative / Process Series (formerly called Investigative Movement Practices [IMP]) 2013–2018 >> 
archive: master classes + workshops
46,056 total views, 16 views today