// Master ClassEs + Workshops //
Velocity's MASTER CLASS SERIES + WORKSHOPS provide the perfect opportunity to learn from and share experiences with leading dance artists from around the globe. Master classes + workshops — ranging from technique, improvisation, creative process and somatics — take place year-round, and bring internationally renowned artists to Velocity through partnerships with UW Meany Hall, Seattle Theatre Group, On the Boards and Cornish College for the Arts.
Past Master Classes + workshops have included: Mark Haim + Jesse Zaritt, Heidi Henderson, Tere O'Connor (NYC), Kyle Abraham (NYC), Ariel Freedman + Danielle Agami (Gaga USA), Andrew de Lotbinière Harwood (Canada), the Merce Cunningham Dance Company (NYC), Kidd Pivot (Canada/Germany), Mark Morris Dance Group (NYC), Chunky Move (AUS), Miguel Gutierrez (NYC), Keith Hennessy (SF), Kathleen Hermesdorf (SF), K.J. Holmes (NYC), Liz Santoro (NYC), Joy Davis (Countertechnique), Gregory Maqoma (South Africa), and many others.
Upcoming MASTER CLASSES + WORKSHOPS
WORKSHOP SERIES
WORKSHOP SERIES: LAVINIA VAGO with HARALD STOJAN
A Physical Investigation of the Mind
THURS FEB 14 / 12-2PM
Velocity 1621 12th Ave
PRE-REGISTRATION $15 / Friend $12 | Drop-in $20 / $17 Friend-MVP | $24 Undercurrent + Vago Workshop Package
DESCRIPTION:
How can we handle and process thoughts if we perceive them as material reality? Where do we anchor our body in relation to the mind, to sound, to the environment surrounding us? Inspired by club spaces, dance floors, raving and psychoacoustics we will create and affect artificial spaces through sound, voice and body while working with states of trance and flow.
Lavinia Vago and Harald Stojan will lead a workshop on mechanisms explored, analyzed and developed during the creation of their work NOESIS X, a solo for two.
ARTISTS BIO:
LAVINIA VAGO (choreographer, dancer, teaching artist) is a dance artist from Italy, based in Seattle, working between NYC, Montréal, and Berlin. She graduated Magna Cum Laude from Cornish College of the Arts. She has created, performed and toured internationally with Sidra Bell Dance New York, Vim Vigor Dance Theater, Loni Landon Projects, Saint Genet, Tom Weinberger and more extensively with Rubberbandance Group. She has been co-directing, creating, and performing with Kate Wallich + The YC since 2010 and has been a rehearsal director for YC2 since its founding in 2017. She also works as a choreographic assistant and rehearsals director for Victor Quijada, Loni Landon and Kate Wallich. As an educator and choreographic assistant she has taught at Strictly Seattle, Velocity Dance Center, Marymount College, Purchase College, The Juilliard School, The Ailey School, Domaine Forget, Springboard Danse Montreal, L'ècole de danse contemporaine de Montreal, L'école superieur de ballet du Québec. She teaches her own contemporary improvisational class as well as Dance Church™ and the RUBBERBAND Method. She was recently trained to teach Dance for Parkinson's disease and will soon begin teaching classes in Seattle.
HARALD STOJAN (sound designer, composer, musician) lives and works inter- Berlin, Vienna and the whole world as composer, soundartist, audio engineer, poet and performer oscillating between contemporary musics, fine arts & dance. Studies of computermusic and audio engineering in Vienna, with focus on multichannel/ambisonics, voice and psychoacoustics shape their output. Works usually are site-specific involving sound sculptures, multi-channel sound installations and live performances in various mediums and formats. The physical quality of sound, and sound as the embodying medium of touch and gesture are means of creating affective and immersive experiences which find their fundament in the studies biological, neurological and evolutionary mechanisms of hearing/sensation. Extended vocal techniques and live processing are as much visceral to the work as deconstructed formats of academic- and club music. Artistic collaborations in Theatre, Architecture, Fashion & Dance – among others at Signature Theater New York/Broadway, Columbia University New York, TAKE Festival for Fashion Vienna, Actoral Festival Marseille and venues all over Vienna and Berlin (Theater in der Drachengasse, Kabelwerk/Wien, WUK, EKH etc.). A portion of the collective CLINIC, exploring contemporary club and event culture & part of demon pop duo Pandora. Currently pursuing a contemporary dance education at Tanzfabrik Berlin.
---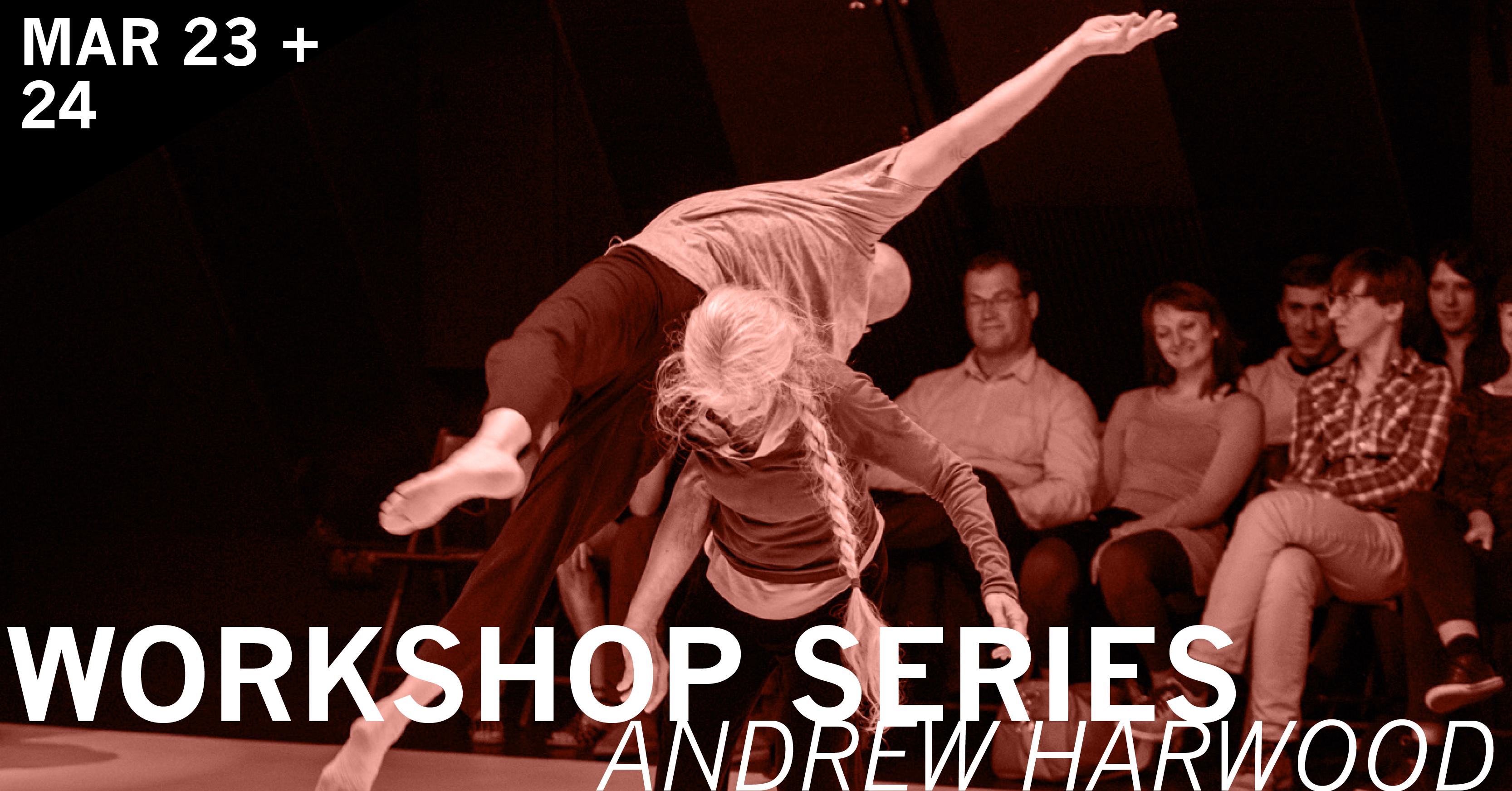 WORKSHOP SERIES: Andrew Harwood
Suspension
SAT MAR 23 / 12-6PM
SUN MAR 24 / 12-5PM
Velocity 1621 12th Ave
1 class / $60 | 2 classes / $100-120
DESCRIPTION:
In this contact workshop, we will explore the many facets of suspension. In a physical sense we will focus on the suspension of our weight stretching out in time or teetering on the edge of our balance for a moment longer. Our bodies, like all moving vehicles, are equipped with a system of shock absorbers; also know as suspension, allowing us to travel smoothly or cushion the impact of our mass as we fall and land safely from any level. On a subtler level, it may also refer to the postponement or temporary halt of a thought, a judgment, an impulse, a decision, an opinion, or even our disbelief. Through a dynamic physical collaboration of the senses we will follow our instincts and be guided by what is already present in our body in order to access multiple facets of our innate creative wisdom.
ARTIST BIO:
Andrew de Lotbinière Harwood (Montreal) is an internationally recognized pioneer and master teacher of contact improvisation. He began his dance career in 1975 and for over forty-three years has dedicated himself to the research, education, development and dissemination of contact improvisation and compositional improvisation as sophisticated movement disciplines and performing art forms. He studied and performed with, among many others, Steve Paxton, Nancy Stark Smith and Nita Little, (the founders of contact improvisation) and has danced for the companies of Marie Chouinard, Jean-Pierre Perreault, Jo Lechay and Fulcrum, as well as the dance collectives Discovery Bal, The Echo Case and the Improvisational Movement Fund. Formerly artistic director of AH HA Productions (2000-2014) his work has evolved through ongoing collaborations with many renowned artists (Peter Bingham, Marc Boivin, Benoît Lachambre, Chris Aiken, Kirstie Simson, Julyen Hamilton, Lin Snelling, Benno Voorham, Ray Chung, Lisa Nelson, Jori Snell, etc.) and through various investigations of perceptual awareness, performance, real-time composition, spatial design and installation. Passionate about teaching, he transforms his training in gymnastics, the Alexander Technique, Aikido, release technique, contemporary dance, yoga and various somatic practices into a personal language, which he has shared throughout the world since 1976. He was awarded the Canada Council's Jacqueline Lemieux Award in 2000.
PHOTO CREDIT – …
MASTERCLASS SERIES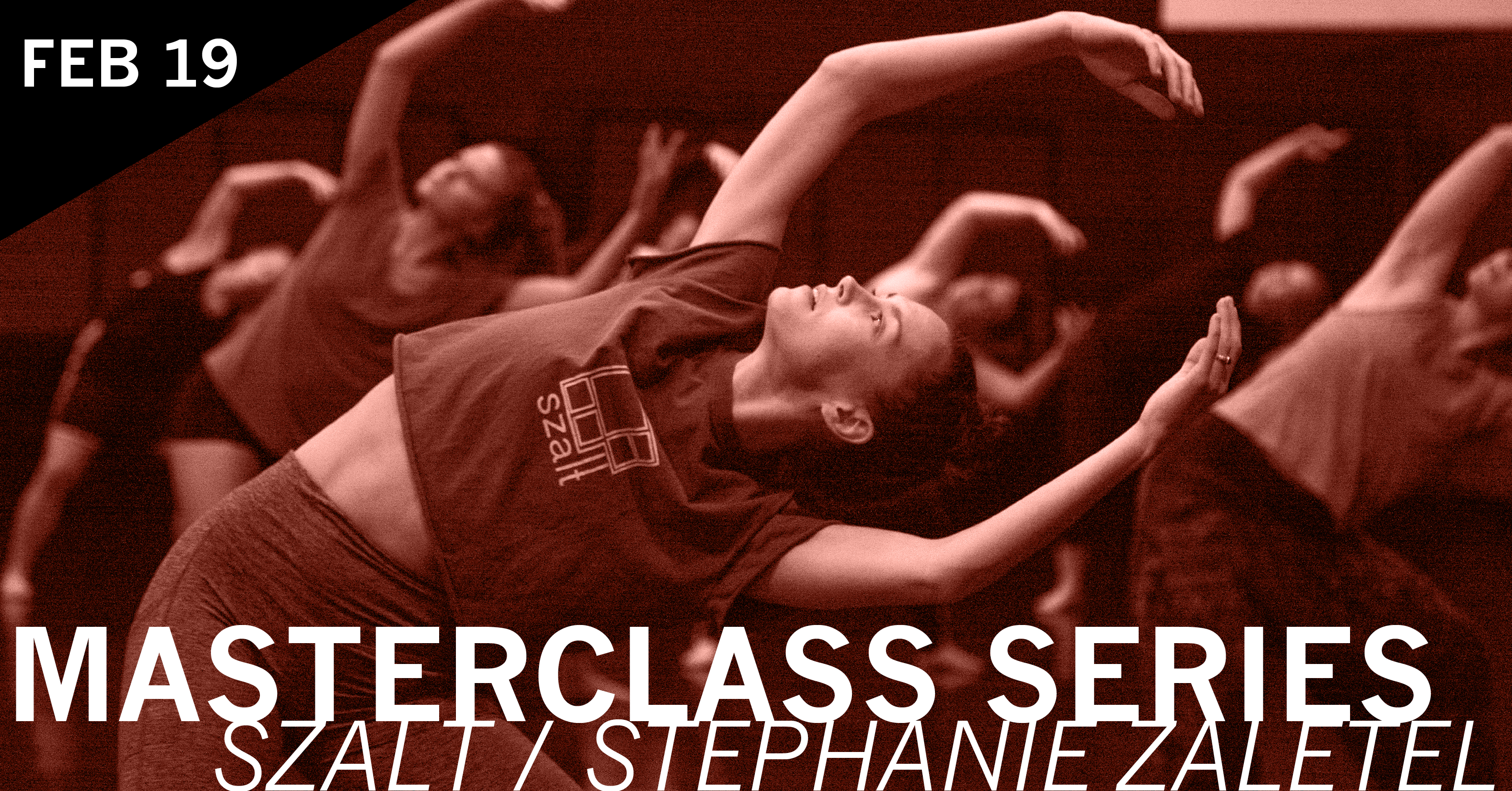 MASTERCLASS SERIES: SZALT
TUES FEB 19 / 6:15-7:45PM
Velocity 1621 12th Ave
Drop-in $15/$12 Friend-MVP
DESCRIPTION:
Stephanie Zaletel's masterclass will activate breath, target core muscle groups through fitness inspired tasks, and incorporate imaginative meditation and improvisation as a means to re-approach contemporary forms. The latter portion of class will include an opportunity for dancers to learn and explore repertoire from our current touring production, moon&. We encourage all levels of mover to join though repertoire will be geared towards professional and pre-professional dancers.
ARTIST BIO:
STEPHANIE ZALETEL is an LA based choreographer, dancer, and educator. Her choreography has been commissioned for various music videos, short films, colleges, institutions, and collaborations. Zaletel began her career dancing for Barak Marshall, Colin Connor (Artistic Director, Limon), and Danielle Agami (Artistic Director, Ate9) before officially forming szalt (dance co.) in 2015. szalt (dance co.) is a team of specialized dance artists led by Stephanie Zaletel in Los Angeles – arousing curiosity through voyeuristic feminine experiences, depictions of body memory, and dream logic – creating and facilitating highly collaborative, site-sensitive, and socially fluent dance performance and practice. Zaletel and her team have performed, led workshops, and held residencies at numerous notable venues across the U.S. including LA Dance Project, The Hammer Museum, REDCAT, Arizona State University, Cornish College of the Arts, Tempe Center for the Arts, Loyloa Marymount University, and Ford Theatres. Zaletel most recently choreographed for Lars Jan's "The White Album" which premiered at Wexner Center for the Arts, BAM's Next Wave Festival, and will be showing at the Freud Playhouse in partnership with CAP UCLA and Centre Theater Group in 2019. She holds a BFA in Dance Performance and Choreography with a minor in Humanities from California Institute of the Arts.
*PHOTO CREDIT – Sarah Prinz
---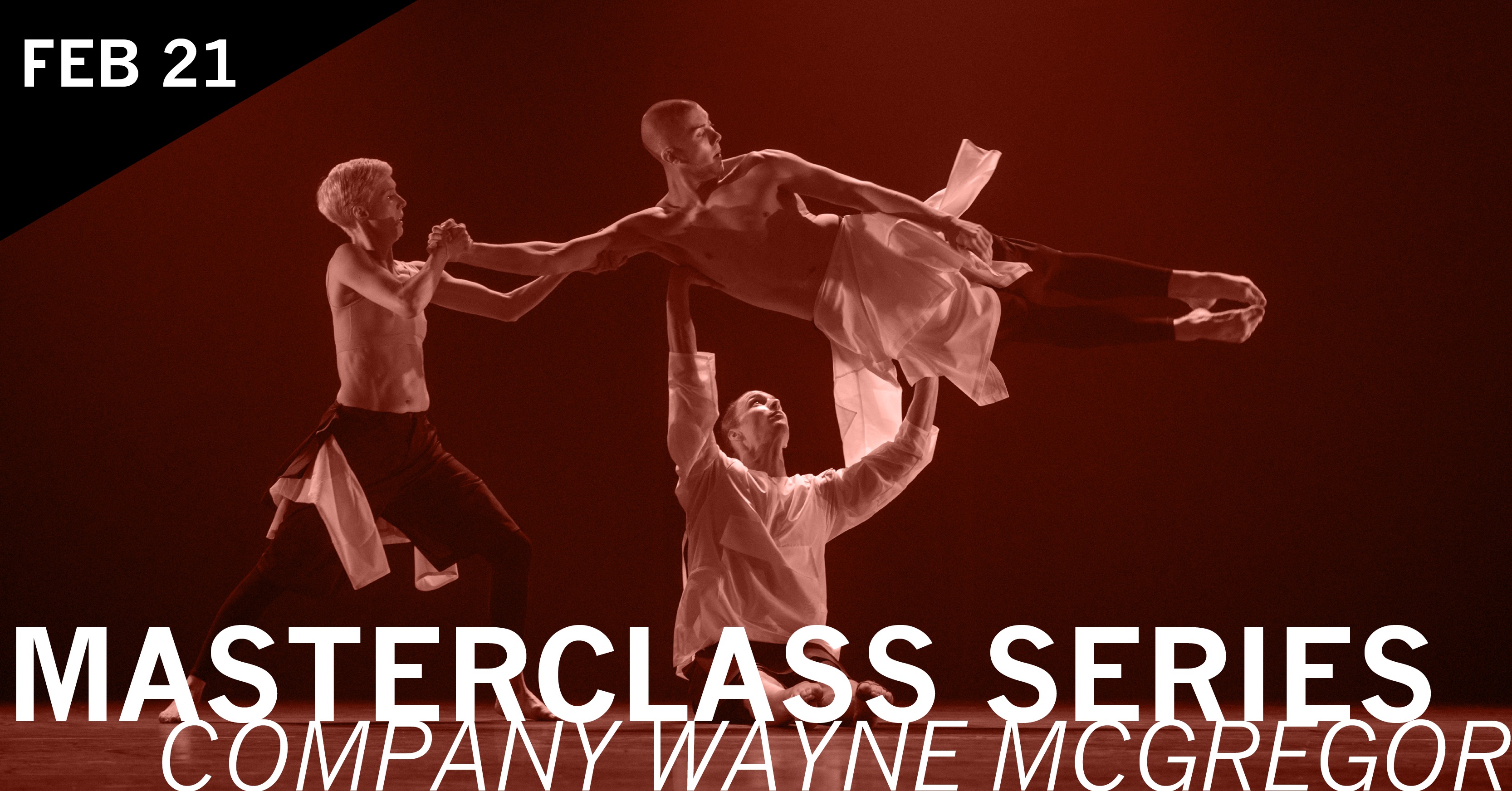 MASTERCLASS SERIES: COMPANY WAYNE MCGREGOR
with TRAVIS CLAUSEN-KNIGHT + JESSICA WRIGHT
THURS FEB 21 / 9:30-11:15AM
Velocity 1621 12th Ave
Drop-in $15/$12 Friend-MVP
DESCRIPTION:
Company Members from the multi-award winning Company Wayne McGregor will conduct a unique workshop for experienced dancers based on the concepts of the contemporary dance company. The workshop will consist of an introduction to the Mind and Movement resource with contextual information about the development of the choreographic thinking tools. A short warm up will be delivered followed by a practical exploration of some of the Mind and Movement lessons and an introduction to the principles that underpin the resource.
Drop-ins only!
ARTIST BIOS:
TRAVIS CLAUSEN-KNIGHT – Born in Cape Town, South Africa, Travis moved to England and later graduated from the Arts Educational School, Tring Park in 2009. While in training, he won several awards for dance and choreography within the school and outside, including at the National Youth Ballet and the International Competition of Dance in Spoleto, Italy. Since graduating, Travis performed with Matthew Bourne's world tour of Swan Lake and featured in the 3D film of the production. He was involved in Michael Clark's TH residency at Tate Modern in 2011. He also performed with Tavaziva Dance in their re-mount of Double Take and was part of the creation of Sensual Africa. His other credits include work with A.D. Dance and Combination Dance. Since joining Company Wayne McGregor in 2013, Travis has also pursued creative work in fashion, featuring in several collections for upcoming brands such as Kawakey and Jamie Elwood as well as in campaigns for Cerruti 1881. His passion for choreography and creation also drives his successful collaborations with other artists as well as his commitments to mentoring and teaching young creatives.
JESSICA WRIGHT trained at Central School of Ballet, London, before joining D.A.N.C.E., an interdisciplinary programme based in Brussels, Aix-en-Provence and Dresden. During this time she performed with the Forsythe Company in Human Writes and danced in new works by McGregor, Preljocaj and Flamand. She has restaged excerpts of Company Wayne McGregor works Entity and FAR for Milano City Ballet and Compagnie Grenade (Aix en Provence). Jessica also makes dance films in collaboration with choreographer Morgann Runacre-Temple, commissioned by Channel 4, Big Dance and English National Ballet (in partnership with TATE Liverpool and Manchester International Festival). Their films have screened at international festivals including FIFA (Montreal), Cinedans (Netherlands), Agite y Sirva (Mexico) and ScreenDance (Sweden). The Try Out was nominated for two awards at IMZ's prestigious DanceScreen Festival (2016). Curing Albrecht (2017) was commissioned by ENB as a curtain-raiser to Akram Khan's Giselle and was subsequently shown on BBC iPlayer, Canal+ TV (France) and at the ICA. It was awarded 'Best Dance Film' at the New Renaissance Film Festival (UK) and 'Best Director' at Portland Dance Film Festival (USA) in 2017. Jessica joined company Wayne McGregor in 2008.
PHOTO – Jessica Wright, Travis Clausen-Knight and Jordan James Bridge (Company Wayne McGregor) perform Autobiography, choreographed by Wayne McGregor. Photographer Andrej Uspenski
---

MASTERCLASS SERIES: BATSHEVA
GAGA/NAHARIN 
FRI MAR 8 / 4–5:30PM  + SAT MAR 8 / 12-1PM
Velocity 1621 12th Ave
Drop-in $15/$12 Friend-MVP
DESCRIPTION:
Gaga/Naharin is a movement language developed over the last decade by Ohad Naharin, in the Batsheva
studios with the members of the Batsheva Dance Company. This expressive and dynamic movement language is used daily by dancers of the Batsheva Dance Company and Batsheva Ensemble as the basis for their distinctive technique. Gaga offers a new way to reach a deeper knowledge and understanding of one's self via the body and its movement. Gaga encourages, teaches and cultivates multi dimensional movement, efficiency and texture of movement, the use of explosive power, the connection between pleasure and effort, quickness, clarity of intention, stamina. It enables recognition of one's own movement habits and helps to acquire new ones. Essentially, Gaga increases one's understanding of the body's weaknesses and strengths, as well as its response to them. Through Gaga, one works to break down physical barriers in order to reach a greater comprehension and control of instinctive movements. Ultimately, Gaga empowers the experiences of pleasure, stillness, positivism, and happiness. The Gaga movement language is a tool that can be utilized by dancers and non- dancers alike.
ABOUT THE COMPANY:
BATSHEVA DANCE COMPANY has been critically acclaimed and popularly embraced as one of the foremost contemporary dance companies in the world. Artistic Director, Ohad Naharin, is also the originator of the innovative movement language, Gaga, which has enriched his extraordinary movement invention, revolutionized the company's training, and emerged as a growing international force in the larger field of movement practices for both dancers and non-dancers.
CI FUNDAMENTALS SERIES
CI FUNDAMENTALS SERIES

SUNS 1:30PM–2:50PM
Velocity 1621 12th Ave
Drop-in $15/$12 Friend-MVP
Buy a full class series for just $60 for 6 weeks ($10/class)
Come dance Contact Improvisation! Whether brand new and curious about the form, or an old hand looking to deepen or broaden your practice, this series is for you! Take multiple sessions to get a diverse and complementary set of perspectives. Or, come to the one that works with your schedule: each session can stand on its own. You'll leave with material to explore in the movement jam that follows and richer sense of the principles and possibilities in Contact Improvisation.
Series I: Sept 9 – Oct 14 – Karen Nelson
Series II: Oct 28 – Dec 9 (no class Nov 25) – Alia Swersky
Series III: Jan 6 – Feb 10 – Katherine Cook
Series IV: Feb 24 – Mar 31 – Aaron Swartzman
Series V: Apr 14 – May 19 -Rachael Lincoln
Series VI: May 26 – June 30 – TBA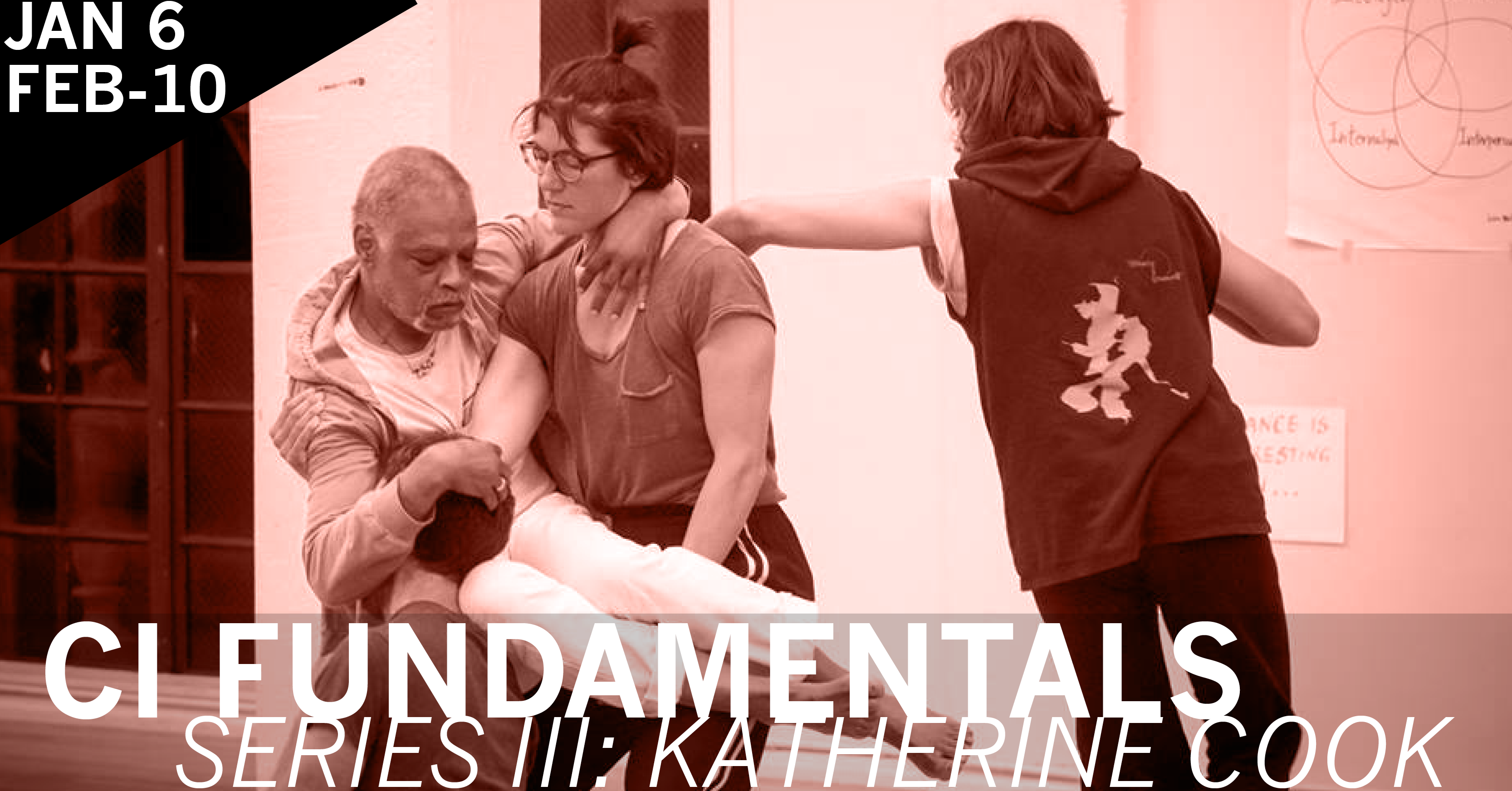 CI FUNDAMENTALS: Katherine Cook
WHAT ARE YOU HERE FOR?
SUNS JAN 6-FEB 10 / 1:30-2:50PM
Velocity 1621 12th Ave
Drop-in $15/$12 Friend-MVP
DESCRIPTION:
Flow goes steadily by us when we dance: flow of feelings, sensations, moments, impressions, information. Some of it we notice, and some of it slips quietly away. By digging into the training of Contact Improvisation as a technique and the finesse of Contact Improvisation as an art, we'll look at expanding our sense of the flow around us, uncovering what is being offered moment to moment that we can be here for.
ARTIST BIO:
KATHERINE COOK is a dancer, teacher, and mathematician in Seattle WA. She researches approaches to living through and with embodiment. Dance improvisation is a foundation of her research and performance, and Contact Improvisation is a deeply-felt love. She views Contact Improvisation as a schema for radical transformation, togetherness, and survival, and her teaching is whole heart, whole body, whole mind.
---
AARON SWARTZMAN
Trusting Momentum
Series 4: Feb 24 – Mar 31
Life is change. Movement is already happening. How can we work with momentum to increase choice-making options and reduce unnecessary effort? We will explore multiple facets of momentum, from subtle to highly kinetic,  as well as practice responsible strategies for cultivating trust within ourselves and with each other.
Fascinated by the body in motion (and at rest), AARON SWARTZMAN has been teaching and performing dance for over 15 years, including long stints with LINGO dancetheater, Legendre Performance, and UMAMI Performance, which he co-founded with Aiko Kinoshita.  He has performed nationally and internationally, is a treinel in Capoeira Angola, a father of two, and a lover of CI.  Currently he is one fifth of the improvisational collective AVID.
---
RACHAEL LINCOLN
Kinesthetic Adventures
Series 5: April 14 – May 9, 2019
In this series we will refresh CI Basics and explore the kinesthetic adventures of touch, gravity, weight, balance, and momentum in a supportive environment. With a focus on moving in and out of contact within a duet, we will endeavor to maintain a solo practice even while dancing with others.  We will train our attention and physicality to be with personal investigation without getting lost in sensation. Classes can serve as an introduction to Contact Improvisation or as a deeper dive into the spontaneous and collaborative nature of the form.
Before joining the The University of Washington dance faculty, RACHAEL LINCOLN spent much of the last 15 years dancing in San Francisco and Berlin. In addition to making and performing her own work, she was a member of The Joe Goode Performance Group and has had the pleasure of working with celebrated dance-makers including Bebe Miller, Sara Shelton Mann, Jess Curtis, Kathleen Hermesdorf, Nancy Stark Smith, and with her long-time collaborator,  Leslie Seiters. She is in her 20th year as a dancer and Associate Director with Bandaloop. Rachael currently dedicates much of her time to practicing/performing with a seasoned group of improvisors under the name AVID, and hanging with her four year old, Henry. Much of her making, performing, and living are informed by a long relationship with Contact Improvisation.
---
TO BE ANNOUNCED
More info coming soon!
Session 6: May 26 – June 30
CREATIVE / PROCESS
CREATIVE / PROCESS classes and workshops are taught by leading movement practitioners and reflect current developments in the field of contemporary dance. Each series takes a multi-faceted investigative approach that may include research in somatics, performance, performance-making, writing for dance, design for performance, voice and movement, improvisation, movement generation and theory. Each class is unique based on the research of each artist, see lab descriptions.
WEDS 6:15PM–7:45PM
Velocity 1621 12th Ave
Drop-in $12 MVP Member ($15 regular)
Buy a full class series for just $60 for 6 weeks or $40 for 4 weeks ($10/class)
Series I: Oct 3–Nov 7 – Katherine Cook
Series II: Nov 14–Dec 19 – Neve Mazique-Bianco
Series III (mini): Jan 16-30 – Winter Bridge Edition
Series IV: Feb 13-Mar 27 – Postballet with Christin Call
Series V: May 22-June 26 – Melted Riot / Syniva Whitney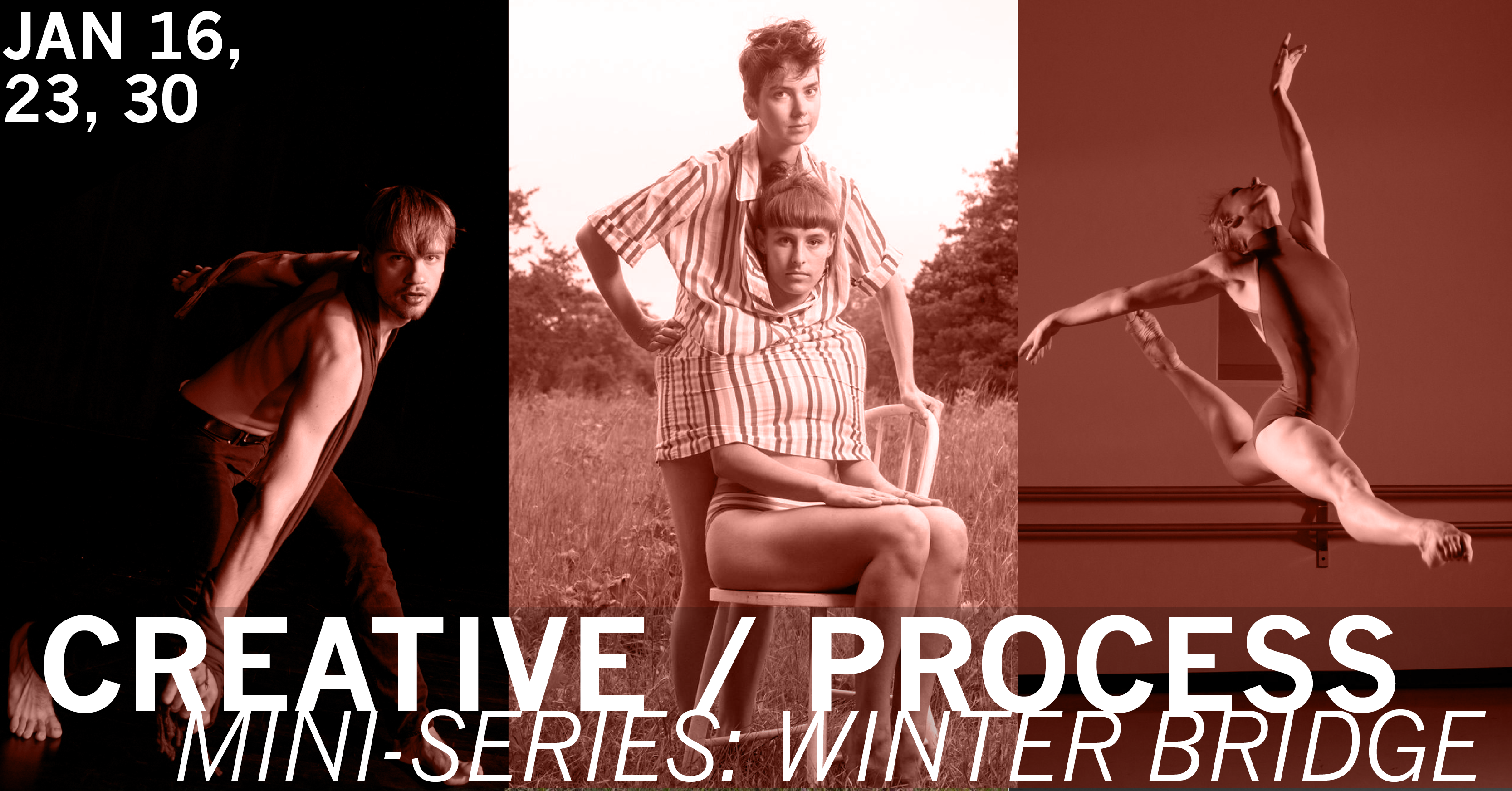 CREATIVE PROCESS: WINTER BRIDGE MINI-SERIES
WEDS JAN 16-30/ 6:30-7:45PM
Velocity 1621 12th Ave
Sliding scale / pay what you want
DESCRIPTION:
Looking for new collaborators in Seattle? Didn't make it to the Winter Bridge Auditions? Come check out our Creative Process Mini-Series with our three Winter Bridge Project choreographers: Vladimir Kremenović, LanDForms (Leah Crosby + Danielle Doell), and Beth Terwilleger. Each choreographer / team will lead a one-night intensive in their creative process.
To learn more about each of the rising Seattle dance champions, check out their bios below!
*NOTE: There is no pre-registration for this event; drop-ins only!
ARTIST BIOS:
LANDFORMS (Leah Crosby + Danielle Doell) / Under the moniker LanDforms, Leah Crosby and Danielle Doell's productions span dance, theater, music, sculpture, and horticulture. LanDforms' often funny, sometimes tragic, always unusual performances explore the absurdities of human relationships, nostalgia, and the intersections of power, control, and love. Crosby was born in upstate New York to artist parents; Doell went to 13 years of Catholic school in the Midwest. Their early socialization around what is "normal" regarding gender, power, sex, and identity was, to put it simply, different. As LanDforms, they examine how their disparate histories build their present and future expressive bodies.
LanDforms began on Martha's Vineyard, where Crosby and Doell lived for two years. Danielle joined the Seattle dance scene in 2017, knowing Leah would soon follow. They collaborated long-distance and during several developmental residencies while separated.
Now, LanDforms is excited to be a Seattle-based company, making work within the PNW's thriving performance communities.
.
VLADIMIR KREMENOVIC is an immigrant performer, filmmaker and social media coordinator currently based in Seattle, WA. Originally from Banja Luka, Bosnia and Herzegovina, he graduated from Middlebury College in 2017 with a joint degree in dance and film. He studied under Christal Brown, Trebien Pollard, Tzveta Kassabova, Scotty Hardwig, Gabriel Forestieri, Katie Martin, Andrea Olsen, and he performed and toured with Dance Company of Middlebury for two seasons. Since moving to Seattle, he danced with Heather Kravas, Melissa Riker, Petra Zanki, Jordan Macintosh-Hougham and Noelle Price, as well as worked on several film projects. He also attended Bates Dance Festival in 2017 and Velocity Dance Center's 2018 Strictly Seattle program and Seattle Festival of Dance Improvisation. He is interested in combining his postmodern, interdisciplinary education and European expressionist interests to create choreographic containers for radical empathy and felt experiences on stage.
.
BETH TERWILLEGER started choreographing long before her formal dance training began. Her wildly active imagination cultivated elaborate dances and creative works both in her mind and in her practice. She continued to use and hone these skills well into her long professional dance career and beyond into her choreographic endeavors. The focus of her art has always been the escape of the artist into the character and the quest for bringing the audience along with it.
Beth is passionate about seeking new inspiration/opportunity and has recently focused on the future of dance and how to keep humanity in the arts and technology. She has continuously been described as hard working and dependable, yet wildly creative and wants to use these traits to bring new elements to the dance world and find synergy between dance and the rapidly evolving world around it.
---

CREATIVE PROCESS: CHRISTIN CALL
Postballet
WEDS FEB13-MAR 27/ 6:15-7:45PM
Velocity 1621 12th Ave
Drop-Ins $15 / $12 Friend
DESCRIPTION:
In this class, we'll explore the integration of ballet technique with contemporary practices.  We'll first bring sensation and imagery into the ballet vocabulary with a ballet barre. Then, we will utilize a combination of improvisation, structured exercises, and set movement to access our own agency and uniqueness.  Our investigations will be a way to fully embody our physical and intellectual selves.
ARTIST BIO:
Christin Call is an assemblage artist living in Seattle, WA and working primarily with dance, film, poetry, and installation.  She is Co-founder and Co-artistic Director of Coriolis Dance since 2008 and is an originator of the Postballet method.  Her most recent large-scale installation What is Home and Obscure Kingdom and Opera Buffa It's You Always You was presented by Northwest Film Forum in July 2018.
ARCHIVE: CREATIVE / PROCESS SERIES
View All Creative / Process Series (formerly called Investigative Movement Practices [IMP]) 2013–2018 >> 
archive: master classes + workshops
56,065 total views, 50 views today