// Master Class Series + Workshops //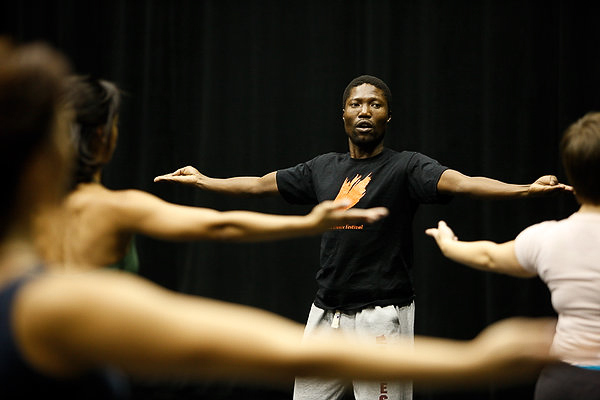 Velocity's Master Class Series provides the perfect opportunity to learn from and share experiences with leading dance artists from around the globe. Master classes — ranging from technique, improvisation, creative process and somatics — take place year-round and bring internationally renowned artists to Velocity through partnerships with UW Meany Hall, Seattle Theatre Group, On the Boards and Cornish College for the Arts.
Past Master Classes have included: Kyle Abraham (NYC), Ariel Freedman + Danielle Agami (Gaga USA), Andrew de Lotbinière Harwood (Canada), the Merce Cunningham Dance Company (NYC), Kidd Pivot (Canada/Germany), Mark Morris Dance Group (NYC), Chunky Move (AUS), Miguel Gutierrez (NYC), Keith Hennessy (SF), Kathleen Hermesdorf (SF), K.J. Holmes (NYC), Liz Santoro (NYC), Joy Davis (Countertechnique), Gregory Maqoma (South Africa), and many others.
WORKSHOPS + INTENSIVES
WORKSHOP SERIES: TERE O'CONNOR Making Dances
SUN NOV 16 / 12-4 PM
Velocity Founders Studio 1621 12th Ave
REGISTER $50 / MVP $43
". . . an essential figure, adored for his exquisitely constructed works, his mentoring and his fiercely articulated beliefs about all things related to dance."
Claudia La Rocco, The New York Times
Rejecting a "good/bad" paradigm, O'Connor's desire in teaching choreographic method is for artists to create problem-solving systems based on the structure of their own thought process and to rigorously pursue the "science" of their poetics. Through the daily creation of little dance works, the artist focuses attention on developing an analytical eye for the fundamental metaphors in the work. The process involves locating, through a hyper-personal investigation, the seeds of a universal voice.
WORKSHOP SERIES: ZOE SCOFIELD
THURS + FRI / DEC 4 + 5 / 12-4PM
Velocity Founders + Kawasaki Studios 1621 12th Ave
REGISTER $65 / DROP-IN $45 / MVP $56
This workshop begins with a technique class and movement experience, then moves into creative process. Starting with a somatic approach to technique, dancers will experience a physically rigorous, deep, and kinesthetically challenging class – a space where product orientated results take rest and active experience reins. Musicality, and visual and physical metaphors, are combined through improvisation and structured forms as a vehicle to surprise and further each dancer's potential.
In this workshop Scofield and dancers will also work together by embodying z|j's creative process. By analyzing the choreographic, visual and music/sound notes used by Zoe and Juniper; dancers will discover the emotional and physical experiences of their work and gain a profound level of personal ownership in the creative process.
MASTER CLASS SERIES
MASTER CLASS SERIES: David Roussève / REALITY Company
WEDNESDAY, Nov 19 / 10-11:30AM
Velocity Founders Studio 1621 12th Ave
Taught by "Stardust" cast members, the class will combine technique and repertory.  The warm up will focus on principles of modern/postmodern dance, preparing students to move with principles of the "Stardust" vocabulary: fluidity, lushness, and boldness.  The class will culminate in the teaching of phrase material that includes elements of choreographic material included in the performance.
Join Bessie Award winning choreographer David Roussève and Velocity Artistic Director Tonya Lockyer immediately after for a free special Speakeasy Series conversation.
MASTER CLASS SERIES: STEPHANIE SALAND
THURSDAYS, Sept 18, 25 Oct 2, 9, 16 Nov 13, 20 / 4:30-6PM
Velocity Kawasaki Studio 1621 12th Ave
Ballet Master Class Series: Stephanie playfully offers classes that are ballet "revisited"… integrating the contemporary spirit with a historic form. The classes are a reflection of life… an ever changing and porous investigation. We create tasks and use unique images that help to understand anatomy. The lessons evolve around rich spatial and textural approaches and tools, Encouraging curiosity, and exploring risk is factored in. Sequences are patterned structurally and musically to awaken and maintain a taste for lush and precise articulation. Many of the exercises are woven with the work inventive work of Eva Nemeth, as well as other aspects from Qi Gong, Body Balancing and Gyrotonics. These influences play out quickly. Shifts and expansion are palpable. Focus and intention are honed. in the room. More is more.
Stephanie Saland performed as a principal dancer with the NYC Ballet for 21 years under the direction of George Balanchine and Jerome Robbins. Based in Seattle and teaching freelance now for 21 years, she continues to explore movement in all ways and has developed a unique and multifaceted approach to dance and life at large. The myriad riches for education in New York: from teachers such as Stanley Williams, Maggie Black, and her colleague Gelsey Kirkland. She was there for the initial pangs of Gyrotonics which fed into the nuance of technique and specificity. She was and is equally inspired and informed through other non-ballet modalities and offers a class that is synthesis and creative response to the valuable aspects of these systems.