// Master ClassEs + Workshops //
Velocity's MASTER CLASS SERIES + WORKSHOPS provide the perfect opportunity to learn from and share experiences with leading dance artists from around the globe. Master classes + workshops — ranging from technique, improvisation, creative process and somatics — take place year-round, and bring internationally renowned artists to Velocity through partnerships with UW Meany Hall, Seattle Theatre Group, On the Boards and Cornish College for the Arts.
Past Master Classes + workshops have included: Mark Haim + Jesse Zaritt, Heidi Henderson, Tere O'Connor (NYC), Kyle Abraham (NYC), Ariel Freedman + Danielle Agami (Gaga USA), Andrew de Lotbinière Harwood (Canada), the Merce Cunningham Dance Company (NYC), Kidd Pivot (Canada/Germany), Mark Morris Dance Group (NYC), Chunky Move (AUS), Miguel Gutierrez (NYC), Keith Hennessy (SF), Kathleen Hermesdorf (SF), K.J. Holmes (NYC), Liz Santoro (NYC), Joy Davis (Countertechnique), Gregory Maqoma (South Africa), and many others.
Upcoming MASTER CLASSES + WORKSHOPS
WORKSHOP SERIES
Information on Natascha Greenwalt's workshop Birds of a Feather forthcoming!
---
MASTERCLASS SERIES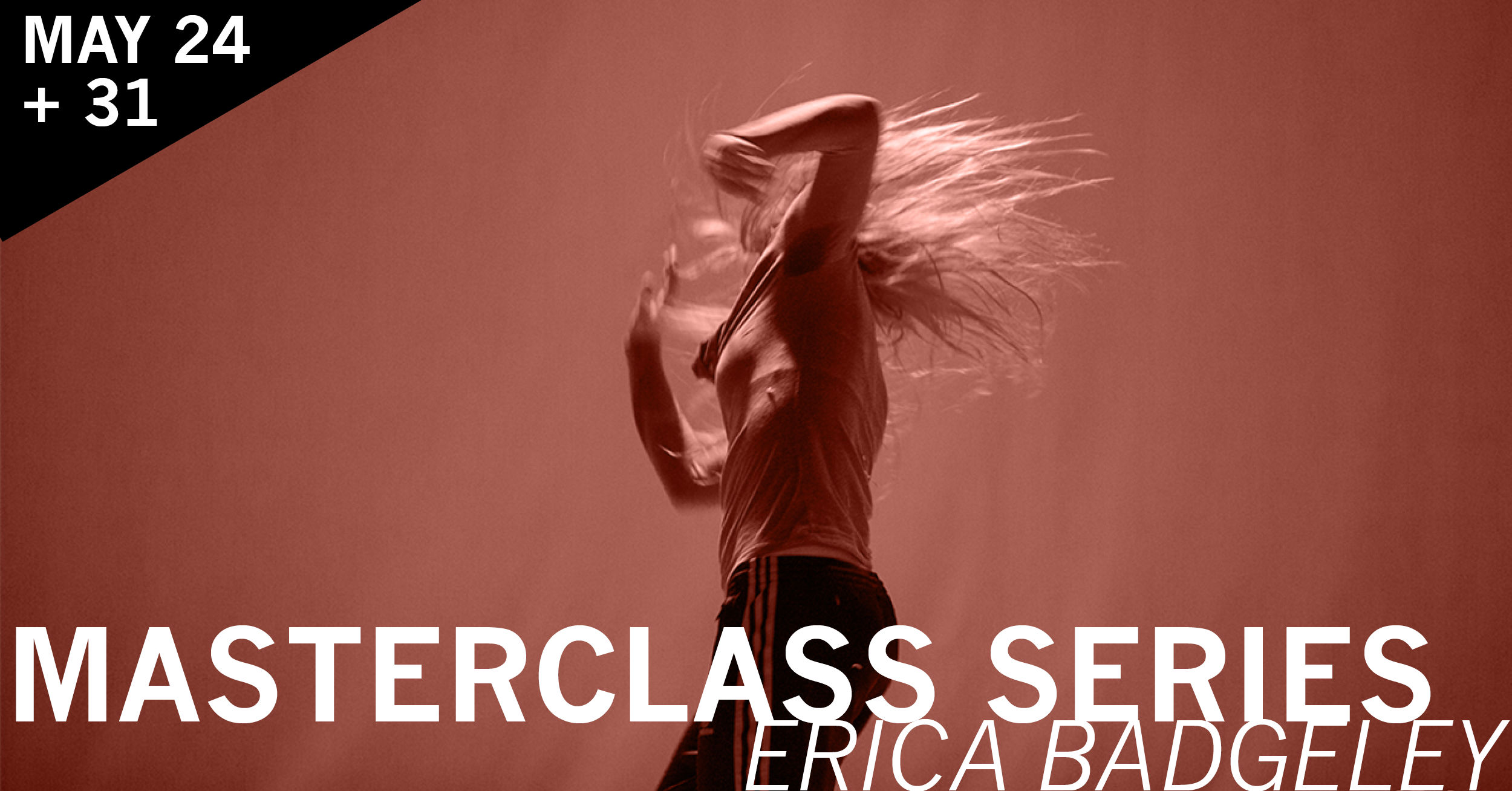 MASTERCLASS SERIES: ERICA BADGELEY
TUMBLEWAKE
FRI MAY 24 + 31 / 1-3PM
Drop-in $15 / Friend-MVP $12
CLASS DESCRIPTION
The floor can feel scary and far away. What if your relationship to gravity felt as easy as swimming on land? In this class, we will play with our body's infinite orientations to the floor, facilitated by our limbs and a sense of buoyant ease. Together, we will navigate gravity as our partner, not our master. This class is influenced by teachings of: Les Slovaks, RootlessRoot/Fighting Monkey, Rakesh Sukesh/Payatt Intransit, Tomislav English, David Zambrano, dancers who've worked with Anouk van Dijk, Ultima Vez, Rosas, and Sasha Waltz. It also sources the wisdom of Aikido, Tai Chi, and GYROTONIC® / GYROKINESIS®. Suggested attire for your comfort: knee-pads, slide-y pants, and a long sleeves shirt layer.
ABOUT THE TEACHING ARTIST
Erica Badgeley is a Seattle Dance Artist who spent 2.5 years dancing professionally in Europe. She was a member of the SEAD Bodhi Project, and worked in Austria and Belgium from 2014 – 2016 performing and touring works by: Etienne Guilloteau, Moya Michael, Matija Ferlin, Bostjan Antoncic, Julia Schwarzbach and Lisa Hinterreithner. In Seattle, she has performed and collaborated with: Cameo Lethem, Elia Mrak, Kate Wallich | The YC, Danielle Agami / Ate9, Coleman Pester/TMS, Jeffrey Fracé, and Tonya Lockyer. Her own choreography and improvisations have been presented in Seattle, Brussels and Salzburg. She is also a co-founder of Sh*t Gold Open Mic in Seattle and The Artist Commons in Brussels. Erica is an alumna of the University of Washington Dance Department, and a certified GYROTONIC® / GYROKINESIS® Trainer, currently teaching at Seattle Changing Room and Pivot Bellevue. She will perform next in Seattle International Dance Festival's Spotlight on Seattle Program this June 13th, 2019.
---
MASTERCLASS SERIES: NEVE MAZIQUE-BIANCO
MONS JUNE 17 + 24 / 6:15-7:45PM
Drop-In $15 / Velocity Friend $12
The Mazique Techniques are a collection of ethically intersecting, access-centered*, earth-centered, culturally appropriate/grounded postmodern dance techniques for any body that wants to dance and gain knowledge about their body moving. All levels of dance experience welcome! This class is friendly to beginners, as well as conceptually challenging for advanced/professional dancers.
Class will include a checking in/grounding, an extended collaborative warm-down, strength training, movement research/experimentation, Neve Mazique-Bianco's unique take on material setting/receiving choreography, and a cool-in.
The two part Mazique Technique Masterclass will introduce dancers to Neve Mazique-Bianco's current research practices and evolving methods of dance adaptation and translation.
In part one, we get to know how our bodies dance, and what the essential elements are of choreography we are receiving. Participants will have the opportunity to learn and adapt phrases of Neve's choreography, and through guided experiments and solo and group improvisation, compose on themselves and for one another.
The second part of the Mazique Technique will explore ballets l'araignées or Spider Ballet, an inclusive contemporary ballet and strength building technique informed by floor barre, Vogue, punk, flying low, contact improv, and various modern techniques with the goal of falling in love with the floor, reacting to it as a new plane of being, rather than something to fall onto or grow out of.
You may attend one or both classes. There is no prerequisite body, no prerequisite knowledge, and no prerequisite body knowledge required to participate. Please come learn how to dance differently with me!
*Access-centered movement is a registered trademark of the Access-Centered Movement Collective to which Neve Mazique-Bianco belongs. In this instance, the phrase access-centered refers explicitly to access-centered movement and holistically accessible practices as defined by this collective, which is made up of two Black femmes and one white femme, all of whom are disabled movement educators.
NEVE (
Neve Kamilah Mazique-Bianco
, pronouns they/them/theirs and she/shim/shis) is an internationally performing and presenting fairy sorceress and beast/lover of Black/African American identity, and Sudanese/Nubian, Arabic, Spanish, Scottish, and English ascent. They are known in disability justice arts and activism community as a steadfast friend and a rigorous choreographer, cultural worker, and thought leader.
NEVE sits on the current artistic board of directors of Playthey, an arts, media, and event production and content creation cooperative fighting for dope, kind, accessible, creative, and wildly jubilant spaces for trans queer black indigenous POC people with disabilities, and other intersectionally marginalized community. NEVE is also a member and trainer in the Access-Centered Movement ® ™ Collective, and along with movement educators Jess Dene Schlesinger and India Harville, they teach multiply accessible, disability justice informed movement classes and trainings for movement educators.
Lover of Low Creatures, NEVE's second evening length original solo work, premiered as a co-production with/at Velocity Dance Center May 9-12 2019. An excerpt of Lover of Low Creatures was featured at Performance Space New York as a part of i wanna be with you everywhere an annual disabled arts festival started in 2019 and created in collaboration by a steering committee of New York based disabled artists, the Scottish collective Arika, and the Whitney Museum of American Art. NEVE formed their dance, disability, and environmental justice movement and education company Lover of Low Creatures, LLC in spring 2019 (LLCsquared). They are currently developing a realm of integrated/ inclusive/adaptive dance techniques called The Mazique Techniques. Though fairly mobile and transient when the travel is accessible and lucrative, NEVE is in love with home. She lives with shis partner, friends, animals, and plants in Duwamish and Other Unceded Coast Salish Territories aka Seattle. For bookings and aesthetic/philosophical encouragement, visit NEVE online at their website nevebebad.com, or via instagram or twitter @nevebebad. You can support their work at patreon.com/nevebebad.
CI FUNDAMENTALS SERIES
CI FUNDAMENTALS SERIES

SUNS 1:30PM–2:50PM
Velocity 1621 12th Ave
Drop-in $15/$12 Friend-MVP
Buy a full class series for just $60 for 6 weeks ($10/class)
Come dance Contact Improvisation! Whether brand new and curious about the form, or an old hand looking to deepen or broaden your practice, this series is for you! Take multiple sessions to get a diverse and complementary set of perspectives. Or, come to the one that works with your schedule: each session can stand on its own. You'll leave with material to explore in the movement jam that follows and richer sense of the principles and possibilities in Contact Improvisation.
CI FUNDAMENTALS FOR SPRING 2019 HAS FINISHED AND WILL RESUME IN THE FALL. IF YOU'RE INTERESTED IN DOING MORE CONTACT IMPROVISATION OVER THE SUMMER, CHECK OUT OUR SEATTLE FESTIVAL OF DANCE IMPROVISATION, WHICH RUNS JULY 28-AUG 4 2019. 
Series I: Sept 9 – Oct 14 – Karen Nelson
Series II: Oct 28 – Dec 9 (no class Nov 25) – Alia Swersky
Series III: Jan 6 – Feb 10 – Katherine Cook
Series IV: Feb 24 – Mar 31 – Aaron Swartzman
Series V: Apr 14 – May 19 -Rachael Lincoln
Series VI: May 26 – June 30 – Sheila Skemp CANCELLED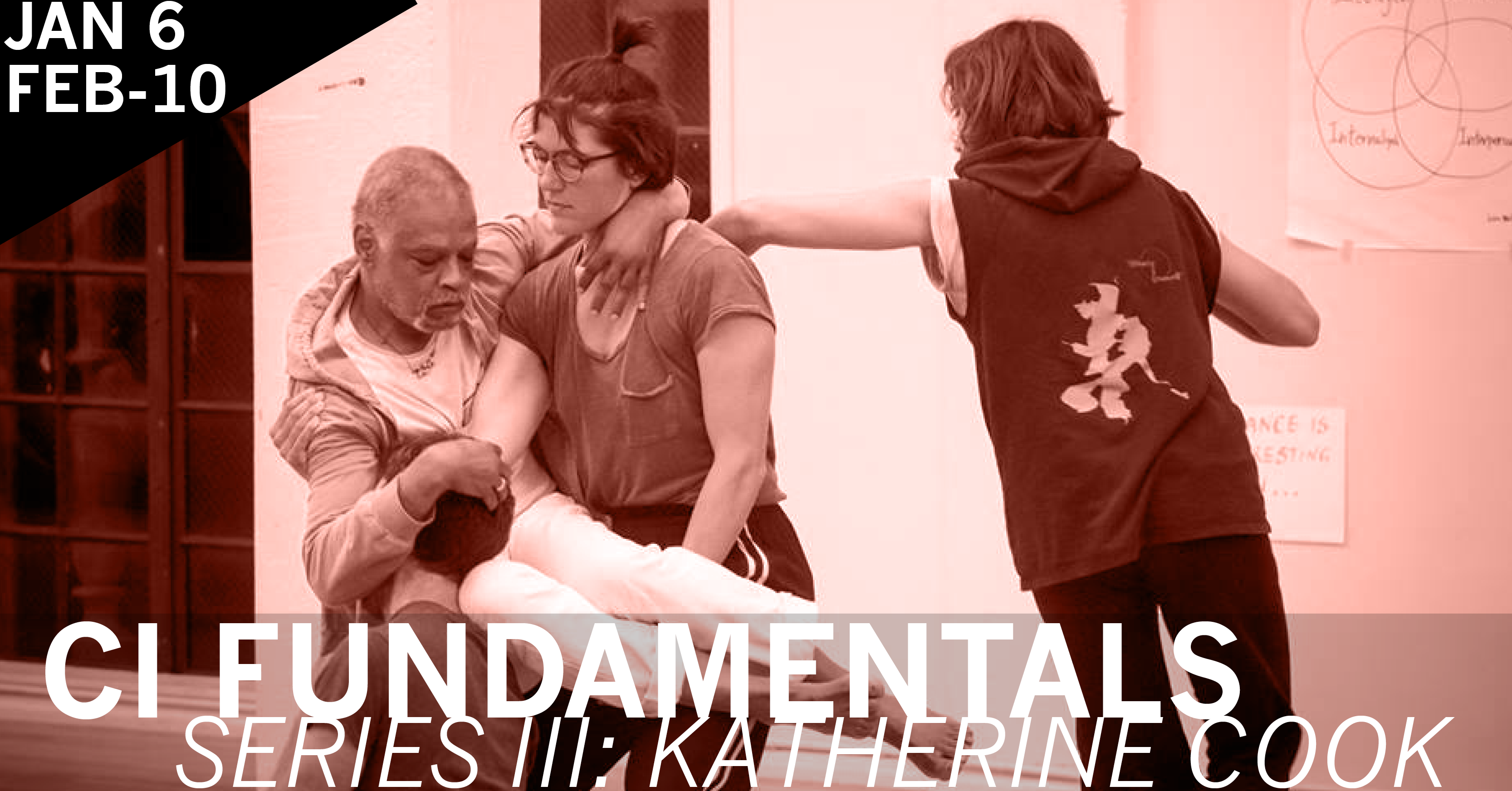 CI FUNDAMENTALS: Katherine Cook
WHAT ARE YOU HERE FOR?
SUNS JAN 6-FEB 10 / 1:30-2:50PM
Velocity 1621 12th Ave
Drop-in $15/$12 Friend-MVP
DESCRIPTION:
Flow goes steadily by us when we dance: flow of feelings, sensations, moments, impressions, information. Some of it we notice, and some of it slips quietly away. By digging into the training of Contact Improvisation as a technique and the finesse of Contact Improvisation as an art, we'll look at expanding our sense of the flow around us, uncovering what is being offered moment to moment that we can be here for.
ARTIST BIO:
KATHERINE COOK is a dancer, teacher, and mathematician in Seattle WA. She researches approaches to living through and with embodiment. Dance improvisation is a foundation of her research and performance, and Contact Improvisation is a deeply-felt love. She views Contact Improvisation as a schema for radical transformation, togetherness, and survival, and her teaching is whole heart, whole body, whole mind.
---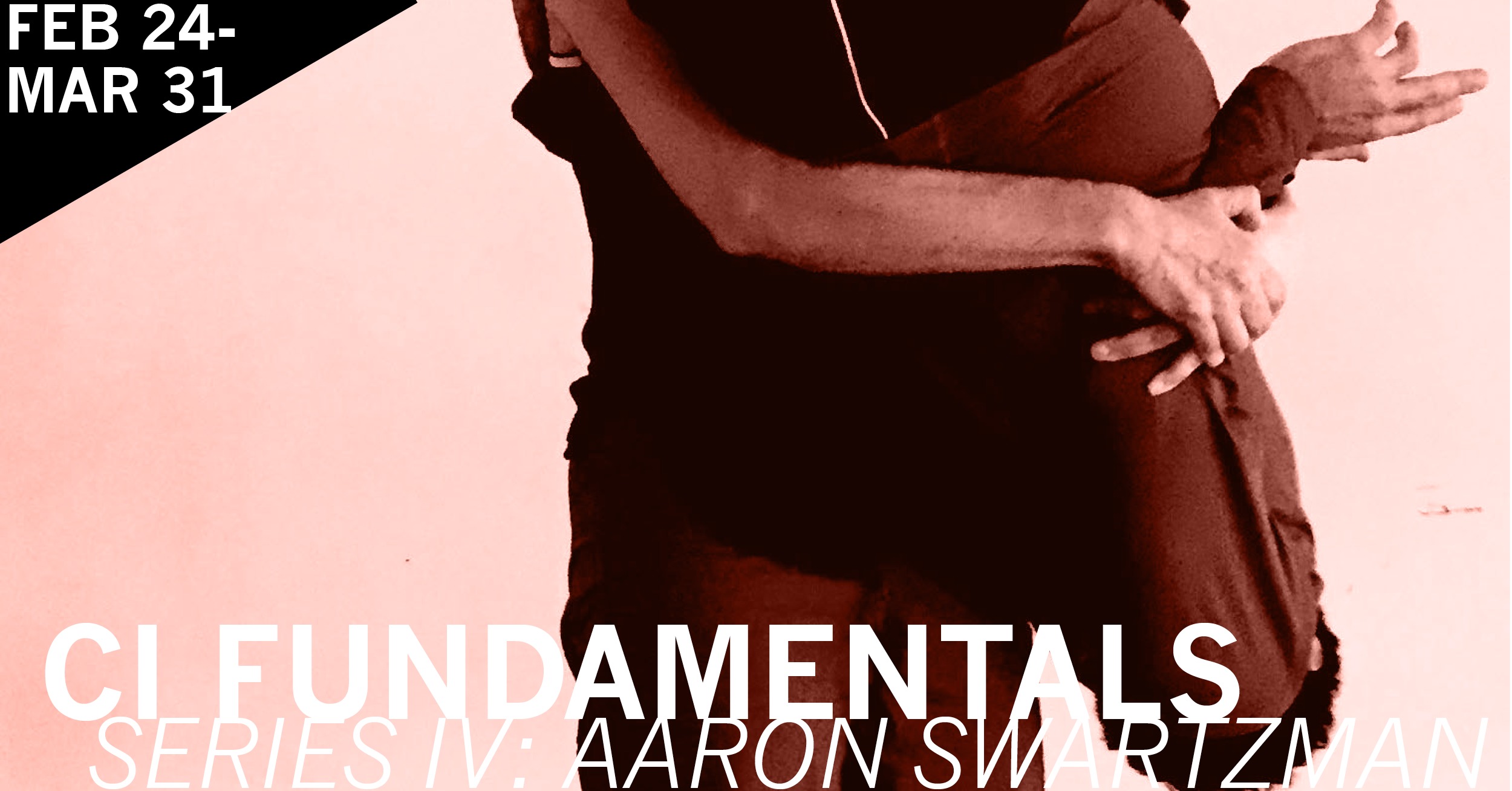 AARON SWARTZMAN
Trusting Momentum
Series 4: Feb 24 – Mar 31
Life is change. Movement is already happening. How can we work with momentum to increase choice-making options and reduce unnecessary effort? We will explore multiple facets of momentum, from subtle to highly kinetic,  as well as practice responsible strategies for cultivating trust within ourselves and with each other.
Fascinated by the body in motion (and at rest), AARON SWARTZMAN has been teaching and performing dance for over 15 years, including long stints with LINGO dancetheater, Legendre Performance, and UMAMI Performance, which he co-founded with Aiko Kinoshita.  He has performed nationally and internationally, is a treinel in Capoeira Angola, a father of two, and a lover of CI.  Currently he is one fifth of the improvisational collective AVID.
---
RACHAEL LINCOLN 
Kinesthetic Adventures
Series 5: April 14 – May 9, 2019
In this series we will refresh CI Basics and explore the kinesthetic adventures of touch, gravity, weight, balance, and momentum in a supportive environment. With a focus on moving in and out of contact within a duet, we will endeavor to maintain a solo practice even while dancing with others.  We will train our attention and physicality to be with personal investigation without getting lost in sensation. Classes can serve as an introduction to Contact Improvisation or as a deeper dive into the spontaneous and collaborative nature of the form.
Before joining the The University of Washington dance faculty, RACHAEL LINCOLN spent much of the last 15 years dancing in San Francisco and Berlin. In addition to making and performing her own work, she was a member of The Joe Goode Performance Group and has had the pleasure of working with celebrated dance-makers including Bebe Miller, Sara Shelton Mann, Jess Curtis, Kathleen Hermesdorf, Nancy Stark Smith, and with her long-time collaborator,  Leslie Seiters. She is in her 20th year as a dancer and Associate Director with Bandaloop. Rachael currently dedicates much of her time to practicing/performing with a seasoned group of improvisors under the name AVID, and hanging with her four year old, Henry. Much of her making, performing, and living are informed by a long relationship with Contact Improvisation.
---

SHEILA SKEMP
WITNESSING / INNER STATES
SUNS MAY 26 – JUNE 30 / 1:30-2:50PM
Series $60 / Drop-In $15 / Friend $12
CLASS DESCRIPTION
Explore inner states and physical integrity that inform staying with, leaving, shifting, and embellishing the present moment of contact improvisational dancing. Using CI fundamentals to recycle, reuse, steal, amplify, make less or more. We all have our own inner dialogue, storylines, and scripts that shift our perception, movements, and choices. Explore the action of seeing and nuances of being seen.  Investigate the poetry of the body.
ABOUT THE ARTIST
Sheila Skemp has been an active improvisational and modern dancer for 30 years. She has performed in and curated low-flying trapeze, contact improvisation, and modern dance events in Madison, WI where she lived for 19 years before moving to WA. As a life-time figurative artist and pediatric occupational therapist she has extensively studied anatomy, the power of touch, the poetics of the body, and how our senses inform each and every moment. Most recently she is committing to somatic psychology training, taking therapy for children outdoors, and continued sensory integration research.
CREATIVE / PROCESS
CREATIVE / PROCESS classes and workshops are taught by leading movement practitioners and reflect current developments in the field of contemporary dance. Each series takes a multi-faceted investigative approach that may include research in somatics, performance, performance-making, writing for dance, design for performance, voice and movement, improvisation, movement generation and theory. Each class is unique based on the research of each artist, see lab descriptions.
WEDS 6:15PM–7:45PM
Velocity 1621 12th Ave
Drop-in $12 MVP Member ($15 regular)
Buy a full class series for just $60 for 6 weeks or $40 for 4 weeks ($10/class)
Series I: Oct 3–Nov 7 – Katherine Cook
Series II: Nov 14–Dec 19 – Neve Mazique-Bianco
Series III (mini): Jan 16-30 – Winter Bridge Edition
Series IV: Feb 13-Mar 27 – Postballet with Christin Call
Series V: April 17-May 15 – Flying Low with Elia Mrak
Series VI: May 22-June 26 – Fox Whitney / Gender Tender

---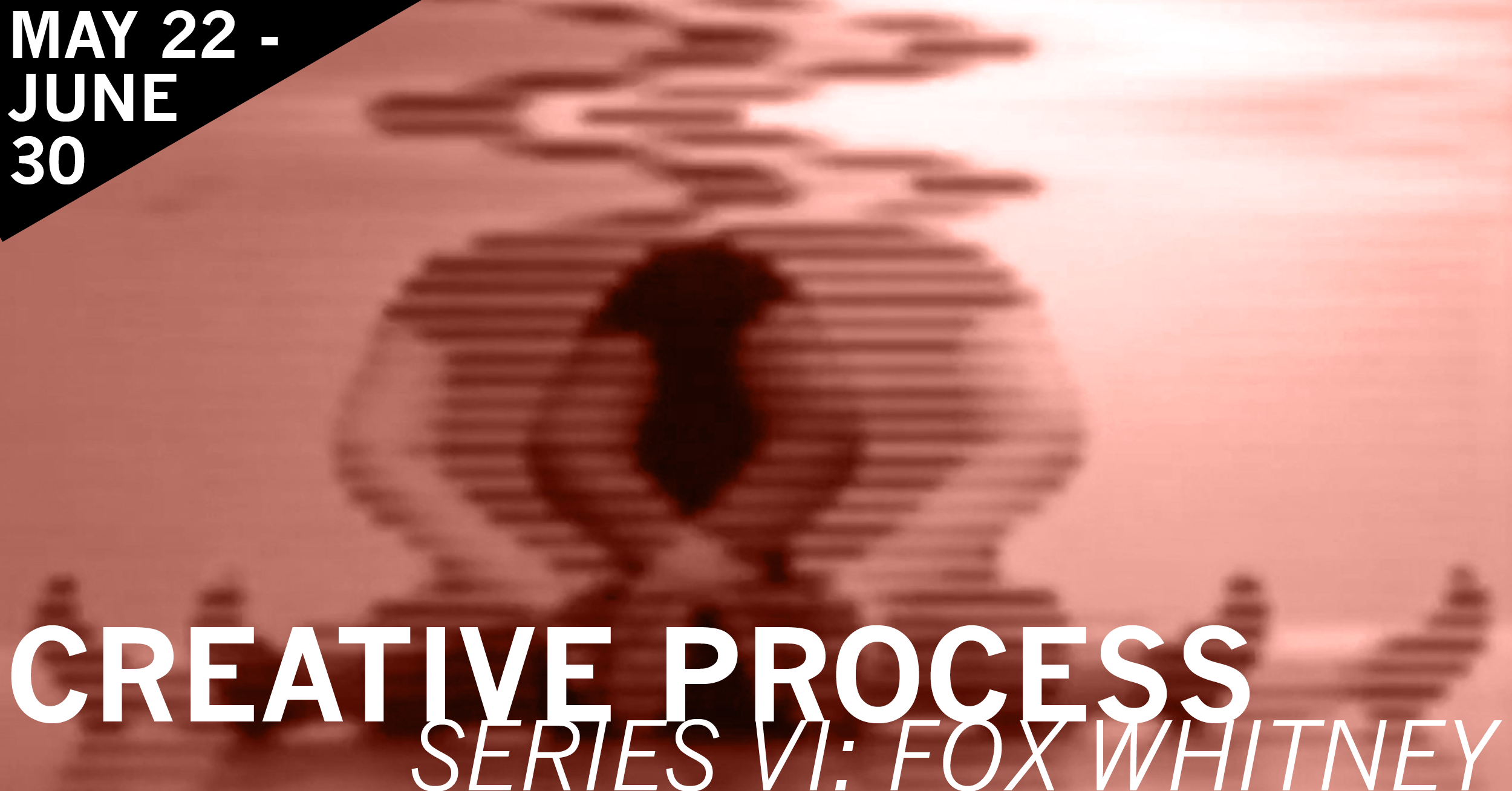 CREATIVE PROCESS SERIES: FOX WHITNEY/GENDER TENDER
MELTED PROCESS
WEDS MAY 22 – JUNE 26 / 6:15-7:45PM
Series $60 / Drop-in $15 / Friend-MVP $12
CLASS DESCRIPTION
Come ready to move with Gender Tender to the music that played on the jukebox at the Stonewall Inn the week of the infamous Stonewall Riots in 1969. For dancers, performers and artists of all levels interested in engaging in Fox Whitney's choreographic process that includes contemporary dance practices, somatic and psychedelic movement research and scores for improvisation inspired by the political and artistic landscape of the 1960s in the United States. Fox's strategies for dance and performance making are inspired by their queer and transgender ancestors as well as dance makers and performing and visual artists of the 1960s.
ABOUT THE ARTIST
FOX WHITNEY is a transgender artist creating performative experiences that combine theater, dance and visual art. Fox's queer multiracial non-binary point of view is at the heart of their performance project, Gender Tender, for which Fox creates experiences that investigate the nature of queer and transgender personal relationships and histories as well as the surreal nature of transformation, trauma, and healing. Gender Tender engages a team of artists trained in Fox's unique methods modeled on the structures of sports teams, sitcoms and riots. Technical and conceptual focus combine to engage performers and audience in the dance of intellect, embodiment and radical compassion. Their work aims to disintegrate binary thinking for all participants.
Fox is a dancer and choreographer with a focus on improvisational, somatic and contemporary choreographic methods. They are a certified yoga teacher (graduate of the 300 hour program at the Yoga Center of Minneapolis, RYT 200 Yoga Alliance)  They have performed in the work of keyon gaskin, Maureen Whiting Dance Co., Vanessa DeWolf, Aniccha Arts, Malic Amalya, Neil Ferron, Courtney Meaker, Andrew Schneider and Mimi Allin. They've trained with yogis Coco Elwood, Desiree Rumbaugh, Kevin Kortan and Faith Hunter. Fox trained as a teenager at the Iowa Shakespeare Conservatory and continues to study acting and incorporate those processes into their work. Gender Tender is on Facebook, so is Fox Whitney.
Insta: @mxfoxwhitney | www.gendertender.weebly.com
---
ARCHIVE: CREATIVE / PROCESS SERIES
View All Creative / Process Series (formerly called Investigative Movement Practices [IMP]) 2013–2018 >> 
archive: master classes + workshops
63,886 total views, 12 views today