// Master ClassEs + Workshops //
Velocity's MASTER CLASS SERIES + WORKSHOPS provide the perfect opportunity to learn from and share experiences with leading dance artists from around the globe. Master classes + workshops — ranging from technique, improvisation, creative process and somatics — take place year-round, and bring internationally renowned artists to Velocity through partnerships with UW Meany Hall, Seattle Theatre Group, On the Boards and Cornish College for the Arts.
Past Master Classes + workshops have included: Mark Haim + Jesse Zaritt, Heidi Henderson, Tere O'Connor (NYC), Kyle Abraham (NYC), Ariel Freedman + Danielle Agami (Gaga USA), Andrew de Lotbinière Harwood (Canada), the Merce Cunningham Dance Company (NYC), Kidd Pivot (Canada/Germany), Mark Morris Dance Group (NYC), Chunky Move (AUS), Miguel Gutierrez (NYC), Keith Hennessy (SF), Kathleen Hermesdorf (SF), K.J. Holmes (NYC), Liz Santoro (NYC), Joy Davis (Countertechnique), Gregory Maqoma (South Africa), and many others.
Upcoming MASTER CLASSes
MASTER CLASS: MADBOOTS DANCE
DEC 16 + 17, 2017 / 3PM-5PM
Velocity 1621 12th Ave
Drop-in $15/$12 MVP
Class begins with a highly physical warm-up creating a grounded awareness of the body. Through spinal focus and imagery-driven improvisation, dancers will connect to risk and expression. Class builds into a challenging phrase sourced from current MADBOOTS DANCE repertory and research.
MADBOOTS DANCE, the hyper-physical, provocative dance company led by Jonathan Campbell and Austin Diaz, was named "25 to Watch" by Dance Magazine in 2016 and has reached audiences nationally and internationally, tackling topics of male identity and queer culture.
---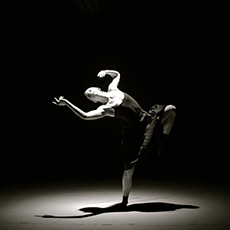 MASTER CLASS: GRACIE WHYTE
TUE JAN 2, 2018 / 9:30AM-11:15AM
FRI JAN 5, 2018 / 9:30AM-11:15AM
Velocity 1621 12th Ave
Drop-in $15/$12 MVP
This class will focus on utilizing floorwork technique principles to improve skills in smoothly changing levels with emphasis on softening into the floor, clarity of dynamic movement qualities, and traveling through space by lowering the center of gravity. The first hour of class is focused largely on upper-body conditioning, warming the arms and wrists, and transitioning in and out of the floor through improvisational tasks and progressions across the floor. The speed and repetition of the first hour of class encourage dancers to move without thinking, allowing the inherent alignment of their bodies to move naturally through space. The class culminates in learning a more full-bodied phrase, concentrating on spinal articulation, suspension and release, and the command of space while smoothly changing levels. Dancers will use the framework provided as a skeleton to find their own artistic individuality, employing various movement dynamics, textures, and qualities, allowing the dancer to be creatively and physically expressive in their inherent, unique way of moving. 
GRACIE WHYTE received her professional training from London Contemporary Dance School, where she was awarded a Master's degree with Merit in Contemporary Dance Performance while dancing for the postgraduate touring company, EDge. In 2014, Gracie relocated to Los Angeles, where she co-founded WHYTEBERG, a collaborative choreographic duo with Laura Berg. WHYTEBERG has showcased live work at REDCAT, Musco Center for the Arts, Electric Lodge, Bootleg Theater, Tempe Center for the Arts, Los Angeles Ballet Academy, among others. The company also creates full-length site-specific collaborations (LAX Fest, Project Flux), choreographs for music videos (Mac Miller, Anderson .Paak), production companies (Warner Bros., EUX Media, Valentine Street), multi-media collaborations (Emmy-award winning animation director Jacob Streilein), and co-founded the weekly professional floorwork class series, Ground Grooves. In addition to dancing for WHYTEBERG and other Los Angeles-based choreographers, Gracie currently teaches floorwork and release techniques at University of California Los Angeles (UCLA).
---
MASTER CLASS: STG PRESENTS KIDD PIVOT IMPROVISATION CLASS
THUR MAR 22, 2018 / 6PM-7:30PM
Velocity 1621 12th Ave
Limited capacity; pre-registration required. $15
SOLD OUT. To be added to the waitlist, email info@velocitydancecenter.org.
Kidd Pivot's improvisation class focuses on discovering and revealing articulations and timings in the body. The class begins with a warm-up as participants articulate deeply through the body in stages, starting from the spine and working towards the extremities. Participants work at their own pace, exploring kinetic relationships both within their own bodies and to the space around them. The class is explorative and non-performative: it's focus is on the play between analysis and instinct, and the use of improvisation both as a tool and an experience. This workshop is intended for advanced level dancers and actors.
See Kidd Pivot and Electric Company Theatre's Betroffenheit performance at The Moore Theatre on Friday March 23 + 24, 2018. For tickets to the performance, visit stgpresents.org.
Photo by Michael-Slobodian

Upcoming WORKSHOPS + INTENSIVES
CI FUNDAMENTALS SERIES
WORKSHOP SERIES: CI FUNDAMENTALS

SUNS 1:30-2:50PM
Velocity 1621 12th Ave
Drop-in $15/$12 MVP
Buy a full class series for just $60 for 6 weeks ($10/class)
Come dance Contact Improvisation! Whether brand new and curious about the form, or an old hand looking to deepen or broaden your practice, this series is for you! Take multiple sessions to get a diverse and complimentary set of perspectives. Or, come to the one that works with your schedule: each session can stand on its own. You'll leave with material to explore in the movement jam that follows and richer sense of the principles and possibilities in Contact Improvisation.
Series I (SEP 10 – OCT 15): Aaron Swartzman
Series II (OCT 29 – DEC 3): Katherine Cook
Series III (JAN 7 – FEB 11): Kaitlin McCarthy
Series IV (FEB 25 – APR 1): Tamin Totzke
Series V (APR 15 – MAY 20): Mike Hodapp
---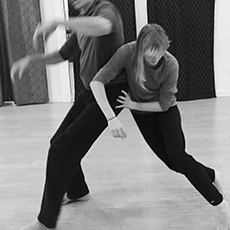 SERIES III: KAITLIN MCCARTHY
SUNS JAN 7 – FEB 11, 2018 / 1:30-2:50PM
$60 Full Series // Drop-in $15/$12 MVP
REGISTER >>
Part social dance, part physics lesson, part anarchy—come experience Contact Improvisation! This open-ended and non-hierarchical dance form is based on a few concepts that lead to endless creativity. Designed to give students the physical and social tools to enter the jam setting, this guided practice is great for those new to the form, those who like a structured pathway into touch, or for any kind of dancer looking to expand their practice. The class seeks to provide starting points for personal investigation and expression. Beginning with solo work, the class builds to spontaneous physical dialogue though internal sensing, observation of weight, and organic development of touch in a supportive environment.
KAITLIN MCCARTHY is a dance artist, writer, and teacher living in Seattle since 2010. She has performed with over a dozen local artists, including regularly with Alice Gosti, and has presented her own work at venues across the city including Velocity, On the Boards, SOIL Gallery, BOOST Dance Festival, and many others. She began practicing Contact Improvisation at Mt Holyoke College where she obtained her dance degree, and has spent the last decade in continual investigation of the form. Kaitlin also teaches Beginning Modern and Beginning Ballet at Velocity Dance Center.
---
SUNS FEB 25 – APR 1, 2018 / 1:30PM-2:50PM
$60 Full Series // Drop-in $15/$12 MVP
REGISTER >>
Refreshing the Basics. In this contact series we will build foundational CI skills, such as rolling point of contact, giving and receiving weight, off-center dancing, and the joy of disorientation. Skeletal alignment and efficiency will be emphasized to find strength through structure instead of force. Playing between image-based and athletic sensibilities, we train our attention to stay curiously responsive. We will tune to the forces of gravity and momentum- releasing tension in our minds and bodies to find ease and vitality. Come find readiness, pliability, humor, connection and flight.
TAMIN TOTZKE is a Seattle-based choreographer, dance educator and movement improviser. She has toured nationally and internationally, with notable projects including: teaching and performing with Cloud Gate Dance Theater, Taipei Dance Forum, Cambodia's Epic Arts, BodyCartography, Kirstie Simson and Jennifer Monson. Recently she premiered a site-specific dance work in Seattle's historic Georgetown Steam Plant with her collaborator Tia Kramer through their project, study of time and motion, studytimeandmotion.com. Tamin holds an MFA in dance from the University of Illinois, Urbana-Champaign and is now pursing a Master's degree in somatic psychology.
---
SUN APR 15 – MAY 20, 2018 / 1:30PM-2:50PM
$60 Full Series // Drop-in $15/$12 MVP
REGISTER >>

Embracing Your CI Fears. In this session, we'll explore some of the parts of contact improvisation that dancers can find scary. How can we be comfortable upside down or moving backwards? How do we sense the things that we can't see? How can we enter or leave dances without it feeling awkward? What's the deal with trios? Throughout this series, we'll spend time warming up into deep and connected dancing and then search for what feels a little edgy. What are the aspects of our dancing that we'd like to change, but we're not sure how?
MIKE HODAPP has been dancing and teaching contact improvisation for 20 years, since discovering it as a teenager at Oberlin College. He co-founded the Seattle Contact Improv Lab, now in its 10th year. His interest in CI is less about performance, and more about the work of CI as a physical discipline, mindfulness practice, emergent culture, and tool for questioning gender and power. Also, it brings him joy and connection and makes him happier and more whole.
CREATIVE / PROCESS
CREATIVE / PROCESS classes and workshops are taught by leading movement practitioners and reflect current developments in the field of contemporary dance. Each series takes a multi-faceted investigative approach that may include research in somatics, performance, performance-making, writing for dance, design for performance, voice and movement, improvisation, movement generation and theory. Each class is unique based on the research of each artist, see lab descriptions.
CREATIVE / PROCESS SERIES

WEDS 6PM-7:45PM
Velocity 1621 12th Ave
Drop-in $15/$12 MVP
Buy a full class series for just $60 for 6 weeks or $40 for 4 weeks ($10/class)
Series I (Sept 6 – Oct 11 – 6-week series): ilvs strauss
Series II (Oct 18 – Nov 15 – 6-week series): Table Flip
Series III (Nov 29 – Dec 20 – 4-week series): Erica Badgeley
---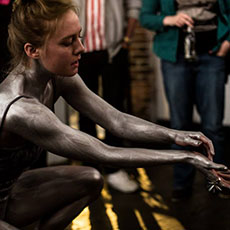 SERIES III: LET YOUR BODY SPEAK with Erica Badgeley
WEDS NOV 29-DEC 20, 2017 / 6PM-7:45PM
Velocity 1621 12th Ave
$40 (4 weeks) Full Series // Drop-in $15/$12 MVP
REGISTER >>

Sometimes the involuntary stretches, squeezes, shakes, and pulls of the body can tell us what we didn't know we were thinking or feeling. They can lead us to places we don't expect. "Let your body speak" is an unraveling, a revealing of the subconscious thoughts, feelings, and desires stored inside our bodies. We will dive deep into our inner selves, on a treasure hunt for possibility, and the permission to do the unexpected. We will address our engrained movement habits, how they both help and hinder us in our search for true expression. How can we keep pushing to define and diversify tools for our subconscious to wield in satisfying, transformative improvisations? Let's find out.
Erica Badgeley has trained, performed, and presented work in Europe, the US, and Canada. She has a diverse background: from ballet, gymnastics, and theater, to gaga, breakdance, flying low, and performed improvisation. She was a member of the SEAD Bodhi Project Salzburg, 2014, and worked in Europe from 2014-2016, touring internationally. She has created and performed multiple solos since 2012, more recently including text and becoming increasingly improvised.
Erica has a desire to integrate her athletic physical knowledge with the expanded conceptual possibilities she's picked up at home and abroad. She hopes to share this exploration in her hometown of Seattle, which doubles as her artistic birthplace. Seattle performance and creation credits include: Elia Mrak (SCUBA Tour), Kate Wallich | The YC, Danielle Agami / Ate9, Coleman Pester ///TMS, Jeffrey Fracé, Tonya Lockyer, NEXTFestNW, 12MM, BOOST, ACT Theater and PNB. International: Idan Sharabi, Etienne Guilloteau, Julia Swcharzbach, Moya Michael, Boston Antoncic, Matija Ferlin, Lisa Hinterreithner, Szene Salzburg, Volksroom Brussels, and Danscentrum Jette. Erica is an alumna of the University of Washington, graduating with a BA in Dance 2011 Cum Laude. She has been a Certified GYROTONIC® Trainer since 2010, and is a recent student of various Martial Arts. / honeybadgeley.tumblr.com + vimeo.com/ericabadgeley 
CREATIVE / PROCESS SERIES ARCHIVE
To see all Velocity CREATIVE / PROCESS Series (formerly called Investigative Movement Practices [IMP]) since 2013, CLICK HERE. 
master classes + workshops archive
To see all Velocity Master Classes + Workshops since 2013, CLICK HERE.
4,323 total views, 61 views today