// Master ClassEs + Workshops //
Velocity's MASTER CLASS SERIES + WORKSHOPS provide the perfect opportunity to learn from and share experiences with leading dance artists from around the globe. Master classes + workshops — ranging from technique, improvisation, creative process and somatics — take place year-round, and bring internationally renowned artists to Velocity through partnerships with UW Meany Hall, Seattle Theatre Group, On the Boards and Cornish College for the Arts.
Past Master Classes + workshops have included: Mark Haim + Jesse Zaritt, Heidi Henderson, Tere O'Connor (NYC), Kyle Abraham (NYC), Ariel Freedman + Danielle Agami (Gaga USA), Andrew de Lotbinière Harwood (Canada), the Merce Cunningham Dance Company (NYC), Kidd Pivot (Canada/Germany), Mark Morris Dance Group (NYC), Chunky Move (AUS), Miguel Gutierrez (NYC), Keith Hennessy (SF), Kathleen Hermesdorf (SF), K.J. Holmes (NYC), Liz Santoro (NYC), Joy Davis (Countertechnique), Gregory Maqoma (South Africa), and many others.
Upcoming MASTER CLASSES + WORKSHOPS
WORKSHOP SERIES

WORKSHOP SERIES: GENDER TENDER
SAT APR 27 / 2-3PM  / $10
+
MELTED RIOT AUDITION
SAT APR 27 / 3-5PM / FREE
Velocity 1621 12th Ave
Fox Whitney, lead artist of GENDER TENDER is seeking performers for their latest project MELTED RIOT. Inspired by the Stonewall Riots of 1969, this interdisciplinary performance gives way to somatic revolt, political satire and dances about space stations. This evening length performance happening on Friday June 28 and Saturday June 29 will use a crowd of voices, bodies and sculptural interventions to investigate radical extremes.
*NOTE: The workshop is separate from the audition, though participants are encouraged to attend both. The workshop costs $10 for a 60 minute workshop, and the audition is free!
GENDER TENDER/MELTED RIOT WORKSHOP: 2-3PM / $10 / pay at the door
Learn a bit about the performance and engage in Gender Tender training methods and durational performance scores that happen during MELTED RIOT. Open to all!
MELTED RIOT AUDITION 3-5PM / FREE
Come ready to move and make some noise. Seeking performers of all backgrounds that are interested in one to all of the following: meditation, duration, our queer and trans ancestors, witchery, trans-centric dance, ghosts, queering sound, contact with others (the quick and the dead) and moving with unusual objects in unusual settings. We will work with structured improvisations, set choreography and objects from MELTED RIOT. Come prepared to time travel to 1969. There are different levels of involvement possible and the rehearsal schedule varies but GT rehearses regularly Wednesday evenings from 9:30p-11p at Velocity. Performance availability needed Friday and Saturday June 28-29 and for tech and dress rehearsals earlier that week.
ABOUT MELTED RIOT:
Based on a vision transgender artist Fox Whitney had of drag artist and cabaret singer Stormé DeLarverie throwing the first punch at the Stonewall Riots on June 28th, 1969, MELTED RIOT will transform the space of Velocity Dance Center using Fox's binary-disintegrating choreographic techniques and interests in altered states, shock comedy and the metaphysical world. The structure of the performance is created using information Fox received while dancing to the songs that played on the Stonewall Inn jukebox during the riots in 1969. MELTED RIOT uses tactics rooted in dance, durational performance and visual art to investigate the effects peaceful and violent forms of support and sabotage have on the bodies, minds and spirits of the queer community. Performance artists that were present at the Stonewall Riots like Marsha P Johnson, Stormé Delarverie and Sylvia Rivera inspired this project as well as artists like Yvonne Rainer, Faith Ringgold, Agnes Martin, Nan Goldin, Andy Warhol, Richard Pryor, Simone Forti, Felix Gonzalez-Torres, Pauline Oliveros and the history of tableau vivant in performance (the act of recreating paintings as living artworks). MELTED RIOT is also inspired by political actions and protests like the Levitate the Pentagon protest, the Compton Cafeteria Riots and the Clean Sweep protest formed by the gay youth group Vanguard in the 1960s. This weekend of performances is dedicated to the real and imagined people that took part in the Stonewall Riots of 1969. Featuring Fox and over 20 other Seattle area artists. MELTED RIOT happens on the 50th anniversary of the Stonewall Riots in NYC, a defining moment in the movement for equal rights for the LGBTQ+ community and the original Pride weekend.
ABOUT FOX WHITNEY:
Fox Whitney is an artist creating performative experiences that combine theater, dance and visual art. Fox's transgender, queer, multiracial point of view is at the heart of their performance project, Gender Tender. GT engages a team of artists trained in Fox's unique methods modeled on the structures of sports teams, sitcoms and riots. They are also a filmmaker, actor, dancer and teaching artist. They are currently the artist in residence at Velocity Dance Center.
Photo – Courtesy of the artist
---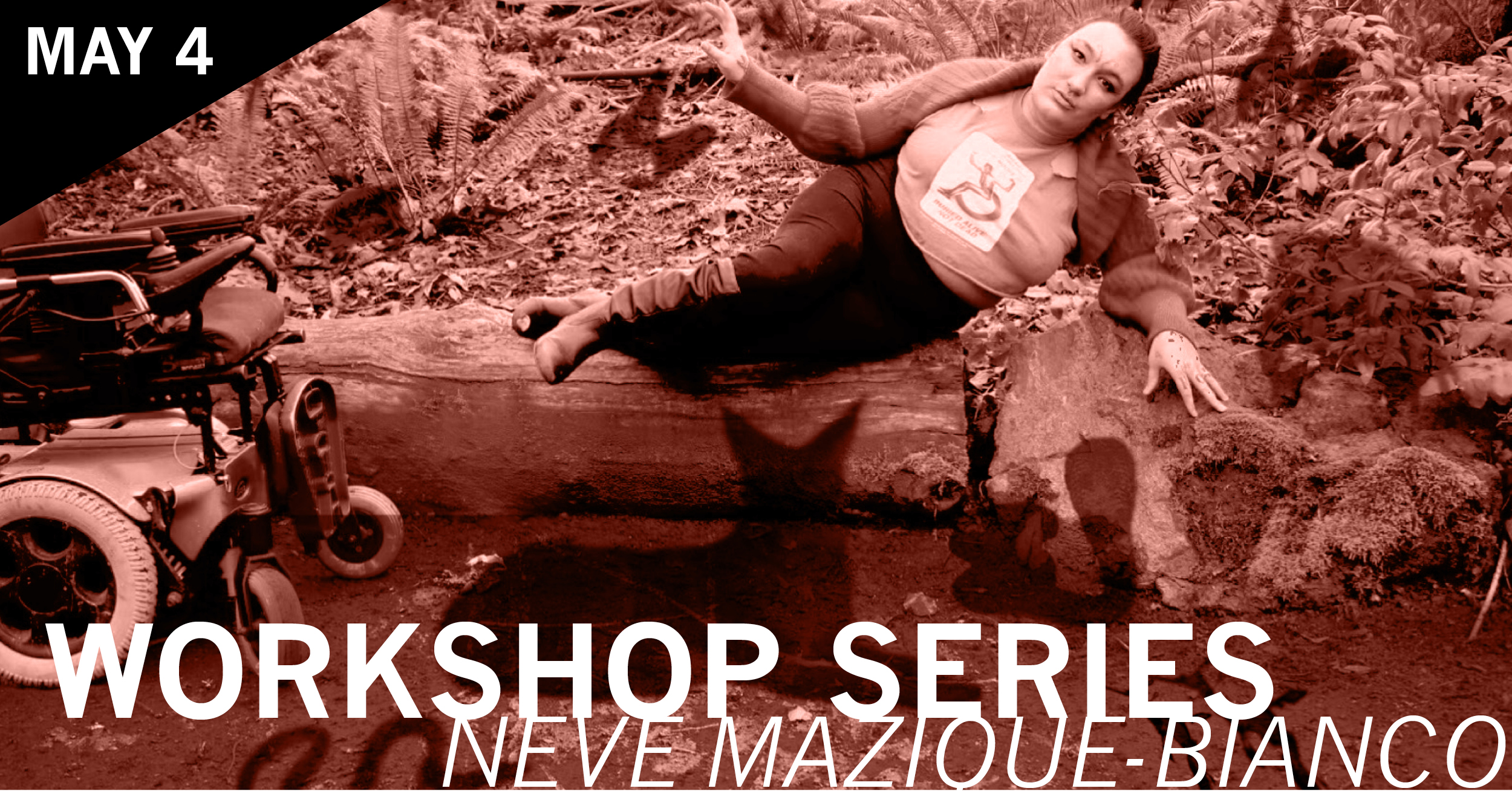 LOVER OF LOW CREATURES: SPECIAL PREVIEW PERFORMANCE + WORKSHOP
SAT MAY 4 / 3-5PM / FREE
Velocity 1621 12th Ave
Neve Kamilah Mazique-Bianco (Bet Ya UnGodly Things, I Can Fly Twice As High) and Sara Porkalob (Dragon Lady, Dragon Cycle) will present a free preview of Lover of Low Creatures, the latest contemporary dance musical from Neve, directed by Porkalob. This special preview will be free to the public thanks to sponsorship from Velocity Dance Center who currently host Neve as a Creative Resident, and the City of Seattle Office of Arts and Culture through the CityArtist Grant. This special preview will be followed by a storytelling workshop facilitated by Neve Mazique-Bianco and Sara Porkalob.
While this event is open to everyone, we especially wish to welcome pregnant folks and their loved ones, queer and trans families, Black/Indigenous/mixed race/families of color, disabled families, loving families, complicated families, and children of all ages (free childcare will be provided).
Since Lover of Low Creatures is about ancestral wound healing, and heavily features a mixed race mother/daughter duo, since Sara and I both make work about our families who are families of color, who are queer, who are disabled, we wanted to present this special free preview to people building and creating families like ours, no matter what stage of the journey they are on.
Reserve your free admission, and feel free to contact Velocity if you have any questions!
ABOUT NEVE:
Neve Kamilah Mazique-Bianco (dancer/choreographer/creator/multidisciplinary star), or NEVE, is a Black (specifically Sudanese, even more specifically Nubian) punk disabled queer fairy beast. A certified personal trainer and integrated dance teacher trained by NASM and Axis Dance Company, respectively, Neve cares about the welfare and equitable access to joy, sensuality, community, self-expression, and liberation of all bodies. Neve received multiple film and theatre directing awards in 2017, from East Bay Express in Oakland, the Toronto International Porn Festival, and from the Seattle Gender Justice League. They made their international debut at Berlin's Hebel Am Ufer. In spring 2018, Neve joined the artistic board of directors of PlayThey Studios, a media and event production cooperative company of queer/trans/Black/disabled and otherwise marginalized artists. Neve is one of the first four recipients of the PNW Afro X Fellowship, a research fellowship for African American artists created in collaboration by The Seattle Public Library and the Central District Forum, as well as the recipient of a 2019 City Artist grant, both of which benefit production of their evening length work Lover of Low Creatures.
ABOUT SARA:
Sara Porkalob (director) is an award-winning activist based in Seattle. She's featured in Seattle Magazine's "Most Influential People of 2018," City Arts' "2017 Futures List," and served as the Intiman Theatre's 2017 Co-Curator. She is a co-founder of DeConstruct, an online journal of intersectional performance critique. Her first full-length play Dragon Lady garnered a Seattle Times Footlight Award, a Broadway World Award for "Best New Play", and is the recipient of three 2018 Gregory Awards for Outstanding Sound/Music Design, Outstanding Actress in a Musical, and Outstanding Musical Production. In 2019, American Repertory Theatre will produce Dragon Lady and Dragon Mama, the first two plays in her trilogy The Dragon Cycle, and in July, Nordo Culinarium will produce her new play 7th and Jackson, a historical fiction with music and immersive dining, inspired by Seattle's International District. Porkalob is a proud 2nd generation Filipinx American and owes all of her success to her family. Believe survivors. Black Lives Matter. Queer Trans Lives Matter. Vote.
Photo – Saira Barbaric
MASTERCLASS SERIES
We will be announcing our final spring masterclasses on April 2!
CI FUNDAMENTALS SERIES
CI FUNDAMENTALS SERIES

SUNS 1:30PM–2:50PM
Velocity 1621 12th Ave
Drop-in $15/$12 Friend-MVP
Buy a full class series for just $60 for 6 weeks ($10/class)
Come dance Contact Improvisation! Whether brand new and curious about the form, or an old hand looking to deepen or broaden your practice, this series is for you! Take multiple sessions to get a diverse and complementary set of perspectives. Or, come to the one that works with your schedule: each session can stand on its own. You'll leave with material to explore in the movement jam that follows and richer sense of the principles and possibilities in Contact Improvisation.
Series I: Sept 9 – Oct 14 – Karen Nelson
Series II: Oct 28 – Dec 9 (no class Nov 25) – Alia Swersky
Series III: Jan 6 – Feb 10 – Katherine Cook
Series IV: Feb 24 – Mar 31 – Aaron Swartzman
Series V: Apr 14 – May 19 -Rachael Lincoln
Series VI: May 26 – June 30 – TBA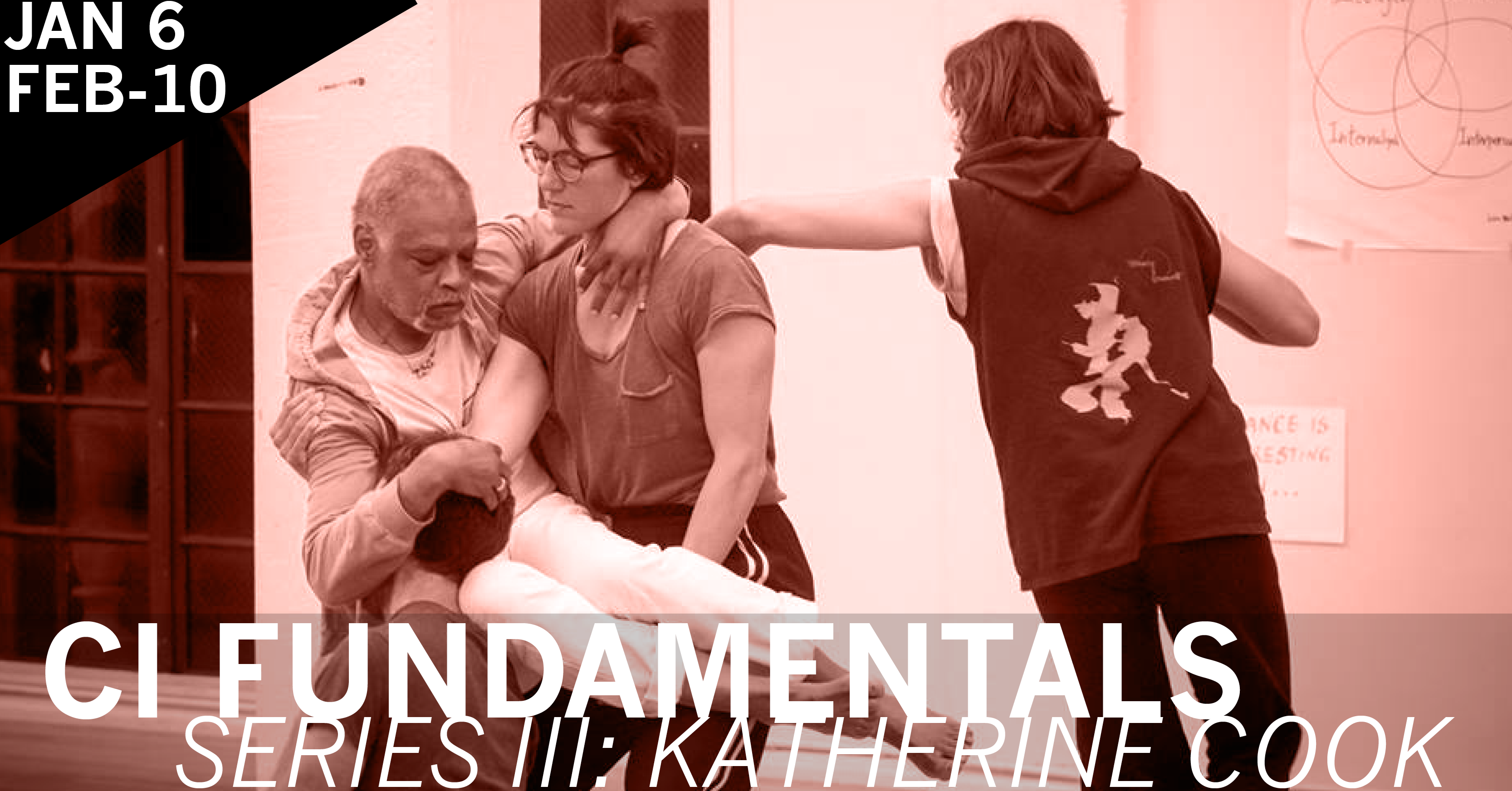 CI FUNDAMENTALS: Katherine Cook
WHAT ARE YOU HERE FOR?
SUNS JAN 6-FEB 10 / 1:30-2:50PM
Velocity 1621 12th Ave
Drop-in $15/$12 Friend-MVP
DESCRIPTION:
Flow goes steadily by us when we dance: flow of feelings, sensations, moments, impressions, information. Some of it we notice, and some of it slips quietly away. By digging into the training of Contact Improvisation as a technique and the finesse of Contact Improvisation as an art, we'll look at expanding our sense of the flow around us, uncovering what is being offered moment to moment that we can be here for.
ARTIST BIO:
KATHERINE COOK is a dancer, teacher, and mathematician in Seattle WA. She researches approaches to living through and with embodiment. Dance improvisation is a foundation of her research and performance, and Contact Improvisation is a deeply-felt love. She views Contact Improvisation as a schema for radical transformation, togetherness, and survival, and her teaching is whole heart, whole body, whole mind.
---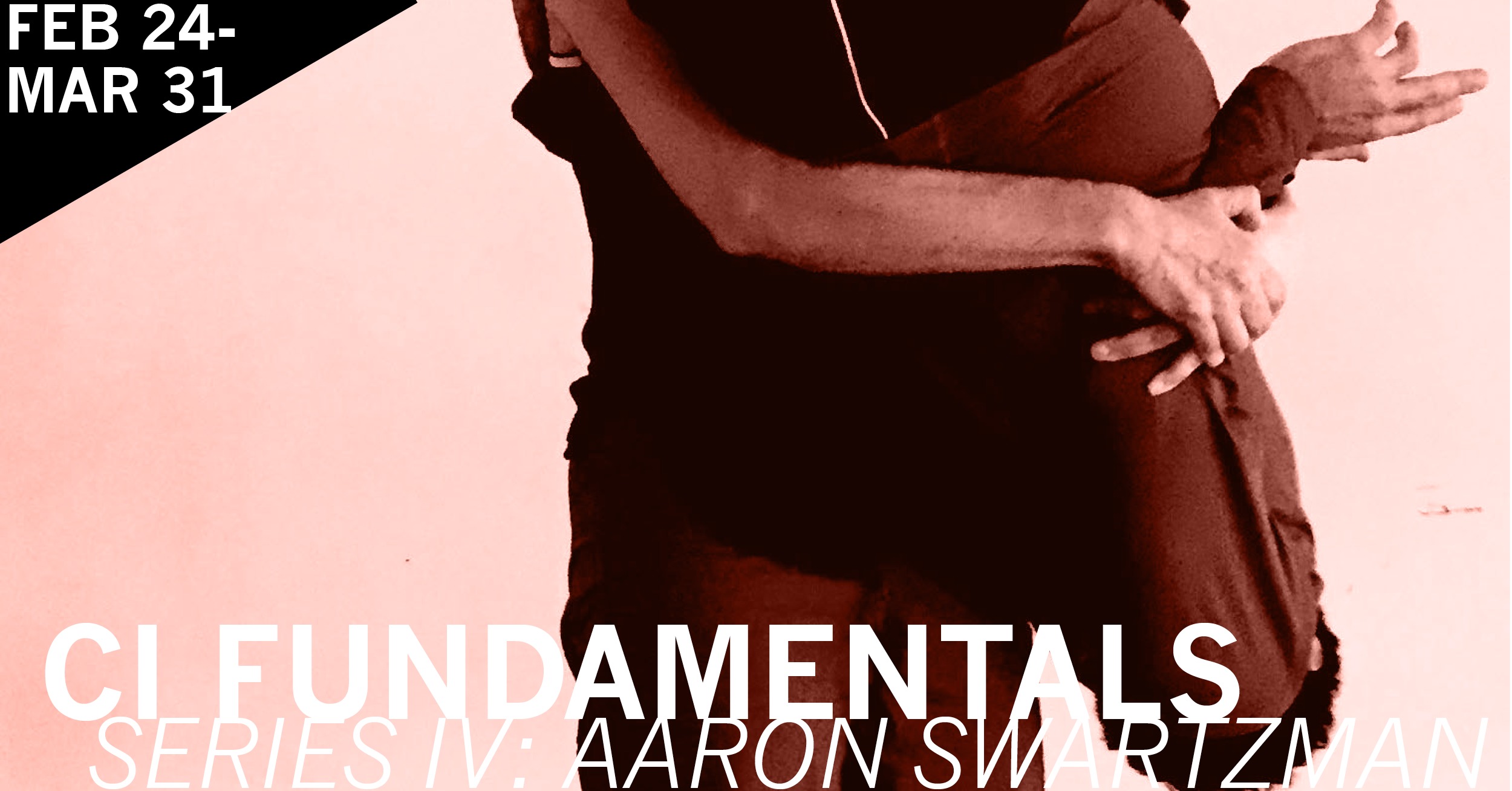 AARON SWARTZMAN
Trusting Momentum
Series 4: Feb 24 – Mar 31
Life is change. Movement is already happening. How can we work with momentum to increase choice-making options and reduce unnecessary effort? We will explore multiple facets of momentum, from subtle to highly kinetic,  as well as practice responsible strategies for cultivating trust within ourselves and with each other.
Fascinated by the body in motion (and at rest), AARON SWARTZMAN has been teaching and performing dance for over 15 years, including long stints with LINGO dancetheater, Legendre Performance, and UMAMI Performance, which he co-founded with Aiko Kinoshita.  He has performed nationally and internationally, is a treinel in Capoeira Angola, a father of two, and a lover of CI.  Currently he is one fifth of the improvisational collective AVID.
---
RACHAEL LINCOLN
Kinesthetic Adventures
Series 5: April 14 – May 9, 2019
In this series we will refresh CI Basics and explore the kinesthetic adventures of touch, gravity, weight, balance, and momentum in a supportive environment. With a focus on moving in and out of contact within a duet, we will endeavor to maintain a solo practice even while dancing with others.  We will train our attention and physicality to be with personal investigation without getting lost in sensation. Classes can serve as an introduction to Contact Improvisation or as a deeper dive into the spontaneous and collaborative nature of the form.
Before joining the The University of Washington dance faculty, RACHAEL LINCOLN spent much of the last 15 years dancing in San Francisco and Berlin. In addition to making and performing her own work, she was a member of The Joe Goode Performance Group and has had the pleasure of working with celebrated dance-makers including Bebe Miller, Sara Shelton Mann, Jess Curtis, Kathleen Hermesdorf, Nancy Stark Smith, and with her long-time collaborator,  Leslie Seiters. She is in her 20th year as a dancer and Associate Director with Bandaloop. Rachael currently dedicates much of her time to practicing/performing with a seasoned group of improvisors under the name AVID, and hanging with her four year old, Henry. Much of her making, performing, and living are informed by a long relationship with Contact Improvisation.
---
TO BE ANNOUNCED
More info coming soon!
Session 6: May 26 – June 30
CREATIVE / PROCESS
CREATIVE / PROCESS classes and workshops are taught by leading movement practitioners and reflect current developments in the field of contemporary dance. Each series takes a multi-faceted investigative approach that may include research in somatics, performance, performance-making, writing for dance, design for performance, voice and movement, improvisation, movement generation and theory. Each class is unique based on the research of each artist, see lab descriptions.
WEDS 6:15PM–7:45PM
Velocity 1621 12th Ave
Drop-in $12 MVP Member ($15 regular)
Buy a full class series for just $60 for 6 weeks or $40 for 4 weeks ($10/class)
Series I: Oct 3–Nov 7 – Katherine Cook
Series II: Nov 14–Dec 19 – Neve Mazique-Bianco
Series III (mini): Jan 16-30 – Winter Bridge Edition
Series IV: Feb 13-Mar 27 – Postballet with Christin Call
Series V: April 17-May 15 – Flying Low with Elia Mrak
Series VI: May 22-June 26 – Melted Riot / Syniva Whitney

---

CREATIVE PROCESS: CHRISTIN CALL
Series IV: Postballet
WEDS FEB13-MAR 27/ 6:15-7:45PM
Velocity 1621 12th Ave
Drop-Ins $15 / $12 Friend
DESCRIPTION:
In this class, we'll explore the integration of ballet technique with contemporary practices.  We'll first bring sensation and imagery into the ballet vocabulary with a ballet barre. Then, we will utilize a combination of improvisation, structured exercises, and set movement to access our own agency and uniqueness.  Our investigations will be a way to fully embody our physical and intellectual selves.
ARTIST BIO:
Christin Call is an assemblage artist living in Seattle, WA and working primarily with dance, film, poetry, and installation.  She is Co-founder and Co-artistic Director of Coriolis Dance since 2008 and is an originator of the Postballet method.  Her most recent large-scale installation What is Home and Obscure Kingdom and Opera Buffa It's You Always You was presented by Northwest Film Forum in July 2018.
---

CREATIVE PROCESS SERIES: Elia Mrak
Series V: Flying Low
WEDS APR 17-MAY 15/ 6:15-7:45PM

Velocity 1621 12th Ave
Drop-in $15 / $12 Friend
DESCRIPTION:
This is a technique class where we learn how to fly into to the floor and out of the floor smoothly, easily, and with speed. We build from simple movements to complex phrase-work and finish with improvisation that takes us in and out of the floor, through music and playfulness.
ARTIST BIO:
Elia is a seeker and a teacher, passionate about the power of dance to be a performing art and a healing art. For the last 10+ years, he has performed, taught, and researched movement throughout the world. His practice fuses Dance, Qigong, and Somatic practice. He has performed, taught, and directed throughout the last decade in Europe, Central/South America, and the United States. He graduated from Pomona College in 2006 with a degree in Mathematical Economics and a Minor in Dance. And received the prestigious Watson Fellowship to research dance and movement around the world. While living in Europe. he performed and assisted teaching with David Zambrano in the techniques of Flying Low and Passing Through. For the past 5 years he has lived and worked in Mexico, Argentina, NYC, Montreal, and Seattle.And after years in making, he has put his flag in the ground and launched his organization, amovementmovement ® in 2018.
PHOTO -Felipe Ponce
---
ARCHIVE: CREATIVE / PROCESS SERIES
View All Creative / Process Series (formerly called Investigative Movement Practices [IMP]) 2013–2018 >> 
archive: master classes + workshops
59,331 total views, 32 views today