FALL KICK OFF 2020: TRANSITION IS A PORTAL
TRANSITION IS A PORTAL
Velocity's Annual Fall Kick Off
September 27 –  October 3, 2020
ONLINE
Join us as we remember, re-connect and re-imagine Velocity during the FKO ONLINE: Transition is a Portal. Happening September 27th through October 3rd in virtual space, this fall kick off invites you to a socially distanced week of artist-centered events inspired by our current initiative to re-envision Velocity's future. This week of online connection features watch parties of past performances from Alicia Mullikin, Daniel Costa, Neve Kamilah Mazique-Ricardi, and Jody Kuehner; an opportunity to watch Noelle Price's What Art Now? conversations (and a fresh chat with Noelle and artists involved); a live artist talk lottery experiment dreamed up by Alice Gosti and Fox Whitney that centers care and creative thinking (not production); and the Cultivating Care project organized by Hatlo that invites featured artists to respond to the theme of care on #SCORENTINE all week that culminates in the creation of a digital artists resource and a closing Zoom hangout event. We will kick it all off with a Velocity Transition FKO party happening Sunday, September 27th at 2pm on Zoom! Let's celebrate how far we've made it while we do the work we need to do to care for and create the Velocity we want now.
"Let's embrace our individual complexity and collective strength. I believe that caring for ourselves and others makes us stronger creatively. What if we imagine ourselves as one shared big-hearted healing dancing body moving through this paradigm shift together? Anything is possible." – Fox Whitney
Follow us on our, Instagram, or Facebook for updates.
Artist fees for FKO 2020 donated by Case Van Rij.
FULL SCHEDULE
POTLUCK
Join us for a Zoom potluck to kick off a week of Velocity FKO events. This casual mixer is happening Sunday September 27th starting up at 2pm on Zoom!
SCREENINGS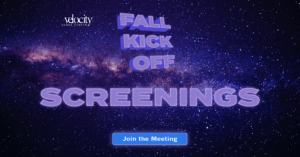 Series of special Facebook live screenings and conversations featuring works by Alicia Mullikin, Daniel Costa, Neve Mazique-Ricardi, and Jody Kuehner.
ARTIST
CONVERSATIONS
Join us in conversation with some of our community artists to discuss what art, creative process, and community are / are not / should be. We're talking to Alice Gosti, Fox Whitney, Noelle Price and PriceArts community.
CULTIVATING
CARE
Cultivating Care practice is a collective reflection and exploration of our relationship to care. Cultivating Care includes a special edition of Scorentine and is part of Velocity's Fall Kick Off. Facilitated by Hatlo with participation by Alyza DelPan-Monley, Shelby Handler, Nic Masangkay, Shireen and Mehera, Minna Lee, and Will Darling as a special contributing artist