Seattle Design Festival – UTOPIA: touch
CommonForm
UTOPIA: touch
Virtual Performance
FRI | August 21 | 7PM
SUN | August 23 | 11AM

UTOPIA: touch is an hour-long, live, durational performance with 9 dancers in isolation exploring the tendernesses of unity and rebellion on a virtual stage. It is the second event in UTOPIA, a series of dance performances drawing inspiration from brutalist architecture, principles of socialism and democracy, lasting questions surrounding the breakup of Yugoslavia, and Vladimir's personal narratives about life in Bosnia and Herzegovina. This iteration is particularly concerned with exploring the geometries and heritage of Yugoslav monuments dedicated to the People's Liberation War against Nazi Germany and the Axis Powers during World War II, while experimenting with what it means to create dance works in quarantine.
The performance will be a live-streamed Zoom meeting embedded on this page.
Additionally, it will be live-streamed to Velocity's Facebook page and Facebook event page.
Presented as part of Seattle Design Festival by CommonForm in partnership with Velocity Dance Center. Funding provided by 4Culture.
You can watch the video below! If the video cuts out or you want to chat with other audience members, there is another stream happening on Velocity's Facebook Page: https://www.facebook.com/VelocityDanceCenter/
NOTE FROM THE ARTIST
This durational performance is intended to be experienced as a virtual installation: there is no beginning, end, or a narrative arch. Join us at any point during the performance and stay for as long or as little as you desire.
We invite you to talk during the show, speak to other audience members through the chat feature, leave the room and come back, grab a drink, do some writing or drawing, and definitely check out the slideshow and reading materials provided on the page.
Rather than attempting to eradicate potential technological difficulties the live performance embraces the lagging, glitching nature of digital communication. I see it as a way to celebrate the years of long pauses, lost connections, and garbled sentences that allowed me and countless other immigrants around the globe to remain connected to our distant families and cultures. This show will mark my first dance work that my parents and sister will be able to witness in real-time.
PORUKA OD UMJETNIKA
Predviđeno je da se ova izvedba doživi kao virtuelna instalacija: nema početak, kraj, ni narativni luk. Pridružite nam se u bilo kojem trenutku tokom izvedbe i ostanite koliko god dugo ili kratko želite.
Pozivamo Vas da pričate tokom izvedbe, razgovarate sa drugim članovima publike putem četa, napustite prostoriju i vratite se, uzmete piće, pišete ili crtate, i definitivno pogledajte prezentaciju i materijale za čitanje koji se nalaze na stranici.
Umjesto pokušaja izbacivanja mogućih tehnoloških poteškoća, izvedba uživo objeručke prihvata prirodu digitalne komunikacije koja ima kvarove i usporavanja. Ja to vidim kao mogućnost da proslavimo godine dugih pauza, izgubljenih veza, i izobličenih rečenica koje su omogućavale meni i brojnim drugim imigrantima širom svijeta da ostanemo u kontaktu sa našim udaljenim porodicama i kulturama. Ova izvedba će biti moj prvi plesni komad koji će moji roditelji i moja sestra moći vidjeti u stvarnom vremenu.
CREDITS
Director: Vladimir Kremenović
Performers: Kara Beadle, Elise Beers, Alyssa Boone, Arlo King, Vladimir Kremenović, Erin McCarthy, Maya Tacon, Tayler Tucker, Fox Whitney
Project Manager: Leah Crosby
Creative Collaborator: Benjamin Kinney Harris, Tayler Tucker
WHAT IS BRUTALISM?
Brutalism is an architectural style most popular in the 1950s through 1980s that utilizes raw concrete to create poured facades deliberately void of adornment. Brutalist architecture exposes its internal structural elements and seeks to blend accessibly unpretentious aestheticism with the functionalism necessary of our mass-production society. In Yugoslavia, brutalist architecture was employed to construct a new national identity in the post-war era – a vision of a unified socialist utopia where bourgeois delicacy was abandoned in favor of imposing monumentalism.
INTERESTED IN LEARNING MORE?
For more information on Yugoslav monuments that inspired UTOPIA: touch click here or follow the button below.
Researched and written by Benjamin Kinney Harris.
SUPPORT thiS AND FUTURE UTOPIA WORKS
Make a tax-deductible  donation
Make a direct donation to the artists
(Not tax-deductible)
about the artist
Vladimir Kremenović
VLADIMIR KREMENOVIĆ (they/he) is an immigrant performer, filmmaker and arts administrator currently based in Seattle, WA. Originally from Banja Luka, Bosnia and Herzegovina, he graduated from Middlebury College in 2017 with a joint degree in dance and film. He studied under Christal Brown, Trebien Pollard, Tzveta Kassabova, Scotty Hardwig, Gabriel Forestieri, Katie Martin, Andrea Olsen, and he performed and toured with Dance Company of Middlebury for two seasons. Since moving to Seattle, he danced with Heather Kravas, Alice Gosti, Melissa Riker, Petra Zanki, Karin Stevens, Jordan Macintosh-Hougham, and Noelle Price, as well as worked on several short and feature-length film projects. His work has been presented by Studio Current and Velocity Dance Center. He is interested in combining his postmodern, interdisciplinary education and Slavic heritage to create choreographic containers for radical empathy and to raise awareness of the issues in Balkan countries.
ABOUT SEATTLE DESIGN FESTIVAL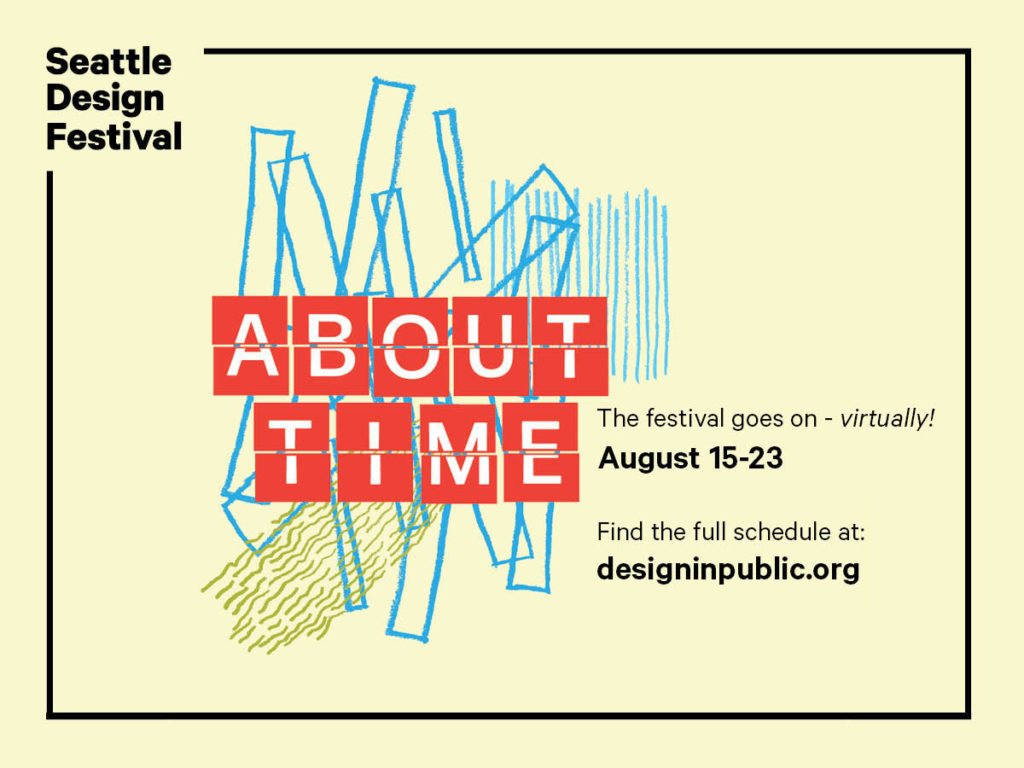 Seattle Design Festival website
Design in Public's flagship program, the Seattle Design Festival (SDF) was founded in 2011 to celebrate all the ways that design makes life better for Seattle, and to nurture relationships among designers, citizens, city leaders, and future-thinking business innovators. SDF is the largest design-related event in the Pacific Northwest, gathering 120+ partners and over 30,000 attendees to 80+ citywide events for the past 9 years.
There are four major areas of 2020 Seattle Design Festival programs — live-streamed webinars and discussions, citywide physical displays, a weekly virtual design challenge called Thinkercyze, and ongoing virtual programming that includes things like collective virtual art creation, online galleries, scavenger hunts and more. Look to designinpublic.org for the full line-up of multi-design discipline events happening August 15-23.
This year's theme, About Time, sought to ponder past, present and future at a unique moment of transition for the city, the region and the world. Instead, it presently confronts the reality of a global public health crisis and the need to address and dismantle racist systems. Priorities are shifting, and the way that we collaborate has changed.
It is About Time for real, meaningful change.
Our Festival partners have submitted amazing programming that addresses the challenges of our communities, inspiring action through design. Schedule at a Glance can be found here. Full details and descriptions in the online calendar here.