// ABOUT VELOCITY //
"It'll be cool to see what these dancers . . . accomplish in the coming year under the guidance and protection of Velocity, an organization that is less a dance company and more like a hotbed of creativity that nurtures and supports dancers as they explore performing art to sometimes extraordinary limits."
— Melody Datz, The Stranger Slog
"How did [Velocity] and its support of local dancers contribute to your career?
In every way possible."
— Corrie Befort of Salt Horse, Seattle Dance Examiner
"Again and again, Velocity proves itself as both supporter and taste maker for dance in Seattle. . ."
— SeattleDances
VELOCITY is Seattle's award-winning, premier art center dedicated to contemporary dance, fulfilling an unduplicated role as the essential incubator and forward-thinking laboratory for new dance in the Pacific Northwest. A "national nexus for dance," Velocity is recognized as a leader in artist, audience, and dance development. With artist-driven, community-centered artistic and education programs, Velocity is instrumental in making Seattle a destination city with one of the most active dance communities in the nation. Velocity is a portal for those new to dance and a catalytic community resource with artist-led classes and workshops every day, performances every week, an annual international dance festival, year-round artist residency programs, celebrated humanities programs that activate cross-disciplinary dialogue; as well as weekly community events from social dances to family-style dinners.
Home to hundreds of independent dance artists and renowned for producing innovative, cutting-edge work, Velocity has hosted intensives, performances, and world premieres by contemporary performance stars including Tere O'Connor, Pat Graney, John Jasperse, Amy O'Neal, Miguel Gutierrez, Danielle Agami, Anouk van Dijk, Reggie Watts, Faye Driscoll, zoe|juniper, Deborah Hay, KT Niehoff, Keith Hennessey, Dayna Hanson, and many more. Velocity is Seattle's only dedicated contemporary dance venue where groundbreaking work and disciplined practice coexist. Our mission is to advance contemporary dance by fostering the creative explorations of artists and audiences through an invested commitment to education, creation, performance, inquiry, community participation, and inter/national exchange.
PODCAST Seattle's Tonya Lockyer Creates Community Through Dance
13 for '13 Series, The Seattle Times + KUOW, July 7, 2013
Tonya Lockyer: 'power personality' turns Velocity around
13 for '13 Series, The Seattle Times + KUOW, July 7, 2013
VELOCITY BY THE NUMBERS 2013
Individuals served: Over 21,260 dance enthusiasts
Students served: 18,052
New works commissioned: 52
New works presented: 150
Annual world-class festivals: 3
Sold out Velocity-produced performances: 39
Movement classes per week: 40
Movement classes offered a year: 2,000+
Teaching Artists: 131
Master Classes by acclaimed artists from Paris, Brussels, Montreal, Israel, South Africa, NYC + San Francisco: 28
Companies presenting in Founders Theater through the Access Velocity program: 34
Average ticket price: $13
Free tickets: 331
Scholarships awarded: 46
Free hours of Rehearsal Space awarded to artists: 1,213
Average rehearsal hours booked each month: 270+
Creative Residencies offered to artists: 21
Free Humanities Events + Community Forums: 36
Velocity's volunteers: 290+
Velocity Arts Administrative Interns: 21
Community Partners: 20
Burn Blue Weekly Social Dances: 46
Contact Improvisation Jams: 58
Direct and in-kind support provided to artists: $197,815
RESPECT for everyone is encouraged and Velocity does not discriminate against individuals on the basis of race, color, sex, sexual orientation, gender identity, religion, disability, age, veteran status, ancestry, or national or ethnic origin. Freedom of expression & creativity is encouraged within the boundaries of respect for all peoples.
No violence, hate speech, verbal or physical assault or other abuse will be permitted by anyone on the premises. We reserve the right to refuse service to any customer whose presence in Velocity detracts from the safety, welfare, and well-being of other patrons. 
We are prohibited from renting to or hosting groups, organizations, or individuals whose teachings and/or employment practices are discriminatory based on age, race, ethnicity, nationality, gender, class, or sexual orientation.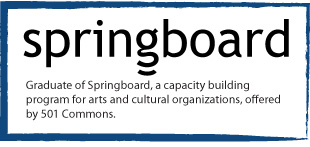 Velocity is a 2012 graduate of Springboard, a capacity building program for arts and cultural organizations offered by 501 Commons.
1,738 total views, 9 views today