// ABOUT VELOCITY //
"It'll be cool to see what these dancers . . . accomplish in the coming year under the guidance and protection of Velocity, an organization that is less a dance company and more like a hotbed of creativity that nurtures and supports dancers as they explore performing art to sometimes extraordinary limits."
— Melody Datz, The Stranger Slog
"How did [Velocity] and its support of local dancers contribute to your career?
In every way possible."
— Corrie Befort of Salt Horse, Seattle Dance Examiner
"Again and again, Velocity proves itself as both supporter and tastemaker for dance in Seattle. . ."
— SeattleDances

Mayor's Arts Award and Genius Award winner Velocity Dance Center is Seattle's premier art center dedicated to contemporary dance and performance. A recognized leader as an artist-driven, community-centered dance incubator, Velocity fosters the creative explorations of artists and adventurous audiences through an invested commitment to education, creation, performance, inquiry, community participation, and inter/national exchange. Velocity fulfills an unduplicated role as the epicenter for contemporary dance in the Pacific Northwest operating three studios, a dance resource room, an online journal and the only theater in the region especially developed for dance performances. The primary art center supporting contemporary dance in Seattle since 1996, Velocity is instrumental in making Seattle a destination city with one of the most active dance communities in the nation. In 2012 alone, Velocity served nearly 18,000 individuals; offered 2,000+ dance classes; provided low cost space to over 450 artists; activated a growing audience of thousands of dance enthusiasts; commissioned and developed 27 new works, and introduced more than 89 works of performance, film, installation and hybrid forms into the local and national dance ecology. 
Home to hundreds of independent dance artists, Velocity is renowned for producing innovative, cutting-edge work. Since its inception, Velocity has presented performances and workshops by contemporary art stars Miguel Gutierrez, Tere O'Connor, Deborah Hay, Anouk van Dijk, Victoria Marks, Reggie Watts, Faye Driscoll, and leading Seattle dancemakers zoe | juniper, Pat Graney, 33 Fainting Spells, Amy O'Neal, KT Niehoff, Donald Byrd, Kate Wallich + The YC, Andrew Bartee, Catherine Cabeen, Mark Haim, Wade Madsen and many more. Velocity is Seattle's only dedicated contemporary dance venue where groundbreaking work and disciplined practice coexist.
VELOCITY BY THE NUMBERS 2012
Individuals served: Nearly 18,000 dance enthusiasts
Students served: 6,000+
New works commissioned: 27
New works presented: 89
Annual world-class festivals: 3
Sold out Velocity-produced performances: 27
Movement classes per week: 40
Movement classes offered a year: 2,000+
Teaching Artists: 92
Master Classes by acclaimed artists from Paris, Australia, Israel, Spain, Belgium, NYC, Minneapolis, San Francisco, Houston: 17
Tickets sold: 3,797
Average ticket price: $15
Free tickets: 328
Scholarships awarded: 38
Free hours of Rehearsal Space awarded to artists: 1,215
Average rehearsal hours booked each month: 270
Creative Residencies offered to artists: 26
Number of free humanities events: 14
Free Community Forums: 17
Velocity's volunteers: 112+
Velocity Arts Administrative Interns: 9
Direct and in-kind support provided to artists: $130,000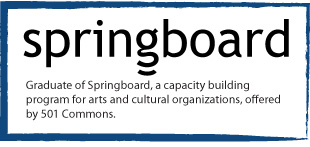 Velocity is a 2012 graduate of Springboard, a capacity building program for arts and cultural organizations offered by 501 Commons.