One on Ones
Co-Facilitated by Emma Lawes and Nia-Amina Minor
​
One-on-Ones is a residency program geared towards movement performers, aiming to create an intimate space of mentorship for dance artists interested in deepening and fine tuning their personal practice. Many spaces provide an opportunity for constructive feedback aimed at the emerging maker, which give tools to young choreographers to present clear, thoughtful, engaging works to the world around them. Performers, who help these works come alive, are at times seen as "parts of a whole," as disposable materials. One-on-Ones shifts the focus back to the mover, sheds the weight of performing someone else's ideas, and brings agency back to the dancer to research their own inclinations. This project aims to support professional performers by providing a space where they can workshop, discuss, criticize, rearrange, and navigate their own interests and questions within movement practice and performance.
As part of the One-on-Ones Residency, 4 Residents were granted ten hours of rehearsal space (either in-person or virtually) with an Artist Mentor of their choosing – an experienced performing artist based in the Seattle area. The residency culminated in a zine that includes written documentation from Jordan MacIntosh-Hougham, photo and video by Devin Muñoz, design by Hilary Painter and contributions from Residents and Artist Mentors. 
Early this year, 4 Residents were selected by a curatorial panel from a pool of 20 applicants. As the residencies were about to begin, the program was postponed until Fall of 2020 to take precautions surrounding the coronavirus outbreak. Over the summer, 2 residency spots became available and applications were re-opened prioritizing BIPOC artists. Read more about the artists and download the zine below.
LE'ECIA FARMER
mentored by Noelle Price
My current interest involves exploring the possibilities of movement, textiles, and storytelling – how can we weave our bodies like versatile threads, how can we move with fabric, and how can we make fabric move like it is dancing?
LE'ECIA FARMER (she/they) is an apparel designer and visual artist. She works with various mediums including paint, film, and textiles. Le'Ecia is passionate about the idea of self-fashioning and adornment as sites of resistance and complexity. She is drawn to the ways in which clothing and fabric have been used over time to signal meaning and communicate without speaking.
NOELLE PRICE (she/her) is a contemporary creator originally from Detroit MI. Price received her Bachelor of Arts in Dance from Western Michigan University (WMU) in Kalamazoo MI where she established the Art for Change Scholarship through the Black Arts and Cultural Center, and developed thePLATFORM, an annual show presenting community artworks. Since relocating to Seattle WA in 2015, Noelle has performed with Karin Stevens Dance Company 2016-17, set work in festivals Full Tilt (Evoke Productions), Men in Dance Adjudicating Showcase, Tint Dance Festival and performed for the 2018 premier of Beautiful Carcass, a Maya Soto and Nico Tower collaborative project among other things. Price self-produced an evening-length work titled An Ode to Marlin and wrote/ performed her first one-woman play Death and Other Rude things both in 2016. 2019 her evening-length work Remember Me Young received a Seattle Dance Crush Award for its commitment to advocacy.
STEFAN RICHMOND
mentored by Markeith Wiley
I am currently interested in finding/creating a ritual around an embodied healing practice. I hopefully intend to create some movement scores around this idea. Some questions I have been asking myself are, "How can I create ritual around healing from inherited trauma?" "How can I create ritual around preparing myself for future ancestry?" "What does it mean to be an arm's length away…from self, interpersonal, society, supernatural, etc.?"
STEFAN RICHMOND (he/they) is a Colorado native, Seattle based actor/movement/performance artist. He has been performing on stage since the age of 10, doing community children's theatre during his summer breaks. It's where he discovered a place where imagination and connection were embraced. It became the place of healing. In high school, he attended Denver School of the Arts, with a major in Theatre, and continued on to graduate from the University of Northern Colorado with a B.A. in Theatre Arts and Dance. He made his way to the PNW through the Intiman Emerging Artist Program in 2016 and has been a full-time artist in Seattle since. As a creative collaborator and storyteller, he believes in the power of imagination & storytelling, and their ability to heal. His work seeks to examine and explore the intersections of stories and emotions related to physical space, natural movement within the body, and language/text. His other recent Seattle credits include Black Bois (Dani Tirrel+Congregation), Time to Tell (Shawn Johnson), Multiple Educational Touring shows (Book-It),Pylon III (Tectonic Marrow Society), The Earth Shakes (Heron Ensemble), Carry We Openly (Amador/Stokes) and The House of Dinah (Andrew Russell/Dani Tirrell/Jerome Parker). Stefan is currently collaborating on an ongoing project titled Salvage Rituals with Tim Stewart and Jeffrey Azevedo, interested in the potential of communal ritual intersecting with DIY engineering as an embodied practice of mutualism/mutual aid. The project was intended to premiere at On the Boards in the Winter of 2020, but we are currently finding ways to create sustainability and connection in a socially distant world.
California native MARKEITH WILEY (they/them) is a multi-dimensional art maker, who creates out of necessity. Their vast movement vocabulary spans a lifetime of influences. As of late they have been organizing in the streets of Seattle but usually they dabble in dance, sound, theater, a combo of all three or none of the above. Wiley has been an arts educator in Seattle for a while now. When they are not in the studio you can find Markeith at Rainier Dance Center in Rainier Beach or choreographing with Seattle Children's Theatre. Markeith holds a BFA in Dance from Cornish College of the Arts and has performed or collaborated with too many national/international artists to name. Prior to shelter in place Wiley hosted a DJ event at Vermillion Art Gallery & Bar with Alice Gosti and started a monthly performance party at Studio Current called SC Sessions. This fall Markeith will be setting work on Cornish Dance Theater. Wiley was a member of the 2014 City Arts Future List & also graced the cover of the magazine in 2016.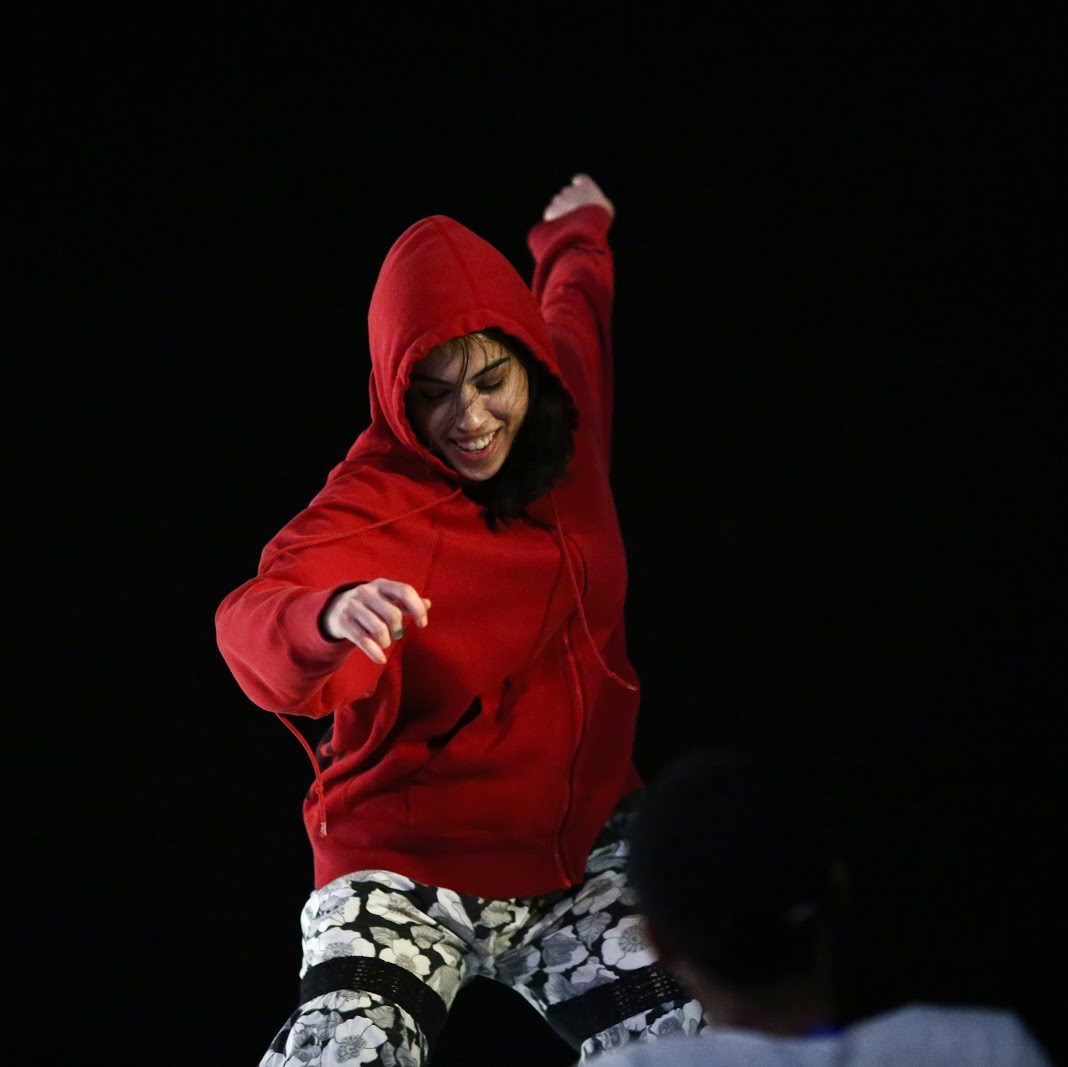 ADRIANA JIMÉNEZ
mentored by Alia Swersky
I yearn to create a dance with the multiple cultural adaptations my immigrant body constantly experiences. Can I duet with myself?
Originally from Mexico City, Adriana Jiménez is a dance artist, graduate from the University of the Arts with a B.F.A. in Dance in May 2019.
Primarily trained in Classical Ballet, Adriana combines her technical background with Somatic Experiencing, Meditation, Improvisation, and Philosophy to understand movement above and beyond Contemporary and Modern techniques. She is interested in the subtle perceptions that her body understands in relationship to her own self, other bodies, and the body of intangible social ideologies.
She has had the pleasure of working and collaborating internationally with artists like: Tamara Cubas, Jimena Paz, Sidra Bell, Gerard & Kelly, Jesse Zaritt, Kaneza Schaal, Yael Bartana, Boris Charmatz, Zoe Scofield, and Douglas Becker. Her multidisciplinary approach has allowed her to perform in non-conventional spaces for site-specific and durational works.
For the past five years, she has lived a nomad life; moving from place to place, country to country, from time to time. Currently, you can find her dancing, working and listening to live music in Seattle, WA.
Alia Swersky is a movement artist, performer and teacher, engaged deeply in the vital act of dance improvisation. She graduated from Cornish College of the Arts in1998 with a BFA in dance and now teaches as part of the creative process curriculum at Cornish as an adjunct faculty member since 2005.
MAIA MELENE DURFEE
mentored by Gilbert Small
My current research involves working with images and spatial trajectories within an in-between space of lingering and directness: how long can something last with depth before it must leave, and can something come and go unconditionally without any additional layering of tentativeness? I'm interested in things that are simultaneously strange, beautifully grotesque, metaphorically human, and honest; something intricate, yet vivid and blank. 
Maia Melene Durfee is a Seattle free-lance dancer and choreographer, who seeks to create and research movement that challenges the body and mind to genuinely display the sensations and textures of her experiences. She holds a BFA in dance from Cornish College of the Arts, graduating Magna Cum Laude, and has studied at American Dance Festival, Bates Dance Festival, Trinity Laban Conservatoire London, and San Francisco Conservatory of Dance. She has had her choreography presented in a number of showcases and festivals, produced her own evening length work, and presented at 12 Minutes Max. She is interested in exploring both the abstract and the deeply personal through motion and creating a surreal environment for her artistry to play in.
Born in Baltimore, Maryland, GILBERT SMALL started his professional ballet training at the age of 10 at the Baltimore School for the Arts. He has studied at various programs in North America and Europe. After graduating from the Baltimore School for the Arts, he continued his studies at the Conservatory of Dance at Purchase College. While at Purchase, Gilbert was given the opportunity to study abroad at Codarts in Rotterdam, Netherlands. He has performed with Toronto-based ProArteDanza as well as New York-based A.I.M, The Dash Ensemble and Sidra Bell Dance New York. Gilbert is in his 10th season with Ballet BC. The last 2 years he's been a guest artist with the company and also collaborating with them as a Rehearsal Director. Gilbert is also a collaborator with Seattle-based zoe | juniper.