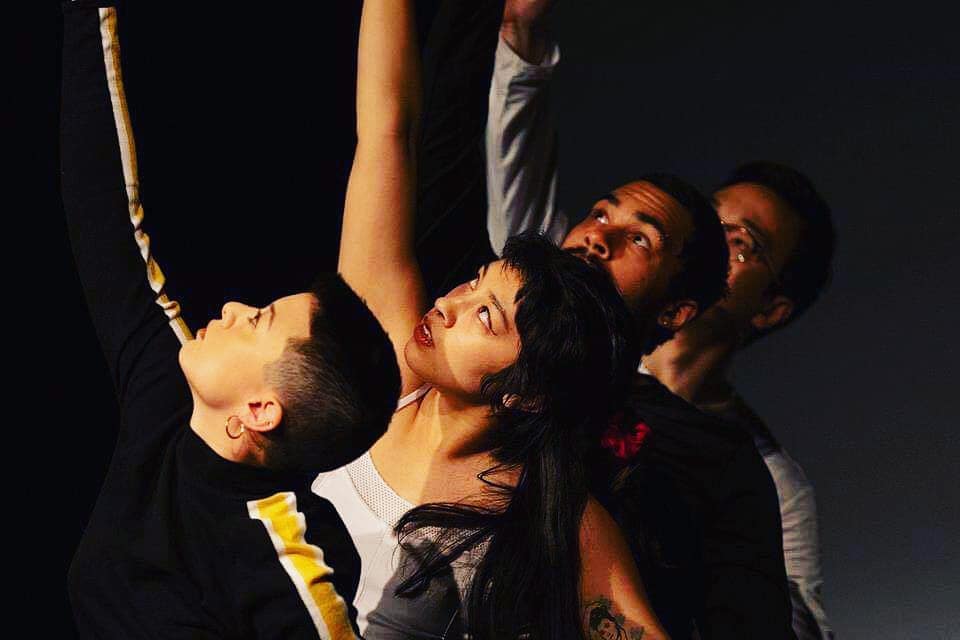 YOUNG CHOREOGRAPHERS CLUB PERFORMANCES
featuring
THE 2023 YCC COHORT
MAR 18 | 2 PM SHOW
                3 PM PANEL
Join us for the culminating performance + panel for the 2023 Young Choreographers Club. Celebrate the work this year's cohort has created together throughout the eight weeks they have worked together. Post performance, the Young Choreographer's Club Cohort will be in dialogue with claire barrera's youth artists featured in Grammar of the Imagination in a panel conversation.
The Young Choreographers Club is an 8-week dance-making workshop for dancers and young choreographers ages 14-24, led by Moonyeka with rotating faculty.
Early classes focus on the basics of dance-making and storytelling through guided workshops that build skills in movement, voice, music, and collaboration. Then, in the later weeks, dancers apply what they learned to create their own collaborative dances, as they work toward an informal showing for friends and family in a professional theater.
Photo courtesy of Moonyeka. 
Lead Teaching Artist for Young Choreographer's Club
Moonyeka (they/them/angel) is a nonbinary Filipinx shapeshifter, brujx, teaching artist, performing artist, choreographer, curator, scholar, and interdisciplinary artist with a specialty in dance and movement-based storytelling. Moonyeka is one of Velocity Dance Center's 2022 Creative Residents where they are creating CENSORED, a research process centering QT + POC show girl histories, re-mything work + divination collaborations of Aswang* Filipinx spirits, the "whorearchy", performance intelligences, systems, and technologies of artist working girls.
As a 2022/2023 BASE Artist Resident, Moonyeka will be unraveling their project Harana for The Aswang an audio-visual-performance album centered on Moonyeka's sonic research of Harana, a Filipinx serenade song form that centers courtship rituals, and more unpopularly, grief rituals. Moonyeka + their collaborators will queer the harana form through centering diaspora by exploring the form through a 7-track multi-genre album including: experimental synth + electronica, punk, 60s Filipinx rock, blues + folk forms, soundsccapes, and meditations. Moonyeka x Kai Horton are publishing a collection of prose and poetry titled: Fiebre de Kilig, exploring themes of T4T connection, divine love, and queerness as revolution.
Moonyeka's dance and movement foundations include freestyle forms such as Popping, Tutting, Animation, while also being informed by modern dance, improvisational methods, and sensual movement practices imbued with QT Filipinx greatness.
Pre covid-19 Moonyeka directed WHAT'S POPPIN' LADIEZ?!, LIL BROWN GIRLS CLUB (a movement based mentorship program for young g*rls of color), and organized (e)merge: a movement based healing intensive for dance communities and beyond in September 2019.
Moonyeka's past interdisciplinary performance works include BASTOS(2017), BASTOS TALAGA (2018), In The White Frame (2018), Inang Bayan (2019), SIN-EATER (2021), Mother of Pearl (2022), Aswang in Analog (2022), 1-800-SC4ND4L ext. 3Y3Z (2022) which have been presented in festivals, living rooms, queer night clubs, Velocity Dance Center, On The Boards, Heidi Duckler's (MAP), Risk/Reward, Museum of Museums, BASE, Seattle Center, across diaspora and beyond. Moonyeka collaborates often with their QTBIPOC community, with special shout outs to Arabella Bautista (digital producer) + Zara Martina (dancer).
You can find out more about upcoming performances, divination offerings, + group courses such as Aswang Movement Incantations, SLITHER: a sensual movement practice, Q TUTS, Doll Animation (Popping) Foundations, and more  by following them on:
patreon.com/moonyeka
instagram: @m00nyeka
Picture by V @justlikethemoon_
February 11th | Archival Process with Black Collectivity Out of Necessity (Nia Amina Minor + Akoiya Harris)

Nia-Amina Minor is a movement artist, choreographer, and educator. Her interdisciplinary dance projects focus on the body and what it carries, using physical and archival research to explore Black memory, history, and culture. Nia-Amina often approaches her physical practice as an imaginative space grounded in rhythm where improvisation, Black vernacular, and choreography can meet. Her creative research engages with archives as a way to unearth histories. Many of the choreographic pieces she creates begin as investigations of the past and how one might bring forth that legacy into the present.
Originally from Los Angeles, Nia-Amina resides in Seattle. She worked as Company Dancer and Community Engagement Liaison with Spectrum Dance Theater for five seasons where she continues to program free Community classes and events. Nia-Amina performed in acclaimed works created by Donald Byrd including Rap on Race, Shot, and Strange Fruit receiving a Seattle Dance Crush Award for her performance in Shot. Prior to relocating to Seattle, she was a co-founder and former curator of Los Angeles based collective, No)one Art House.
Nia-Amina holds a MFA from UC Irvine and a BA from Stanford University. She has taught, guest lectured, and worked as a visiting artist at CalArts, University of Washington, Saddleback College, Cypress College, and UC Irvine. As an independent artist, Nia-Amina has performed and presented original work at The Luminary in St. Louis, Seattle Art Museum, Tacoma Art Museum, WaNaWari, CD Forum Showing Out, Reflections Festival, Seattle International Dance Festival (SIDF), Pacific Northwest Ballet, and Seattle Black Film Festival.
Currently, Nia-Amina is a 2021 Velocity Made in Seattle Artist and was recently recognized as Dance Magazine's 25 Artists to Watch in 2021.
February 11th | Archival Process with Black Collectivity Out of Necessity (Nia Amina Minor + Akoiya Harris)
Akoiya Harris is a Seattle based movement artist. She graduated from The Ailey School's Certificate Program and has performed as a company artist with Donald Byrd's Spectrum Dance Theater. While there, she was able to perform at the Frye Art Museum for the exhibit "Donald Byrd: The America That Is To Be," as well as in works such as Strange Fruit and The Harlem Nutcracker. Currently, Akoiya is a freelance artist. This has led to her to dancing in spaces such as The Henry Art Gallery, The Luminary, On The Boards, and Seattle Center. 
As a choreographer, Akoiya has presented work at Seattle Art Museum, Wa Na Wari, MadArt Gallery, Northwest Film Forum, Seattle International Dance Festival, Base Art Space, and The Moore Theater. Akoiya also practices cultural preservation through the collection of community members oral histories. Akoiya was recently named one of Seattle Theater Groups Artist in Residence. You can follow Akoiya on Instagram @a_koi_ya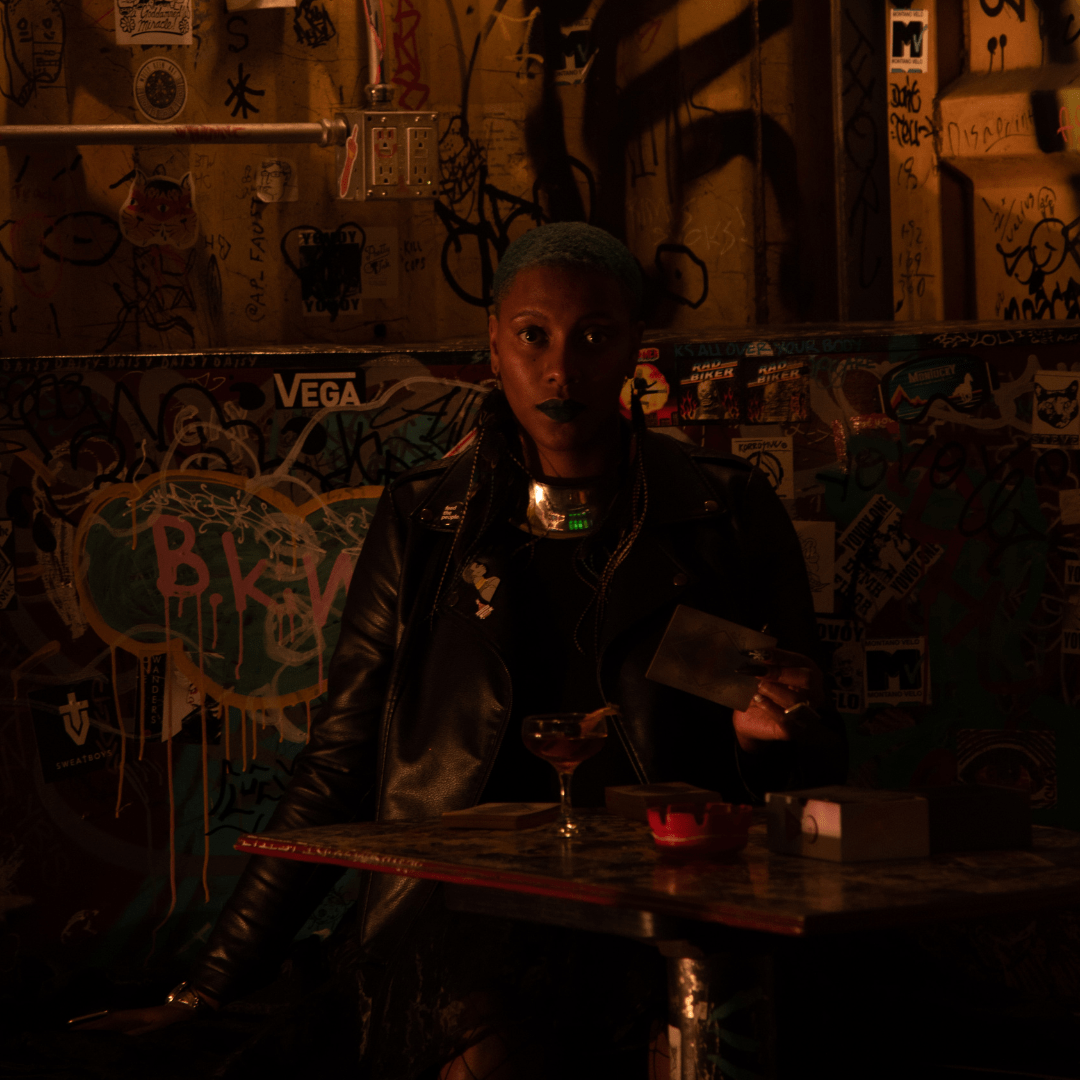 February 18th | Incantations: Writing to Move, Moving to Write
As the Winter settles in and stabilizes, it's a great time to dive into the still cool lake of a scrying mirror.  This workshop is designed to give you writing prompts based on tarot archetypes that nod to deep reflection and integration. As an act of divination, there will be opportunities to incorporate words with movement throughout the workshop. We will explore The Star, Six of Swords, and The Moon through writing prompts and movement.

Moonyeka will offer movement exercises and improvisational scores based on reflections + tarot archetypes!
Imani Sims is an alchemist and writer from Seattle, WA.  They believe in the power of community ritual and performance art, in public space, to shift social narratives around the magic of blackness, queerness, and femme identity. Over the past two decades Imani has collaborated with community organizations and independent artists to deliver arts programming all over the nation. Their heart soul love work is elevating the voices of QTBIPOC folk in public and virtual spaces.
February 25th | Movement Generation Tools + Partnering Ideas
Exploring our energies and movements, the students are encouraged to explore their movement with organic and emotional intentions. This workshop invites the attendees to work with unlimited imagination while pushing the physical boundaries of body and mind.
Approaching choreographic creation with risk, athleticism, abandon, breath, weight, focus, vocal exploration and intention; this workshop emphasizes concepts that nourish the setting of a choreography.
Originally from Medellin-Colombia, ZARA
MARTINA LOPEZ (They-She) is a Seattle
based dancer, performer, story teller, filmmaker and
photographer. She studied fashion photography in
São Paulo, Videodance in Cuba and worked as
a video dance instructor at the University of
Antioquia in Colombia. They have performed as a dancer for Jerboa dance (2017). NIGHTLIGHT, a Velocity Dance Center program, (2022)
at Blackbox weatherman at On the boards (2022) and most recently They were part of the Seattle festival of dance + Improvisation (SFD+I) (2022)
Combining mediums such as dance, drag, theater, spoken word, video and photography, her work pulses with the synergy of myriad techniques that give shape to her unique
visual poetry.
IG: @zaramedallo
March 4th | Camera Choreo: Digital Tools for the Dance Realm
We'll explore the choreography of camera movement to tell unique dance stories through the lens. Using your phone and other tools you have access to, you'll explore creative techniques for filming yourself as well as filming with a camera collaborator to convey the story you want to tell. 
Amy L. Piñon (she/her) is an accomplished filmmaker, photographer, audio engineer, and vocalist based in Seattle, Washington, on Duwamish Land.
She specializes in creating a comfortable atmosphere for storytellers to share their most authentic selves in front of the camera, and maintaining a safe and intentional environment behind the camera as well. 
Her first feature documentary, "And Other Oppressive Dynamics," is about healing from the cycle of nonprofit harm, and won Best Feature Documentary at the Local Sightings Film Festival in 2022.
March 11th | Lighting + Tech Skill Building
Workshop Description:
Stage Technologies and Lighting for Dance
In this workshop we will discuss the areas of design for stage performance and some of the tools you may use to help accomplish your vision.
Focusing deeper on lighting design we will look at how light can be used to guide the viewer's experience, convey emotion and shape a dance piece in time with or without music.
Topics we will touch on include
-Stage technology and tools
-Theatrical venue lighting
-DIY lighting
-Five areas of design
-Design collaboration. Advocating for and communicating your vision.
-Lighting theory and practice
Observation
Basic directional lighting
Light and movement
Timing and cues
Performing with light
Jessica Roxann Baca Jones was the Technical Director for Velocity Dance Center from 2019 to 2022. Jess has designed and collaborated on the lighting design for dozens of dance performances. A graduate of the University of Washington School of Drama, she studied theater production and design and has worked in numerous venues in Seattle and beyond.
Jess occasionally performs dance, creates light art installation, and has produced independent performance art pieces using shadow puppetry and dance. A recent sun light shadow box Solar Projector was installed at the Lookout Arts Quarry in September 2022 for the Sh'Bang Festival of Ideas.
Jess makes art for climate actions with 350 Seattle Artful Activists and plays trumpet with Burn Out Brass Band.