Britt Karhoff: STILL WONDER FULL
Britt Karhoff
STILL WONDER FULL
A Velocity Co-Production
Postponed
Velocity
After careful consideration, Britt Karhoff and Velocity have decided to postpone her remount of STILL WONDER FULL. We are still very excited to support Britt as she develops this work, but will postpone the performance until some time after the restrictions on large gatherings have been lifted. You can stay in touch with developments for the show by checking our social media page and website, and staying connected with Britt through her website. If you have already purchased tickets, please consider donating your ticket to continue to support our and Britt's work.
Performance DESCRIPTION
Velocity is very excited to announce our April co-production of "STILL WONDER FULL," an evening-length solo performance by Seattle artist and performer, Britt Karhoff. Blending dance, storytelling, and Karhoff's visual art practice, "STILL WONDER FULL" holds a space to explore parenting, bereavement, and the profound capacity and limits of the human body.
"Karhoff rejects the narrative so often espoused in the dominant culture, where new moms feel pressure to get their pre-baby body back…[She] acknowledges that right now she may not have the super-facile body she used to, but now she knows the extremes her body is capable of." –Kaitlin McCarthy, Seattle Dances
"STILL WONDER FULL" comes out of Karhoff's personal experience, and began as a way to process and reflect on the confluence of several major events in the her life, including a late-term abortion for a much-wanted pregnancy, new motherhood, new home ownership and a destabilizing moment in her career. Now, after a second child, firsthand experience of post-partum anxiety, and a burgeoning visual art practice, Karhoff is returning to "STILL WONDER FULL" to allow its content to grow and transform with the new contours of her life. In her signature electric movement and emotionally charged presence, Karhoff has carved out of deeply personal material a performance that opens up universal questions: on the joys of new life, the pain and fear of change, the trials and triumphs of the creative spirit, and the complexity and spectacle of loss.
"I used to believe that if I took a break from performing, I would become irrelevant or never be able to make up for lost time. But I either got tired of that message, or discovered it just wasn't true (or both) when I was first pregnant and then recovering from pregnancy. I actually found I had more urgency and more to say as an artist." –Britt Karhoff, 2020
In addition to developing the material of the last iteration through new choreographic content, "STILL WONDER FULL" will also build on the ideas of the prior piece through a series of visual works Karhoff has been developing over the past few years. In addition to enrolling in the Gage Academy of Art's 2019, Karhoff explored painting and drawing in her own time as an extension of her practice. The new version of "STILL WONDER FULL" will feature a gallery-like installation of her paintings and drawings, many of which also come out of her experiences with post-partum anxiety, motherhood, and her choreography itself. According to Karhoff, the work with painting developed while recovering from childbirth.
"In the most complete work of the evening, an ensemble of five women navigated female progression from childhood through maturity in Britt Karhoff's 'maybe it's quieter'…As assets became flaws, movement became fragmented and elegant extensions and cambrés turned into dissatisfied gestures. Even with such a weighty subject, Karhoff maintained a sense of playfulness and joy within the absurd." –Charlotte Hart in Seattle Dances
Karhoff is no stranger to Seattle audiences: while her solo and choreographic practice have been prominent in recent years, she's also a familiar face to fans of Seattle all-stars like zoe | juniper, KT Niehoff, Shannon Stewart, Alice Gosti, and Kim Lusk. Karhoff drew on these collaborative relationships for her most recent project Trove, which came out of her residency at Cornish Playhouse in 2019. Rather than connect an ensemble of dance artists directly, Karhoff was interested in creating a performance that connected artists through ephemera: each of the five artists were invited to share the space in parallel, connecting their work through the materials left in the studio. This animation of objects and use of overlay is signature to Karhoff's work in both visual art and performance. And while the themes of "STILL WONDER FULL" are in many ways personal, Karhoff brings these themes to the audience for what they can reveal about what is shared.
Photo – Jazzy Photo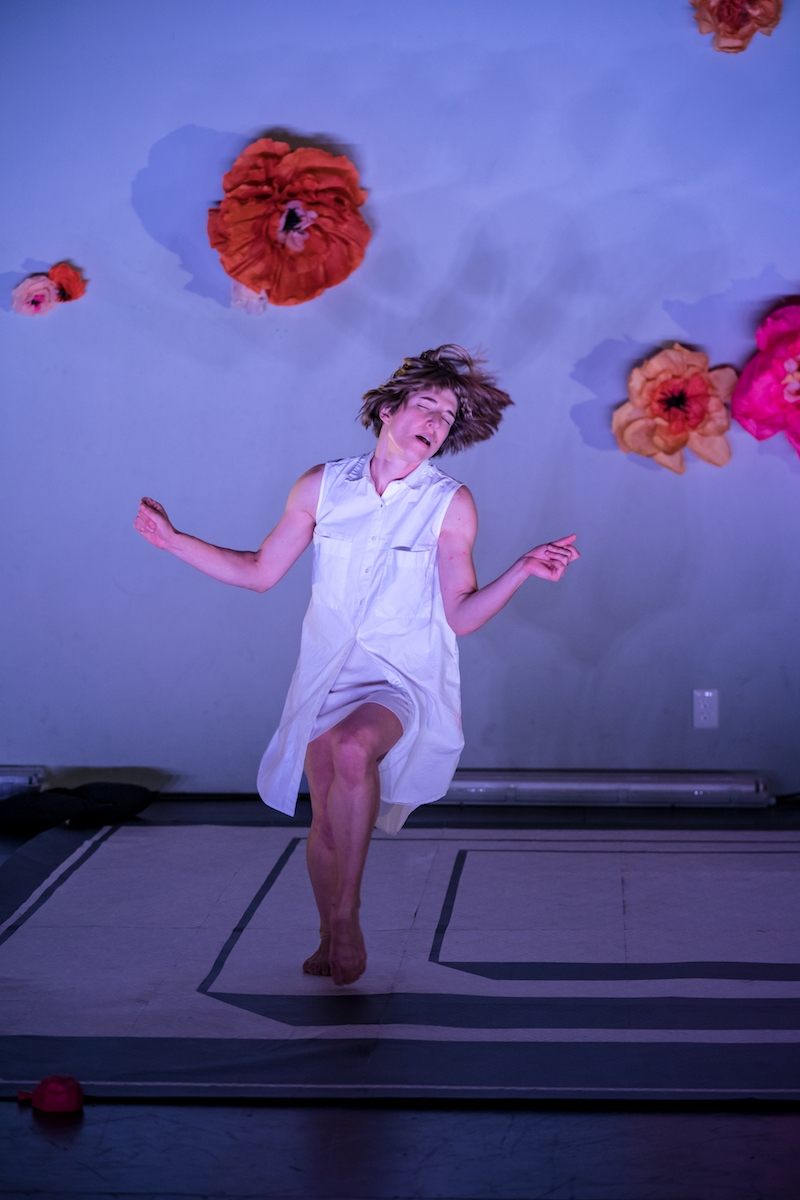 Britt Karhoff
BRITT KARHOFF is a Seattle-based choreographer, performer and visual artist. Her performance works blend movement, contemporary theatre and visual design to explore the messy absurdities and beauty of our shared human experiences. Her work has been presented at Velocity Dance Center, On the Boards, The Pink Door, NEPO 5K, at the Joe Goode Annex in San Francisco and at the Risk/Reward Festival in Portland. She has performed locally and internationally with artists including Project Bandaloop, Joe Goode Performance Group, Flyaway Productions, zoe | juniper, KT Niehoff, Shannon Stewart, Coleman Pester, Anna Conner, Alice Gosti, Kaitlin McCarthy and Kim Lusk.