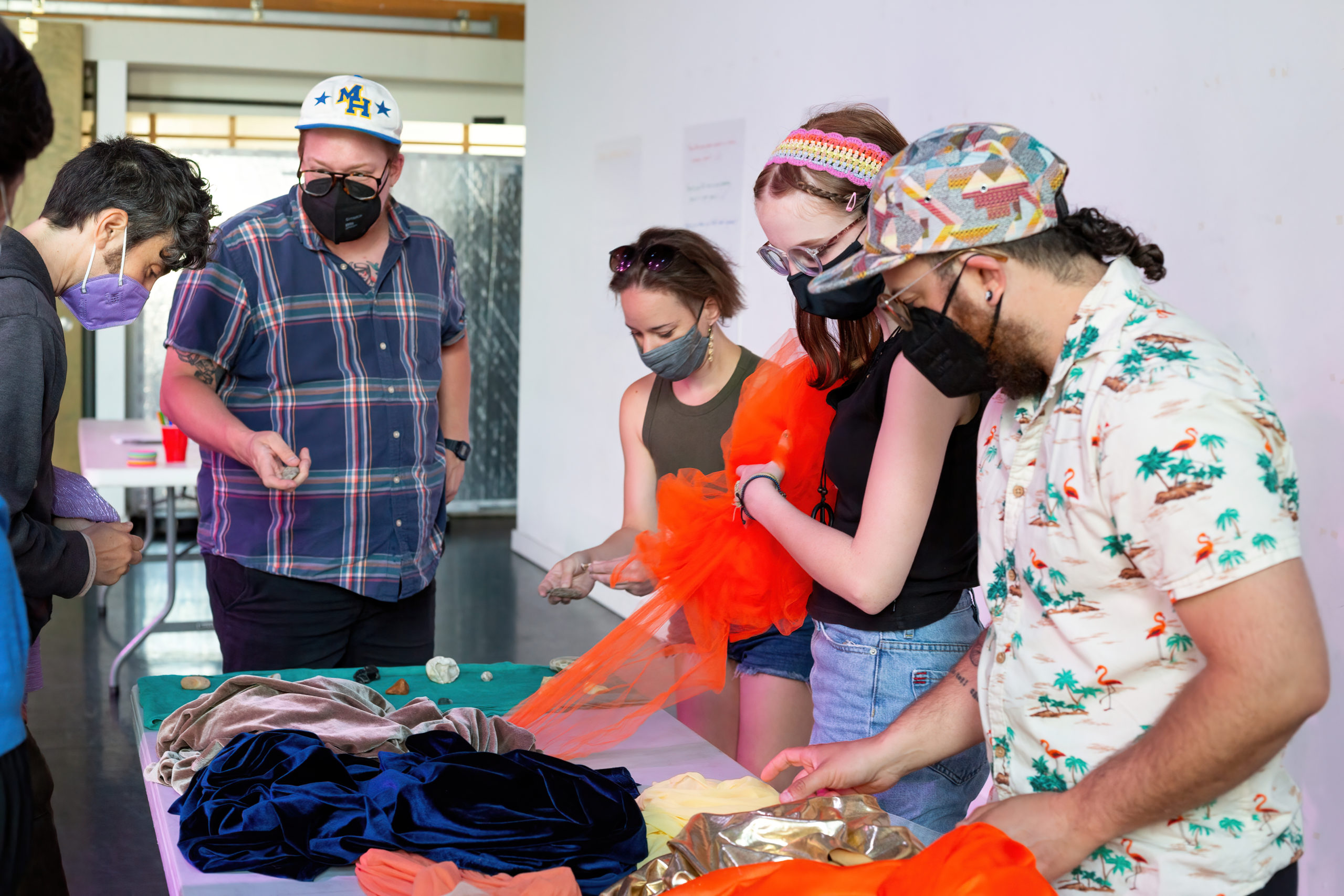 QUEER PARENT CONVENING
PART OF BLOOD BABY
LED BY MEG FOLEY + Michèle Steinwald
SAT, AUG 6 | 2 – 5 PM
Free + Open to All Queer and Trans Parents and Caregivers
What does parenting queerly mean to you? The Queer Parent Convening is an opportunity to connect and share with other queer and trans parents in a welcoming and creative space. We'll explore collectively how we shape our families and what parenting queerly means to you, particularly in regards to gender and sex in family-building. Participants will learn somatic and improvisational movement practices and engage in gently facilitated group-led conversations that can help us newly consider and process parenting experiences.
This is a caregiver-centered and community gathering space. Creatively focused to support individual and collective experience, this is not a performance environment. It is informed by virtual and in-person Queer Parent Convenings (QPC) undertaken since summer 2021 and led by the QPC team: Pati Garcia, Paloma N. Irizarry, Darcelle Lewis, Linnea deRoche, Foley and Steinwald—community organizers, midwives, sex educators, and community theater-makers. The facilitated conversations and exercises are intended for caregivers to center themselves and their experiences and questions, including potential discussion of sex, sex practice, gender identity and transition, and queer experience. Children and life are welcome in the space; childcare will be provided so that caregivers can engage and be present to the extent they desire and/or need.
These conversations and energy exchange are at the core of the creative formation of Blood Baby, a performance project exploring the intersectional experiences of gender performance, queer motherhood and parenthood, queer sexuality, and belonging, led by queer artist and parent Meg Foley.
Blood Baby premieres Summer 2023 at Velocity Dance Center.
Blood Baby is supported by a NEFA National Dance Project Production Grant, a National Performance Network Creation Fund Award, Leeway Foundation, and an Indiana University Arts & Humanities grant.
For the past 20 years Meg Foley has made performance projects with radical self-determination as subject, crafting body-based explorations of identity, belonging, and time from a queer, nonbinary perspective. In a loving tumble with formalism in dance and what constitutes performance and influenced by intersections of parenting practice and artistic practice, she works on a continuum of research that centers the 24-hour body and asks how identity is occupied. Foley's work has been presented by TanzFabrik Potsdam, Art Stations Foundation at Malta Festival, Prague Quadrennial, SummerWorks Festival (Toronto), LA Performance Practice, DraftWork at Danspace Project, CATCH! at Invisible Dog Art Center, Philadelphia Contemporary, CounterPulse, and Philadelphia Fringe Festival (curated), Moore College of Art and Design, Pilot+Projects, Icebox Project Space, and Vox Populi Gallery. Grants include: New England Foundation for the Arts, Pew Center for Arts & Heritage, Independence Foundation, National Performance Network, Dancemakers Centre for Creation, and a Foundation for Contemporary Art Emergency Grant. She has taught across the US and abroad.
More at megfoley.org
Photo by Gema Galiana
Since retiring as a dancer and choreographer, Michèle Steinwald has managed performing arts projects and professional development programs for On the Boards (Seattle), New England Foundation for the Arts/National Dance Project (Boston), DanceUSA (DC), and the Deborah Hay Dance Company (Austin). She joined the Walker Art Center (Minneapolis) in October of 2006 as Assistant Curator for the Performing Arts and remained in that role until summer of 2013. She was on the boards of the National Performance Network (New Orleans) and Movement Research (NYC) from 2012-2018. She has served on grant and fellowship panels for the NEA, MANCC, Creative Capital, National Performance Network, McKnight Foundation, USA Fellows, Pew Foundation, Herb Alpert Award, MAP Fund and been an artist mentor for Creative Capital's retreat and Arts Midwest's ArtsLab. She holds an MA from the Institute for Curatorial Practice in Performance at Wesleyan University and was published in Curating Live Arts (Berghahn Books – New York/Oxford). Committed to social justice in the arts, she has researched and facilitated movement-building sessions at conferences and professional gatherings such as Association of Performing Arts Professionals (2018 & 2019) in partnership with American Realness, Interrarium at Banff Centre (2018), National Performance Network (2017 & 2018), Arts Midwest (2011 & 2014), and DanceUSA (2012 & 2013 + 2014 host and showcase committees). Although Canadian, Steinwald is currently working in the US as an independent curator, community organizer, and occasional writer.
More at www.44artsproductive.com
Photo by Rino Pizzi
ACCESS INFO
12th Ave Arts is fully accessible for wheelchairs and walkers. The lobby and bathrooms are at street level, and seating is available without the need for an elevator or stairs. For special needs, advanced word to erin@velocitydancecenter.org can help in preparations.
COVID-19 SAFETY
We will require all attendees to show proof of vaccination or negative Covid test within 48 hours at the door. We also ask that all attendees wear a mask, and we will have extras available at the door for those who need them. The lead artists will be unmasked during the event, but will take rapid tests before the event and maintain distance from attendees while unmasked.