Spring 2023 Season
This spring, Velocity is celebrating the power and vibrancy of contemporary dance experimentation.
What do we create from our collective past and present? How do we maintain spaciousness for reflection while building momentum toward our emergent futures?
Velocity's season brings together new works by local and West Coast dance-makers to help us navigate these questions. Each artist has their own distinct voice and lines of inquiry, but they all champion movement research and community-building as modes for charting new pathways forward.
NEW THIS YEAR!
Velocity is now offering sliding scale subscriptions to see all five Spring 2023 performances and immerse yourself in this exploration.
The culmination of a 4-week residency undertaken by three of Seattle's most promising emerging dance-makers.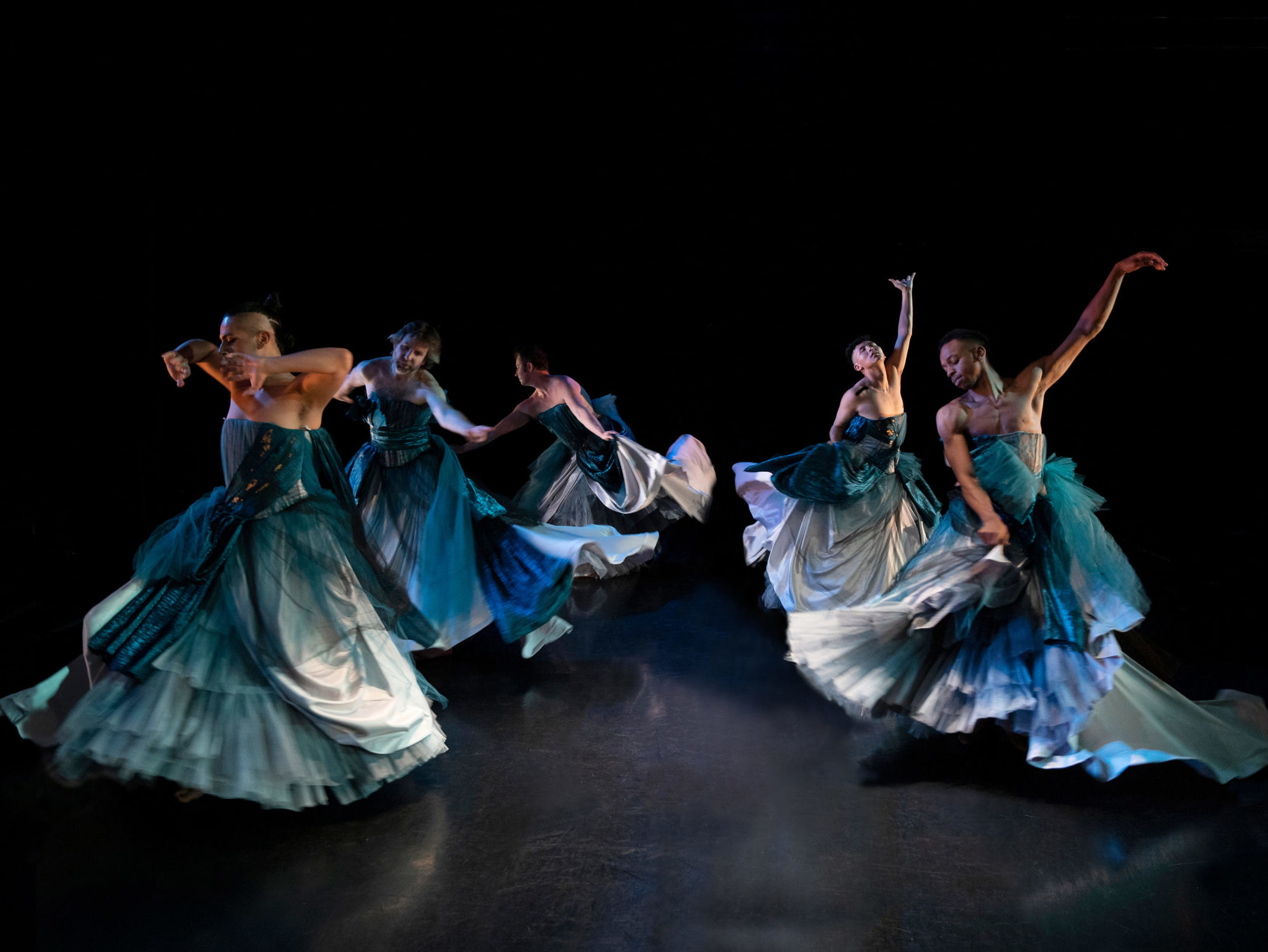 Experience full-throttle modern dance, intimate queer and trans storytelling, intricate costuming, and exquisite partnering in this new work embracing expansive imagination.
Three unique performance/ writing experiences will dissolve the hard line between source and target, artist and audience.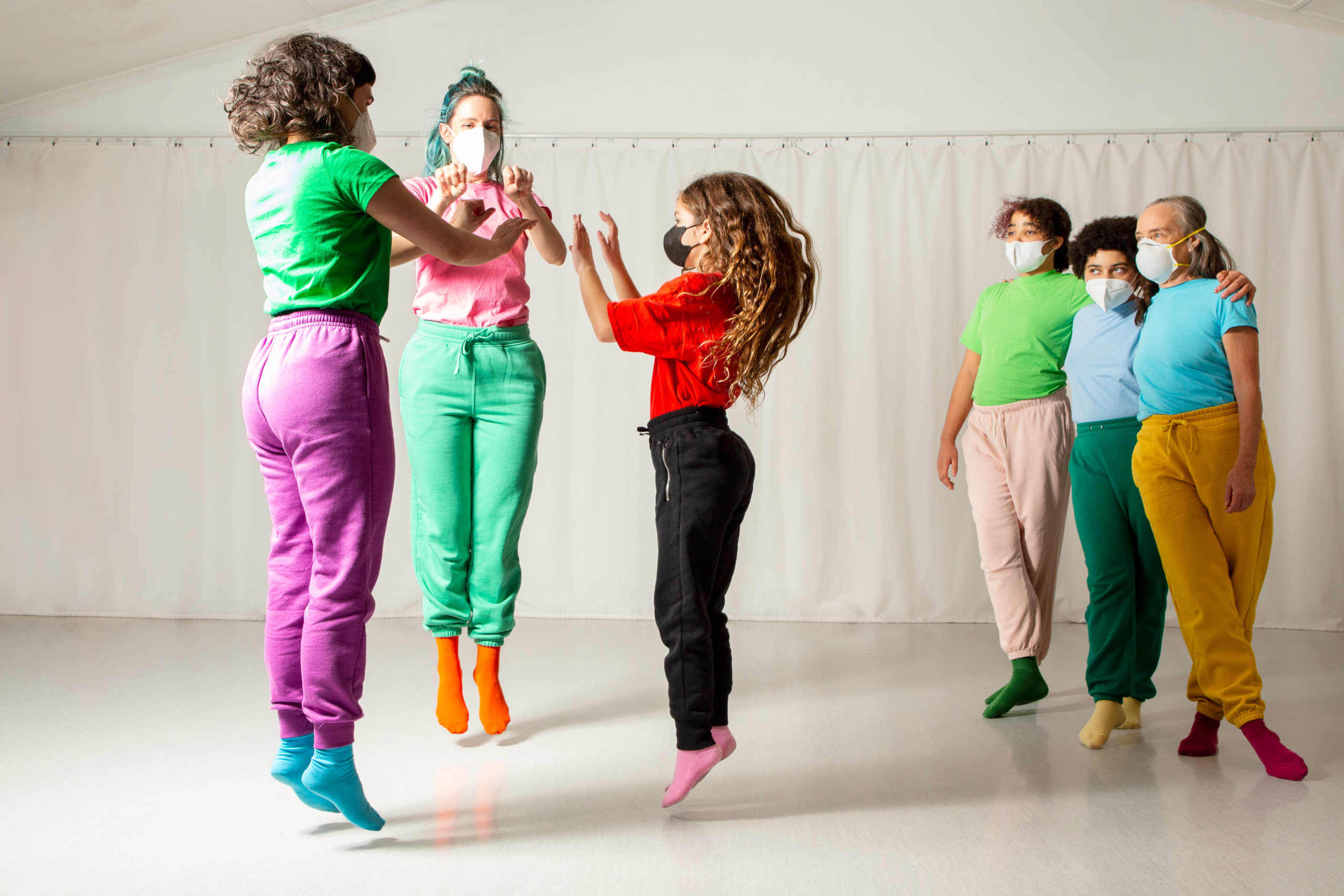 Using traditional children's games, an intergenerational cast explores play as a site of imagining radically new social relations, or of disciplining and re-enforcing social norms.
Under the guiding notion 'we build Black Collectivity out of necessity,' four artists [Nia-Amina Minor, Marco Farroni, Akoiya Harris, + David Rue] illuminate the presence and contribution of Black Dance Artists in Seattle, WA.
Velocity's Spring 2023 Season is co-curated by Velocity's outgoing Artistic Director Fox Whitney, our current Curating Artist in Residence, Alyza DelPan-Monley, and our Executive Director, Erin Johnson.
Velocity offers subscriptions to our Spring 2023 season of five performances, and individual tickets to all spring, summer, and fall performances and events. All of our tickets are sold at tiered pricing described below. We invite you to self-select the tier that best fits your situation and needs.
Click here for step-by-step instructions on how to purchase a subscription. To purchase tickets to individual events, please visit the page for that event.
This structure is inspired by Alexis J. Cunningfolk's green bottle pricing structure. Click here to learn more.
CHAMPION | $250
Single Tickets: $50
This tier represents the true cost of a ticket to our performances. This tier is for if you are secure in your finances, own your home and car, and can generally purchase your "wants" while regularly meeting all of your basic needs. By selecting this price, you are investing in our community, and affirming the value of live performance and dance.
SUPPORTER | $150
Single Tickets: $30
This tier is our "general" ticket price, and it is partially subsidized to increase access to our performances. Choose this level if you have access to steady income and generally have some expendable income after meeting your basic needs. This price sustains our work.
ARTIST | $100
Single Tickets: $20
This is a subscription-only tier. Velocity centers the needs of movement-based artists in Seattle, and this subscription represents our commitment to affordable access to our performances for artists. This subscription is a way for artists to commit to the practice of seeing work, and a way for artists to support Velocity.
LOW INCOME | $75
Single Tickets: $15
This tier is our most accessible ticket price, especially when purchased as a subscription. Choose this level if you often struggle to meet your basic needs, are under or unemployed, and have low- to no savings. For people for whom this price is even too high, we do have a volunteer program to see performances at no cost in exchange for your help.
HOW TO BUY A SUBSCRIPTION
Click the "Subscribe" button above or click here to purchase your subscription.
Select which sliding scale subscription tier is right for you. To learn more about the subscription tiers, click here.
Click "Next."
Now select the number of people you're buying subscriptions for. You can write in the number or click on the box with "0" and use the arrows in the right corner to increase or decrease the number of subscribers.
Now you are going to select the dates you'd like to see each of the five performances. We understand plans can change, so you will be able to exchange your tickets for a different date at no charge. To learn more about ticket exchanges, click here.
Click on the name of the event to see the available dates, or click on "Expand All" to see available dates for all five performances.
Select only one date for each show. The selected date will become highlighted in green, and added to the cart on the right side of the screen.
Once you have selected a date for each of the shows, click "Buy."
You will now be able to see the subtotal charge, including the ticket fees. Click "Next."
You will now be propted to put in a Discount code, if you have one. If you don't, click "Next."
Fill in your contact information. You also have the option to opt into our mailing list. If you wish to do that, check the box next to "Email Opt In." You can also add a tax deductible donation to Velocity at the bottom of the screen.
When you have completed all fields, click "Next."
Type in your credit/debit card information.
When you are done, click "Submit" and you will receive a confirmation email with your subscription information.
If you have questions or issues, please contact operations@velocitydancecenter.org.
Thank you for becoming a Spring 2023 subscriber!
HOW TO BUY TICKETS
Tickets are sold through Velocity's website until 4pm, when the online box office closes. The physical box office will open 1 hr before the show, and remaining tickets can be purchased at the door. In some cases door prices may be higher than online prices, which will be stated on the webpage.
TICKETING POLICIES
Artists, programs, casts, dates and prices are subject to change. There are no refunds. Please contact operations@velocitydancecenter.com for all ticket-related questions.
TICKET EXCHANGES
Ticket exchanges may be processed at no charge for a different date of the same production, or in some cases to a different production. Select events or promotions may not be eligible for exchange. To exchange tickets, please contact the Box Office at least 24 hours before the original performance date. Please note that all exchanges are subject to availability.
LATE SEATING + TICKET RELEASES
Any tickets that are not claimed at the scheduled start time of the show will be released to the wait list. Late seating is dependent on the show.
WAITING LIST
In the event of a sold-out performance, we will take a waiting list when the box office opens 1 hour prior to show time. Names may be placed on the list in person. Available seats will be called no more than 15 minutes prior to curtain.
CANCELLATIONS
If Velocity cancels a performance, we will provide ticket-holders with the option to refund or exchange your tickets.