Birthday Bash + Fundraiser
April 23, 2021
6 PM PST |  Lobby Opens + Silent Auctions
7:30 PM PST | Birthday Toast with Team Velocity
8 PM PST | Video Cabaret + Race to Donate

Celebrate Velocity's past, plan for the present, and dream big for the future at our experimental video game-esque 🤖 birthday party on Friday April 23rd, 2021. Join us for a video cabaret ⭐️, art auction 🎨, cyber-tarot readings 🔮, plant sale 🪴, festive food 🧁 + drink 🥂, and a live "race to donate" 🚀. We'll sing Happy Birthday to Velocity and toast in a new year full of exciting events and new digital 👾 and IRL possibilities. 🤸🏽‍♀️
It's our 25th Birthday, but the pandemic has time feeling all weird…has it been 25 years, hours, seconds since we've seen you??? We knew what we wanted for our birthday was to be with all the artists we miss so much. So for a birthday present, we asked: "Will you make a 25 second long (yes…only 25 seconds!!) performance video gift to unwrap during our 25th birthday party?!?".
Inspired by artist + Velocity faculty Alyza DelPan-Monley's (our livestream #HBD host!!) 12 seconds max amazing event that happened online with BASE + OtB early in the pandemic, they will be your guide through a special video cabaret featuring more than twenty-five 25-second long video challenge offerings to unwrap and celebrate our amazing community of artists.
There will also be birthday wish messages from friends of Velocity, a special video tarot card reading for Velocity from artist Leon Finley, and the Race to Donate to show Velocity some #HBD love so we can keep supporting artists for another 25 years!!
#25secsfor25yrs video cabaret challenge will feature: NEVE, Drama Tops, Dani Tirrell, Amy J Lambert, Moonyeka, Kaitlin McCarthy, Mark Haim, Alicia Mullikin, Alia Swersky, Gabrielle Civil, Lavinia Vago, Wade Madsen, Noelle Price, Tyisha Nedd, Taja Will, Allison Burke, Michael O'Neal, Jaret Hughes and many more!!!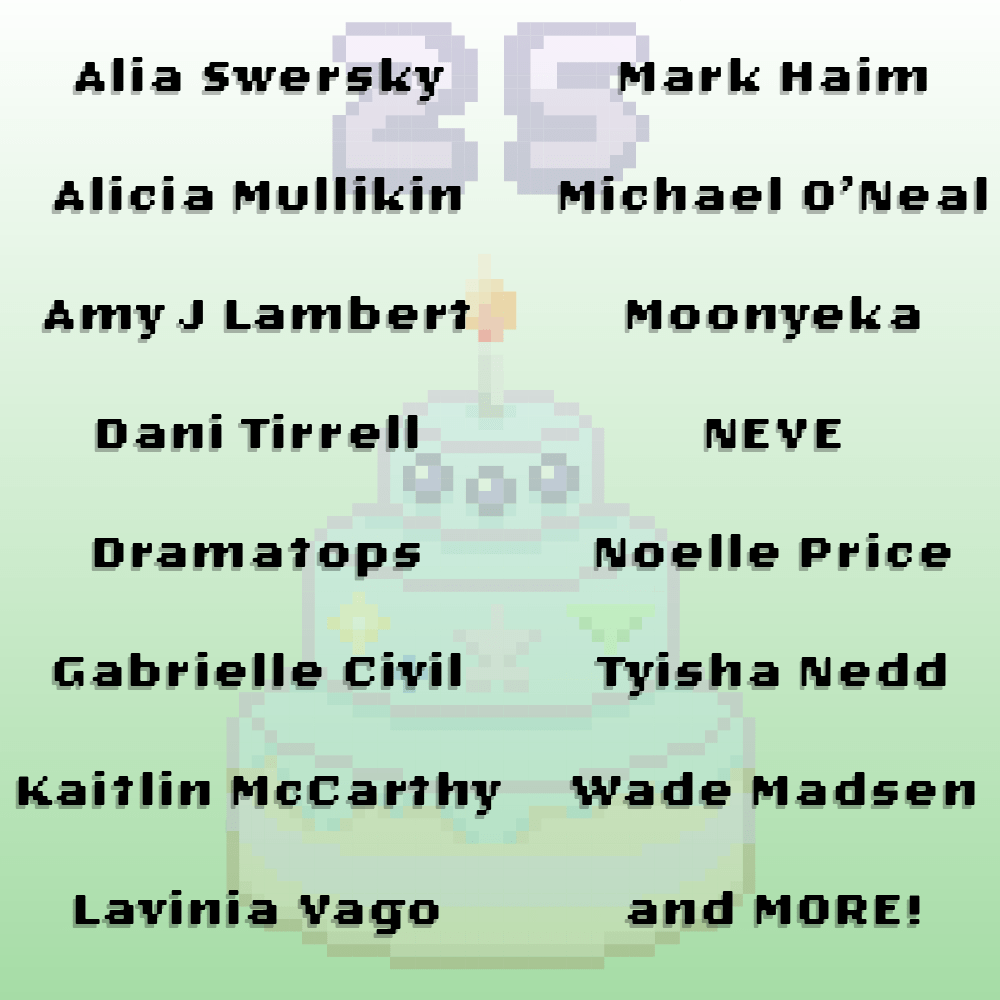 We are grateful for the ways you've shown up and helped manifest Velocity's dreams for a vibrant dance and performance community. We can't do this without you! Join us as we fundraise to connect dance artists to resources, encourage collaboration, experimentation, and partnerships and maintain our passion of being a hub that connects movement artists to Seattle's vibrant arts community. The big fundraising event happens during the Video Cabaret, our Race to Donate, will let you know how you can get us those donations and grow the work of the amazing artists we work with. If you can't make it to the party, you can still donate, browse auction items online, and bid on your fave items the week leading up to the bash to support Velocity!
When the virtual lobby opens at 6pm, you can enter the interactive space and bid on silent auction offerings from our community of artists.
ART
Bid on visual art in the virtual gallery, get a gift for you or a loved one to share the #HBD love. Featuring work from Christin Call, Sara Ann Davidson, Leon Finley, Kristin Kosmas, Fox Whitney, Alice Gosti, Colleen Borst, and more to be announced artists. The artists will mail your item directly to your home after the event.
PLANTS
Pick up your very own new IRL plant friend as part of our virtual plant sale. A very real plant propagated from the houseplants of artists+friends of Velocity will be delivered to your address after the event by a team of volunteers on wheels.
DIVINATION
Enter the divination room and look into our cyber crystal ball to bid on virtual tarot card sessions with Leon Finley, Sara Ann Davidson, Will Courtney, and Fox Whitney to show your support for Velocity's future. If you win, you'll set up a one-on-one tarot reading via video chat or phone after the event.