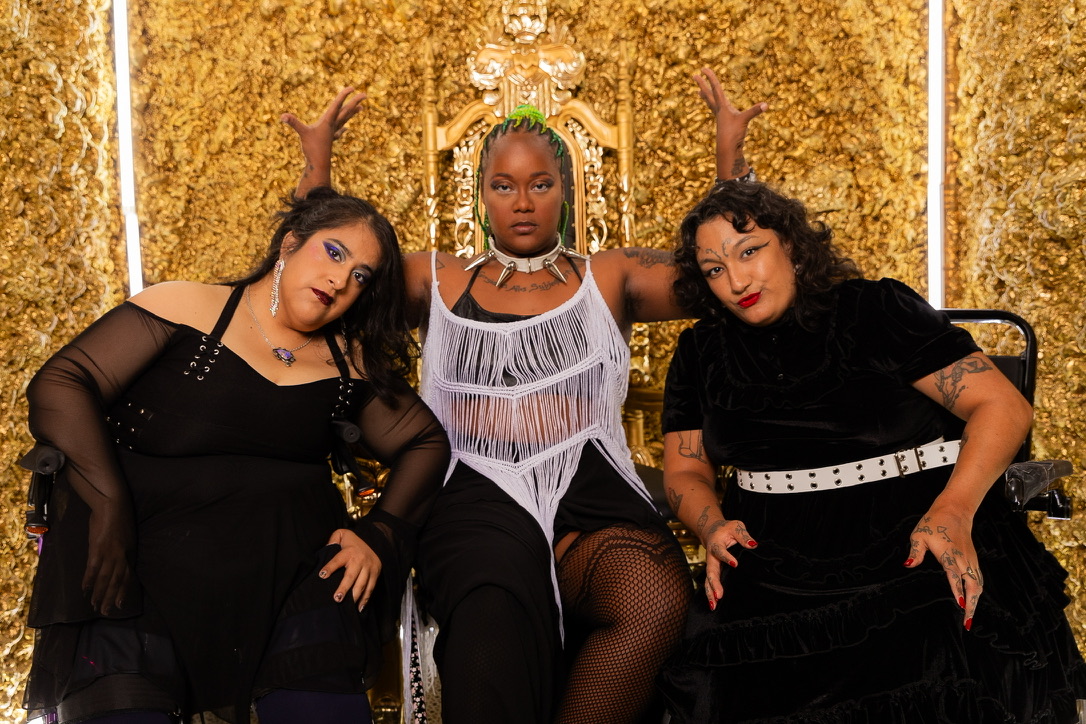 Photo by Maya Umemoto Gorman
SAIRA BARBARIC, NEVE & VANESSA HERNÁNDEZ CRUZ
IN RESIDENCE WITH MOUTHWATER DISABLED ARTS FESTIVAL
Co-founded by Saira Barbaric, NEVE and Vanessa Hernández Cruz, Mouthwater Festival will span Seattle showcasing performance art, theater, dance, and music by disabled creatives. Disabled artists from all over the country will gather in town to share their work, develop their practice, and foster cross-disability solidarity and creativity.
Mouthwater Festival will create an arts hub by and for Black, Brown, and Indigenous disabled artists to present, collaborate, and get paid. The performances will happen all over town giving Seattleittes the chance to catch a cabaret, a waterfront showing or a night of theater. The festival's values are anti-capitalist, anti-fascist, pro-black, disability justice-informed, afrofuturist, sex educated, and practical. The founders dream of making Seattle a regular stomping ground for disabled artists to thrive and grow. 
The Mouthwater Festival will take place in Seattle with an artist incubator in late September 2024 and free or ticketed events from October 1-13, 2024. The festival is in the early stages of identifying venues, partners, and supporters. Mouthwater Festival is being produced through Velocity Dance Center's Made in Seattle new dance development program, and our anchor venue is 12th Avenue Arts on Capitol Hill.
For more information on the Mouthwater, follow the festival on Instagram.
Research for Mouthwater Festival is only possible with support from the Mellon Foundation. To join the community of sponsors and supporters for this inaugural festival, please reach out to the producing team at mouthwaterdance@gmail.com, or contact Erin Johnson at erin@velocitydancecenter.org 
SAIRA BARBARIC
(he/they/she/ze) is a Black disabled nonbinary multidisciplinary artist. Based in Seattle in 2016, Saira creates collages, events, performance art and short films. Their work has shown in movie theaters, nightclubs, performance spaces and public parks around Seattle, across the U.S. and in European cities like Rome and Berlin. Saira co-founded the queer porn crew, Scumtrust Productions and the burgeoning dance-media project, MouthWater. Check out Barbaric-art.com for more about Saira's projects and practice.
NEVE [they/he/she] NEVE is a Disabled, multiracial, multidimensional dramatic terpsichorean multigender femme artist. They are a mixed Sudanese Nubian living in Duwamish country and traveling wherever they have access/an invitation. He is a 2020 Pina Bausch Fellow, a 2022 Arc Artist Fellow and a Disability Ford Futures Fellow! She is a contributing arts writer at the South Seattle Emerald, and an organizer with Creating New Futures. They collaborate with friend and fellow Seattle multidisciplinary artist Saira Barbaric as MouthWater. NEVE loves life, the delights and pains of love, the higher power inside us, the earth's lullabies and war cries, drinking color, and dreaming with their queer family (especially their cat child Caravaggio). Visit him online at nevebebad.com, and on social medias at @nevethoh.
Vanessa Hernández Cruz (she, her, ella) is an interdependent Chicana Disabled dance artist, filmmaker, visual artist, poet & a Disability Justice activist. She obtained her BA in Dance Science from California State University Long Beach. Over the past few years, Vanessa's work has been shown nationally & internationally. So far this year, she was commissioned by the City of Los Angeles Department of Cultural Affairs to create & perform a new work titled: "La Lucha Sigue/The Fight Continues" to celebrate & honor Corita Kent & Dolores Huerta. She was a guest speaker at Chapman University where spoke about Disability dance & workshopped her contemporary ballet repertoire Nycto-Eternity. At the moment, she is getting ready to premiere a new evening length contemporary solo titled: "Metal, Plastic, Skin" in mid-July in Los Angeles. This work explores vulnerability fatigue and how medical equipment is a form of assimilation, survival, & freedom. To learn more visit: https://www.galaxiesdance.info Follow IG: @GalaxiesDance