FALL 2022
SEASON ANNOUNCEMENT
Dear Velocity community,
Fall is here and we are proud to announce… Seattle is (still) an active hub for contemporary dance! Artists, we see what you are making, despite the pandemic and personal challenges, and we are grateful for your work.
Artists continue to make Seattle a vibrant place for creation, and audiences continue to show up to celebrate and be challenged by their work. Even as we speak, artists and organizations are nurturing new strategies to meet the creative, systemic, and pandemic-related challenges we face. We're getting a lot of press about these challenges, and we hope you'll consider it a call to action as we do: What do we want to create together? The pandemic is still a portal. Let's keep moving through it together!
At the height of the pandemic we connected virtually with the artists in Velocity's first Artist Think Tank. They helped us [1] re-evaluate our mission to advance contemporary dance and movement-based art by fostering the creative explorations of artists and audiences; [2] name our vision of a future in which dancemakers have the resources, community, and power to build a more open, connected, and embodied world through our work; and [3] updated our values to center artist leadership, equity and inclusivity, leading with relationship, curiosity and rigor, and liberation for all.
This created shifts in our 2021-22 programming. We…
Re-imagined Strictly Seattle and the Seattle Festival of Dance and Improvisation as SFD+I. Our beloved summer festival now features TRAIN, RESEARCH and SHARE modules that better serve artists and participants.
Re-launched our Made in Seattle and Creative Residency programs, and revived the Bridge Project in partnership with BASE: Experimental Art Space. to support artists with creative process and the development of new work. These programs supported artists at all stages of their careers as they returned to the creative process and developed new work.
Collaborated to present three world premieres: Will Rawls' interdisciplinary work Everlasting Stranger presented in partnership with the Henry Art Gallery; Vladimir Kremenović's site-specific durational performance UTOPIA: touch, with Freeway Park Association; and dance film El Sueño co-produced with the El Sueño company, and presented with Northwest Film Forum and EXit Space NOD Theater.
Created the new program EMERGE in partnership with Gay City and Northwest Film Forum for a cohort of five QTBIPOC artists to make and share movement-based films.
Nurtured new connections with Cafe Racer, Fremont Abbey, Machine House Brewing Company and Cascade Cliffs Winery by partnering with them to bring our NIGHTLIGHT program to various Seattle neighborhoods.
Established a new home at 12th Avenue Arts while we continue our quest for a permanent space.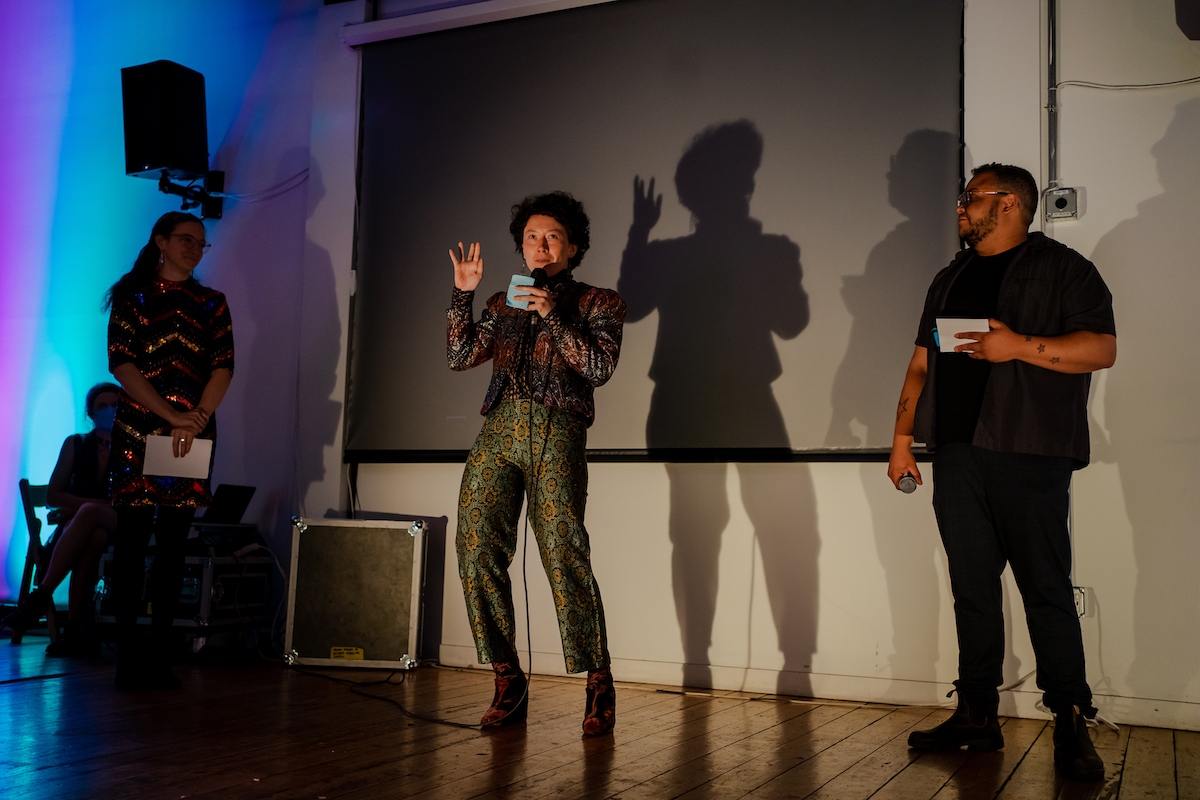 And honestly, these are just some of the highlights. Now in the 2022-23 season, we are witnessing an evolution and a revolution in the way we make and share contemporary dance and movement based art forms. At Velocity, we're testing out new things like partnering with the Seattle Opera to give residency space to our Creative Residents. Our Artist in Residence program has evolved into our new Curating Artist in Residence program and welcomed Alyza DelPan Monley as our very first CAiR; we are thrilled to collaborate with them! And in their first act as CAiR, Alyza has shared their curatorial vision for this year's Next Fest NW: Revolve/Revolution [DEC 8 – 11]. We look forward to announcing the artists that were selected for this year's festival and are grateful to the many artists that applied and shared their visions with us.
We hope you'll join us this Fall 2022 as we celebrate and make space for contemporary dance in Seattle:
Fall is always a busy time for contemporary dance. So, whether it's through our events, or at one of the countless shows, events, or classes in the city, we hope you are able to experience dance this fall. We urge you to share the love–not just with Velocity–but with all the organizations and independent artists in Seattle…. attend the "big name" institutionally supported shows, and the small-scale self-produced shows. We need to welcome each other and ask after each other. We need to especially listen to and show up for local Black, Indigenous and People of Color artists and Queer and Transgender artists.
We need to share our platforms to celebrate where art persists even when it is not recognized by mainstream awards and grant funding. We need these relationships to effectively advocate for what we all need. Space, resources, and visibility for ALL contemporary dance in Seattle. This is what we are working on, and we hope you'll join us. We are so thankful for you all, we wouldn't be here without you!
Fox Whitney
Artistic Director
Erin Johnson
Executive Director
Photo credits:
Screengrab from an Artist Think Tank meeting, showing several participating artists, including Jody Kuehner, Alyza Delpan Monley, Nia-Amina Minor, Lavinia Vago, Moonyeka, and Naomi Macalalad Bragin, as well as Fox Whitney, Erin Johnson, and facilitator Kim Powe
Erin Johnson, Alyza Delpan Monley, and Fox Whitney at Velocity's Spring BASH 2022 | by Devin Muñoz
SFD+I 2022 Train Module rehearsal with Markeith Wiley, featuring Summer Interns Bone + Renee | by SFD+I participant Hana Shiozaki